The year in leather kicks off with two events intended to promote a sense of safety, security, consent, and healthy practices in leather and BDSM. Here's a start on what's coming this year in the kink scene: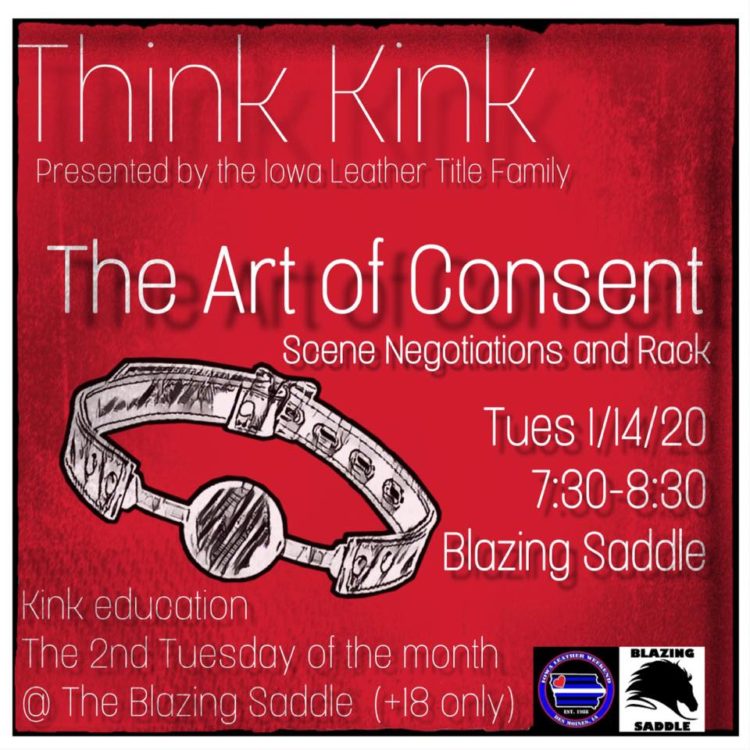 • The Blazing Saddle kicks off a monthly night of kink education on Tues., Jan. 14th, with "Think Kink: The Art of Consent." Actual Iowa Leather Weekend title-holders will be providing informed guidance on various topics of kink. The sessions are free, open to anyone 18 and over, and take place 7 to 9 p.m. every second Tuesday.
• Kansas City will be home to the "More Than Just a Fantasy" BDSM Mental Health Weekend Jan. 17-19. The event helps promote mental health among members of the BDSM community and covers topics such as relationships, play, recovering from trauma/PTSD, the use of synthetics, and anxiety and depression. Admission is $45.
• Mr. Chicago Leather 2020, coming Jan. 23-26, features Jack Thompson, the first-ever trans man of color named Mr. Leatherman. John Pendal, former Mr. Leather from 2003, returns for his 16th straight year as emcee. Other panelists include Saber Onyx, named Mr. Chicago Leather 2019. In addition to the Saturday competition, the weekend includes dances, vendors, social events, a roast, and more.
• Twin Cities Leather Weekend is a three-day event Feb. 14-16 that includes parties, the competition, brunch, education sessions, and more
• Mr. Missouri Leather Weekend happens Feb. 18 to March 1. Watch their Facebook page for upcoming details.
• Illinois Leather Pride Weekend is a new event, in only its second year, and takes place Feb. 28 to March 1, featuring a competition and social events.
• Iowa City hosts the 5th Annual Sash Bash Weekend, presented by Papa Bear Rob Anderson (Mr. Iowa Leather 2016) March 5-7. The three-day event features a "Meat & Greet" Friday evening, the main event Saturday evening, and a gospel brunch Sunday morning. Proceeds benefit Iowa Safe Schools and the Leather Archives & Museum.
• The North Central Women of Drummer Conference takes place March 13-15 in Minneapolis. Women of Drummer is a nationwide organization devoted to women playfully enjoying leather. The weekend features social gatherings and a play session. Find more on FB. You can also seek information about the upcoming Women of Drummer annual competition, happening in September.
• Female, trans and nonbinary leather folx and allies are welcome to the Celebration of Leather and Lace coming to Des Moines' Blazing Saddle April 25th. Featuring titleholders galore, this event is co-hosted by Ms. Iowa Leather 2020 Bettie Rage.
• Show Me Leather happens in Kansas City July 24 for the sixth year. More details are to come.
• Iowa Leather Weekend: This long-time event, approaching its 32nd year, typically happens over three days in early October; last year's event took place in Des Moines.
Do you know of a leather event in the Midwest coming soon? Let us know at reachus@therealmainstream.com.