One to three pounds of wood and sharpened metal. Lift it slowly behind your head, take a step forward, and thwak. The axe is buried in the wooden target, and cheers sound from behind you.
Welcome to axe throwing, a new recreational sport steadily growing in popularity since about 2013. That's when a young entrepreneur kicked off a franchise in Philadelphia after enjoying the sport in Canada, reports NBC News.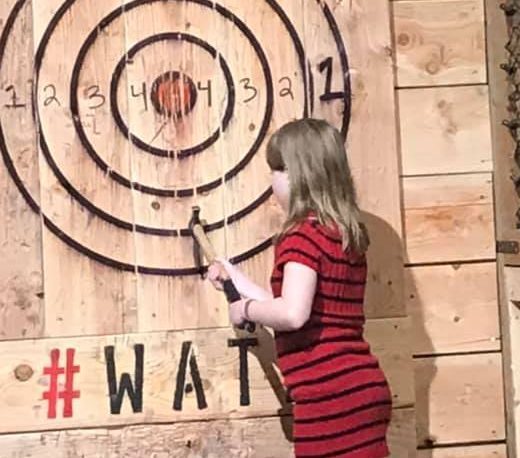 "It's more fun and engaging than darts or bowling," says Nick Collins, owner of Hatchet Jack's in Iowa City, which just celebrated its one-year anniversary. "It's new and different, and there is a feeling of elation when you throw it and it sticks for the first time."
"People have been throwing axes in competitions for thousands of years," says Lisa Gardner, owner of the Ironside Axe Club in Des Moines. "Pretty much every group in history has had axes or tomahawks of some sort, and humans are competitive."
Lumber Axe in Des Moines is the third axe-throwing venue to pop up in Iowa recently. "It's a huge confidence booster," says Aaron Larimer, "axe coach" at Lumber Axe. "I've had tons of customers come through that were very apprehensive, very reserved when they first started, find that they're naturally good at it [and] exceeded their own expectations, and by the end of the hour and a half session, they are trash talking like nobody's business."
A friend of mine and I took our daughters, ages eight and nine, to try our hand at axe-throwing at Ironside. All five of us had a great time. I would throw and miss, throw and miss, and then suddenly, thud. I would get into the swing of it, pun very much intended, and would stick it again and again. For a time, at least.
It is remarkable how satisfying it is to sink the axe down into the target. Our world is filled with technology all around us, and in our pockets. So many of our activities are sedentary, and it can be hard to think up something to do that is both social and energetic.
Axe throwing is exactly that – and since it takes place inside, it is a sport to enjoy during both Iowa's freezing winters and its sweltering summers.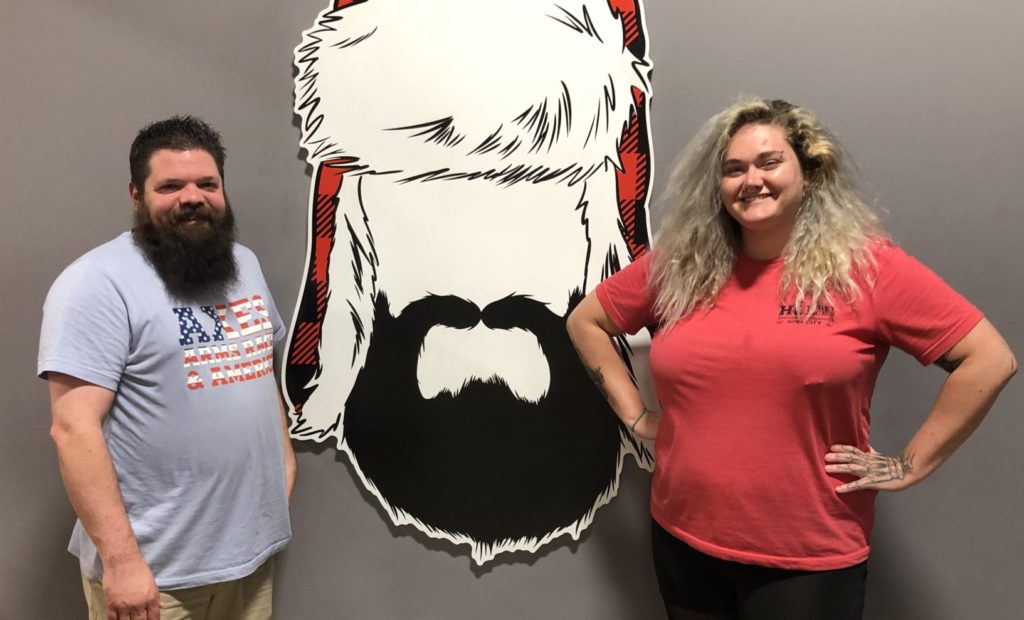 A group of my fellow TRM team members felt the same after their visit to Hatchet Jack's.
"You fail quite a bit, and then it's festive when you get it," Travis DeWitt said. James Wilburn enjoyed how axe-throwing "feels like you're doing something outdoorsy" even though you're indoors.
"It's definitely fun to have a hatchet in your hands." Cheryl Weatherford agreed. "It's a great release; everyone is vulnerable and nobody's really done it before."
There are the obvious hesitations about participating in something where you can drink alcohol while wielding sharp objects. No worries; axe coaches like Larimer and Jodi at Hatchet make sure you are throwing safely. Even after they have taught you the moves, they stick around, ready to remind participants of the correct way to throw.
"I help coach people on properly, safely, and successfully throwing axes," says Alexi Dawson, coach at Ironside. There, unlike the other two clubs, children are allowed to throw if accompanied by an adult.
"It is great to see families come in to do this," says Gardner. The club has welcomed clients as young as four.
My two nine-year-olds were fearless with the tomahawks. They listened very carefully to how to safely throw them, kept at it, and both were able to stick it into the wood multiple times in an hour.
All of the axe-throwing establishments also offer other games, including tic tac toe and video games and one activity where participants compete to hammer a long nail into a huge stump
Overall, axe-throwing is an amazing, and very unique, way to spend an afternoon.
"Ninety percent of people who come in just have a blast," Collins says.
"You always have one naysayer in the group who doesn't think it's a good idea and came just because everyone else came." Gardner said. "That's usually the person who ends up having the most fun."