EASTERN IOWA — Amid the heart-wrenching stories of suffering after the historic Aug. 10 storms –– and the outpouring of anger, sadness, love, gratitude and informal giving on social media — several groups are aiming to focus on logistics, efficiency and prioritizing needs to ensure the most urgent needs are met first throughout eastern Iowa.
The Advocates for Social Justice (ASJ) in Cedar Rapids, the Corridor Community Action Network connecting Iowa City and Cedar Rapids, the Iowa Freedom Riders in Iowa City, and the Marion Alliance for Racial Equity (MARE) are all focused on eastern Iowa's most low-income residents, which also includes many of its People of Color.
They're connecting with key entities like Aging Services through UnityPoint AbbeHealth, the Hawkeye Area Community Action Program (HACAP), and the Red Cross to ensure the elderly, the low-income, and non-English speakers are given high priority rather than overlooked.
"Being a part of the Black Lives Matter movement, we're trying to help our whole community. We're not just here to help people of color," said Leslie Neely, co-founder of ASJ and one of the leaders coordinating the storm response. "When something like this comes along, we want to help everyone. But definitely, whenever anything happens like this, whether it's a pandemic or a land hurricane… it always affects people of color, marginalizing them in a way broader spectrum than it does non-people of color."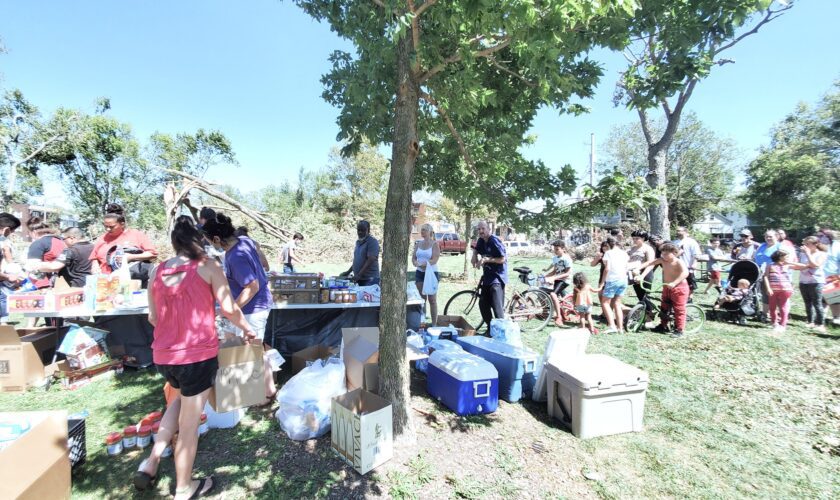 CCAN monitors 74 nonprofit groups from Iowa City to the Cedar Rapids area to help spread word about their volunteer needs and upcoming projects. Each day, it provides several action steps and is sharing a continuous flow of information throughout the day on the latest ways to help.
Founder Mandi Nichols shares a story that illustrates the benefit of overall coordination through the key groups. A member of CCAN's Facebook group was utilizing the group to coordinate a donation trip to Cedar Rapids to a storm-ravaged apartment complex, when Nichols was able to connect that volunteer with Neely, who was already working directly with Aging Services in the same area.
The CCAN volunteers coordinated with Neely's existing volunteers. Following Neely's direction, the groups were able to able to cover eight buildings, each filled with 40 to 100 elderly residents, in a few hours.
"It's really a matter of saving time," says Nichols, on the benefits of individuals or groups joining in with the existing network rather than attempting to help meet needs on their own. "It avoids confusion and it really helps coordinate the response. And coordinated responses are more effective and less confusing.
"If people are more aware of us and pockets of needs that still exist, I hope they'd communicate that to us, and then we can work with the contacts we already have that may already be working on those issues. Or if we find that nobody is working on those issues, we can coordinate with each other."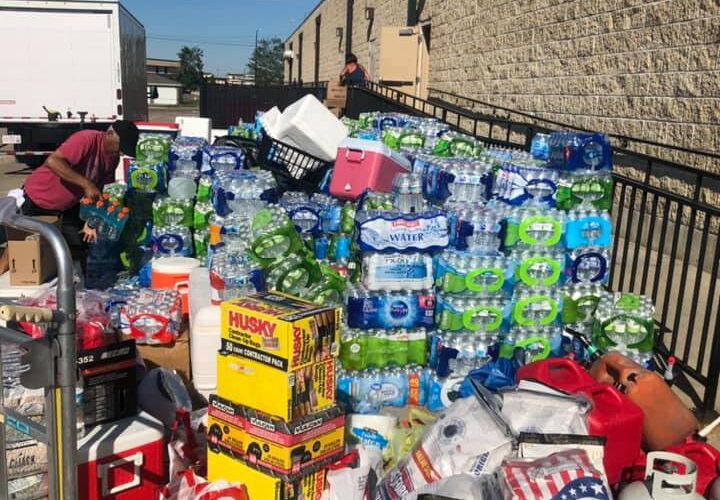 The Marion Alliance for Racial Equity has been helping to spread word about relief efforts in its small town northeast of Cedar Rapids. Among the efforts it recently circulated in its private Facebook group: the need for donations of canned fruit, instant potatoes, cereal, jelly, laundry soap, flashlights, spaghetti sauce, and peanut butter to a temporary food pantry at 1105 7th Ave. in the Marion Square Plaza. It is also collaborating with ASJ for efforts like back-to-school backpack giveaways, including this Saturday.
And the Iowa Freedom Riders is seeking both physical donations and cash donations. The group has a list of specific items it's asking the public to donate and drop off at 2786 N. Liberty Rd. in North Liberty, instead of driving to Cedar Rapids on their own.
The ASJ, the Iowa Freedom Riders and MARE all formed in early June after the George Floyd murder, leading protests and demonstrations in support of racial justice and against systemic racism and police brutality. They have all pivoted to helping with storm relief and even before the derecho, had each also begun holding social events and other community relief efforts.
CCAN is, coincidentally, celebrating its one-year anniversary today. Nichols works with a volunteer team that, together, handles a strong social media presence and conducts its own volunteer efforts, too.
"I originally started just a Facebook group as a way to share all the opportunities for volunteering and doing advocacy within the corridor, and it just grew from there," said Nichols. "It can be difficult for people to find information all in one place. There were also multiple organizations working on similar goals. I thought connecting them could help with meeting those goals better."
Even while supporting ASJ, the Iowa Freedom Riders, and MARE in storm relief efforts, CCAN is continuing a school supply and face mask donation drive for Iowa City students. It aims to help supplement the "two masks per student" that the school district plans to provide, which Nichols says isn't enough.
The group also runs a community garden and collaborates with Iowa Mutual Aid Collective to maintain the garden, harvest its produce, and transport it to needy families. The storm has created more urgent needs, says west garden volunteer coordinator Taylor Moore, but the need to address "food insecurity" existed before the storms and will remain after the clean-up.
"Prior to derecho, we already had a lot of food-insecure families and individuals that were homeless," says Moore, who also runs CCAN's Instagram page. "This just made it worse. And even though they have power restored, there's still food insecurity happening."
Here's how to reach the key groups focusing on low-income and marginalized communities:
• Advocates for Social Justice can be reached through email at ASJ.BLM.CR@gmail.com, through its Facebook page, Instagram, or by calling Neely at 872-237-7017.
• CCAN has numerous means to connect: Watch its Facebook page for Daily Action ideas and a steady stream of information about nonprofit efforts and needs. Join its private Facebook group to get even more involved. Email Nichols at director@corridorcan.com. Or, see their website, follow them on Twitter, or follow them on Instagram.
• The Iowa Freedom Riders can be reached through their Facebook page and Instagram.
• Join the efforts of the Marion Alliance for Racial Equity and keep up-to-date on other relief efforts it's helping to support through its private Facebook group.