The protests in 1,700-plus American communities since George Floyd's May 25 murder have ranged from violent, to peaceful, to showy, to subdued.
That includes the protests in Iowa. In Des Moines, clashes between police and demonstrators have been tense. In Iowa City, a mostly youthful protest group opted for more "in your face" tactics like shutting down interstates and marching to council members' homes. The Quad Cities is dealing with deaths related to random violence that occurred after and near peaceful protest sites. Tiny towns like Fairfield, Washington, and West Branch are holding small low-key gatherings.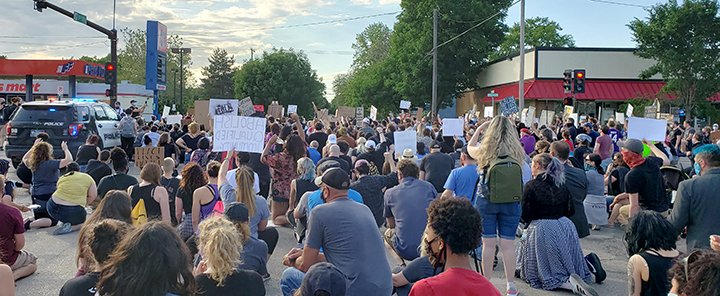 In Cedar Rapids, where results have been dramatic and increasingly fast-paced, "peaceful" has been the protest theme since early June. The approach has helped earn Cedar Rapids a national spotlight; it was noted by USA Today in a rundown of how protests are making a difference.
To help us feel Cedar Rapids' protest vibe, Cheryl Weatherford and Christine Hawes team up to provide a glimpse, through the June 13 Advocates for Social Justice protest at Bever Park, of the diplomatic side of fighting for racial justice:
Peaceful, diplomatic, community-focused protests work.
That will be one of the lasting legacies of Advocates for Social Justice, the Cedar Rapids group that has been leading that community's press for an end to systemic racism and to police brutality.
Already, the group's family-oriented, community-focused approach has helped lead to the firing of a Cedar Rapids police officer involved in two shootings; support by both the City Council and Civil Rights Commission of all its social justice demands; and a new policy that requires officers to report cases among each other of police brutality.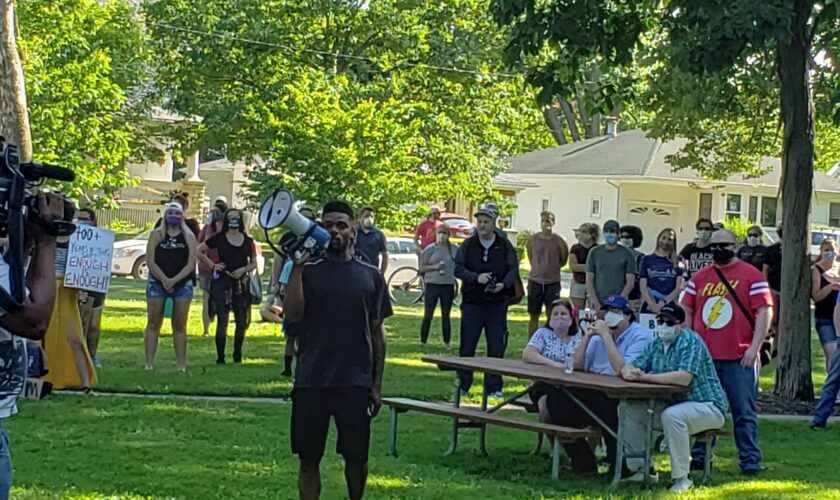 The Advocates for Social Justice have seen this progress through chants that are rarely confrontational; chalk instead of spray-paint; poetry readings; and mass re-enactments of the most heart-breaking and chilling moments (and minutes) of George Floyd's death May 25 at the hands of four Minneapolis police officers.
"If I am not killed by the cops, I'll still die stressed. Where the hell's the progress?" said Antonio Chalmers (also known as Tone D. Boss), a local performer reading from his original composition, at the group's first event June 13.  "I can't trust the process when police can murder a man in his own home, say 'Wrong home,' and still not get processed."
Organizers and speakers set the tone for ASJ's overall approach before its first march even began that day. Before the event, they asked the crowd of over 1,000 for compassion, awareness, the willingness to learn, and a united focus.
Tyre Walker, an event organizer, asked the multi-generational, multi-racial crowd to chant the names of George Floyd and Breonna Taylor "from their hearts," as if the two victims were their own family members. He further drove home his point by sharing that he is the father of a bi-racial child.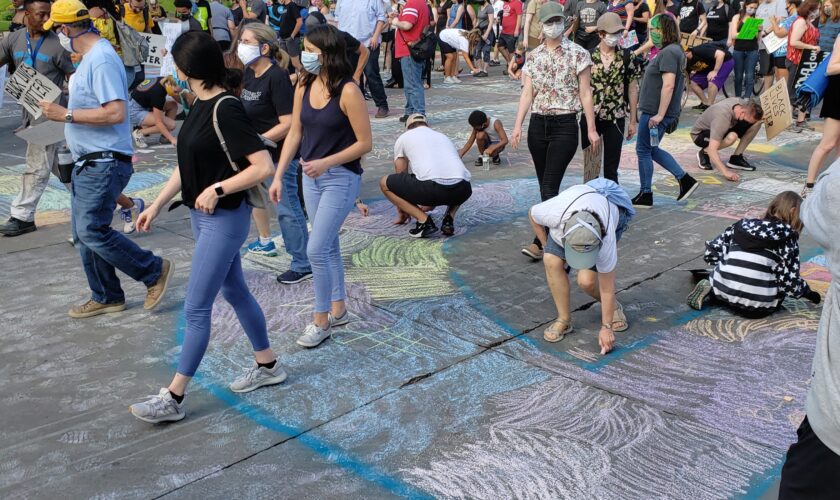 Jimaine Cooper, of the citizens group We Are CR, helped remind the crowd of how many Black lives had been lost even before George Floyd. He called for a moment of silence, with heads bowed, while he read the names of other victims.
They included Rekia Boyd, a 22-year-old Chicago woman with numerous Cedar Rapids relatives who was killed in 2012 by an off-duty police officer who claimed he mistook her for a man with a gun. The officer, Dante Servin, was acquitted of charges of manslaughter in 2015.
"We are not looking for your color, because we all bleed red, but we are out here for one purpose," Cooper said. "That's to end this corrupt, evil system that has taken over our communities."
Cooper emphasized how the group had focused on being "peaceful while watching cities across the nation demolish their own communities to bring about change."
Cooper laid out several specific suggestions for how to improve the lives of black people, including more positive police involvement, more events for Blacks and People of Color, more youth programs and ending community violence for everyone.
Walker and other organizers handed out chalk to march attendees — a way to encourage expression of strong feelings without the more damaging material of spray-paint that has been used at many other protests. They provided a BLM memorial along the way to encourage the public's expressions.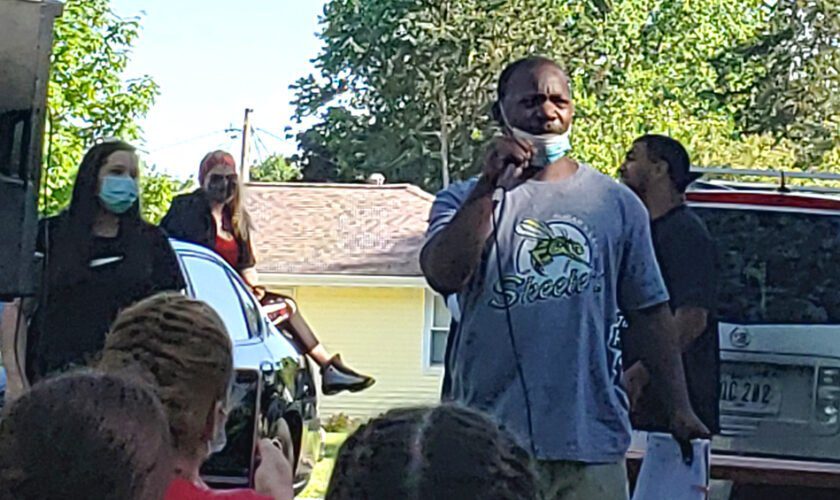 The chants and the gestures were both similar to other protests, and strikingly more emotional. At one point, the entire crowd lay down flat on their stomachs, hands behind their backs, for 7 minutes and 30 seconds, the amount of time police officers kneeled on Floyd's back on the pavement.
They screamed "Mama!" just as Floyd had in the bystander video of his death.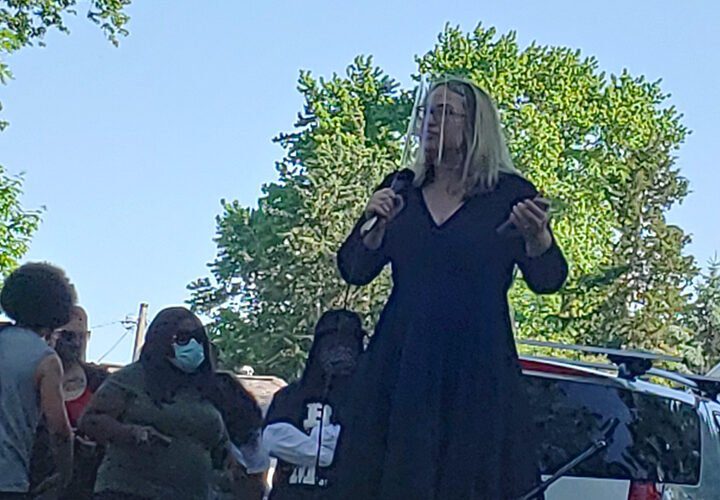 "No justice, no peace!" and "I can't breathe," the group chanted, repeating several of the most common refrains heard at protests nationwide. "Hands up, don't shoot." "Hey, hey, ho, ho! Racist cops have got to go!" "Black Lives Matter!" "Power to the people!" And then, "Racism does not live here. We are CR!"
Two senior poets from Kennedy High School in Cedar Rapids called for Black history to be taught in public schools, and reminded the crowd of the importance of voting. The teens shared a poem about the Three-Fifths Amendment to the constitution that briefly labeled Blacks as only three-fifths of a person.
Black-owned businesses and Black artists were showcased during and after both events. Speakers also included City Council Member Dale Todd, Cedar Rapids' first and only Black city council member; Linn County Supervisor Stacey Walker, the first-ever Black man elected to the Linn County Board of Supervisors; and State Rep. Liz Bennett (D-Cedar Rapids), who helped write and pass House File 2647, which calls police to ban chokeholds and misconduct.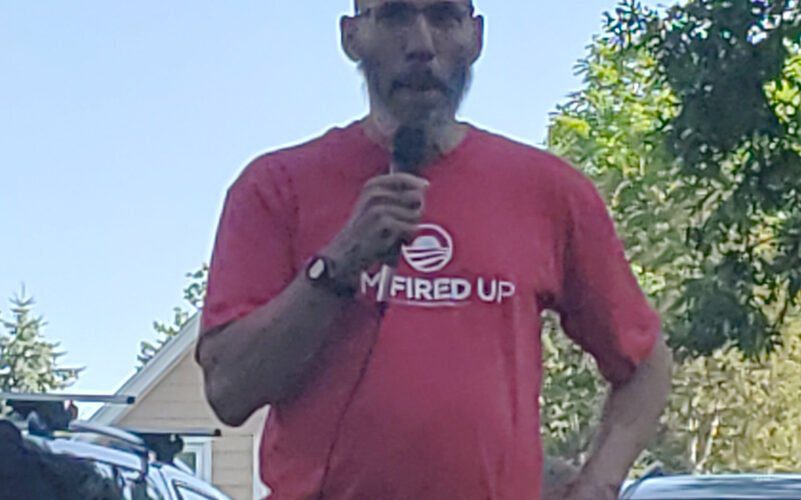 Here are the specific demands of the Advocates for Social Justice:
• form an independent citizen's review board
• make significant investments in diversity, equity, and inclusion
• ban chokeholds and knee-to-neck maneuvers, and strengthen use-of-force standards.
• decriminalize minor marijuana (cannabis) crimes and other low-level offenses
• impose strict body camera provisions
• make negotiations between law enforcement and municipal representatives public
• abolish qualified immunity.
Here's a look at progress so far in obtaining those objectives, and other ways Advocates for Social Justice have already contributed to long-term change in the Cedar Rapids area:
• All of the group's demands now have the official support of the Cedar Rapids City Council, which voted Friday to actively work in support of all seven demands.
• Thursday, the group received the public support of The Cedar Rapids Civil Rights Commission. "As we have seen in demonstrations across our country, and in our own community, clear directives have arisen," said the commission's executive director, Stephanie Munsterman-Scriven, in a press release. "Systemic reform is essential, and we must act now."
• Thursday, the CRPD fired Lucas Jones after an investigation ended in February and determined he "violated rules and policies of the department." Jones was involved in two police shootings in 2015 and 2016 — one fatal. In the other, Jerime "Danky" Mitchell was left paralyzed, and his family has sued the city.
• Earlier this week, the city committed to providing paint, supplies and overall support to provide a permanent display to honor Black Lives Matter. The city made the offer after inadvertently washing away ASJ's chalk art with a flushed water valve.
• On June 12, Cedar Rapids Police Chief Wayne Jerman announced he is creating a citizens police review board and now requires officers to intervene if they notice a colleague engaging in illegal or unethical conduct. Cedar Rapids police already had a ban on chokeholds in place before this year.
Organizers have made it clear they know that their work, that of the community, and of the city council and police department has just begun.
"Don't get it twisted, child," Cooper said. "We see a few changes made, and we just hope it's not simply words to appease us as a community. We demand to see more involvement from the police department in our community. In the words of the great Dr. Martin Luther King, Jr. … 'We will not be satisfied until justice rolls down like water, righteousness like a mighty stream.' "