Three Central Iowa business coalitions speak out against anti-LGBTQ+ bills
At least 13 businesses in Ankeny, and at leasat 26 in Valley Junction, have joined 30 businesses in East Des Moines to speak out against a raft of anti-LGBTQ bills making their way through the Iowa Legislature, reports Iowa Starting Line. The coalitions all released letters or petitions within the pst week expressing opposition to fast-moving bills that would ban gender-affirming care for minors, prevent instruction about gender or sexual identity through sixth grade, and other measures considered by most LGBTQ advocates to be marginalizing people who are transgender, gay, lesbian, bisexual or queer, or who are gender non-conforming. The bills have continued to advance despite outcry from business communities, LGBTQ groups and rallies, and Democratic Party leaders. One bill is already approved by both of Iowa's Republican-led houses and is headed to Gov. Kim Reynolds for signature to make it law; the other will go before the Iowa House later this week.
Ankeny and East Des Moine statement excerpt: "We need more people to speak up as we are already seeing people leave the state, a teacher shortage, and difficulty finding employees because of years of bad legislation coming out of the Iowa Statehouse."
Valley Junction statement excerpt: "We stand together in opposition to these discriminatory bills that attack the basic human rights of our fellow Iowans. Valley Junction is a community that celebrates diversity and inclusivity, and these bills go against everything we stand for."
MASON CITY: Protest of anti-LGBTQ bills called in Central Park
Mason City will join the Iowa cities of Cedar Rapids and Davenport Saturday  with its own protest of the anti-LGBTQ bills passing through the Iowa Legislature this year. The gathering starts at noon at Central Park, along Washington Avenue between State St. and 1st St. N.W. The gathering will feature speakers, a peace walk, and protest signs and is coordinated by Mason City Pride.

CEDAR FALLS: More Black faculty, resources needed on anniversary of  'UNI Seven'
More Black faculty members, more resources for Black students, and an improved campus climate for overall diversity are some changes still needed at the University of Northern Iowa, says an article in the Northern Iowan student newspaper. The paper included the suggestions in a piece about the 33rd anniversary of the "UNI Seven" and creation of the school's Center for Multicultural Education. The center started in 1970 after seven UNI students camped at the university president's house for 24 hours, demanding to know why the center had not been included on a list of recommended state funded projects. The protest led to the creation of the center later that year, providing "a place of refuge for minority students" and for "resources, camaraderie, and for marginalized students to work with staff who look like them." The piece also featured an interview with Sashay Carroll, now a producer for CNN, who noted the need for more acceptance of diversity at the school. Read the article here.
WATERLOO: Conversion therapy ban delayed, Waterloo rallies against anti-LGBTQ bills
A ban on conversion therapy in this central Iowa city is on hold until May 1 because of concerns over misinformation, and over how new laws regarding LGBTQ+ Iowans might affect local ordinances, reports the Waterloo Courier.  The council voted 4-2 to delay the ban's progress during a meeting Monday. Meanwhile on Wednesday, scores of residents gathered in Waterloo's Lincoln Park to protest the anti-LGBTQ bills making their way through the Legislature, the Courier reported.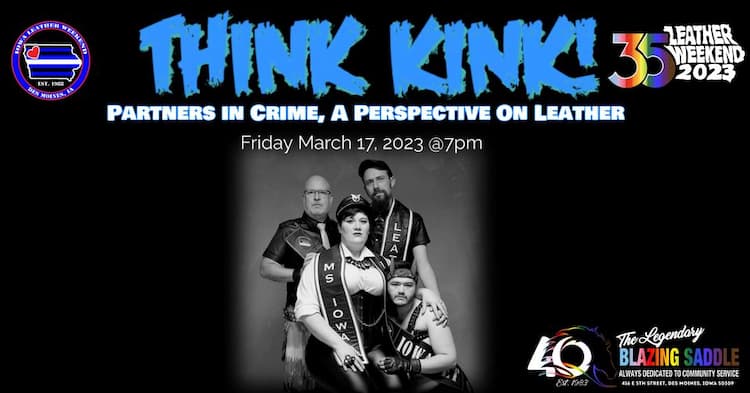 DES MOINES : Think Kink happening March 17 at The Blazing Saddle
Join The Blazing Saddle and title-holders from Iowa Leather Weekend for a "Thnk Kink" session March 17 focusing on the partnership of kink relationships. This is part of a monthly series hosted by The Blazing Saddle featuring leather and kink education and events. The Blazing Saddle and Iowa Leather Weekend also hold "Gear Night" the last Saturday of every month. Check out The Blazing Saddle's Facebook page for more information.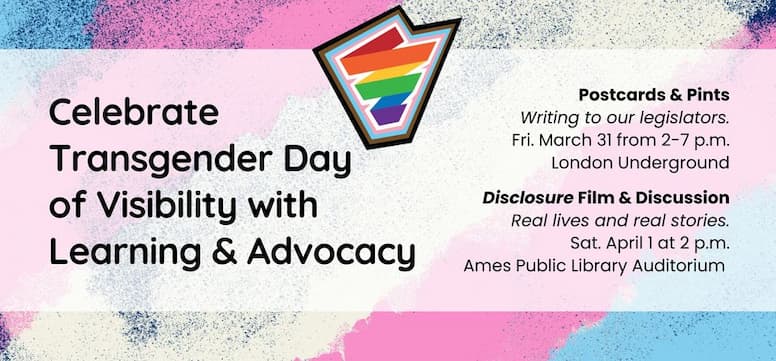 AMES: Postcards & Pints, "Disclosure" documentary from Ames Pride
AMES — Help reach Iowa state legislators and Gov. Kim Reynolds about stopping anti-LGBTQ bills and legislation, during Postcards & Pints on March 31 at London Underground, 212 Main St., is especially meaningful this year, as the Iowa Legislature moves forth with numerous anti-LGBTQ and extreme conservative bills. You can also gather at the Ames Public Library Sat., Apr. 1,  to view the film "Disclosure," a documentary examining the portrayal of transgender people in film and television. The showing, which starts at 2 p.m., will be followed by a discussion about the real-life experiences of transgender people. Both events are to honor Transgender Day of Visibility Weekend and are hosted by Ames Pride, which holds the city's annual LGBTQ Pride festival in September.