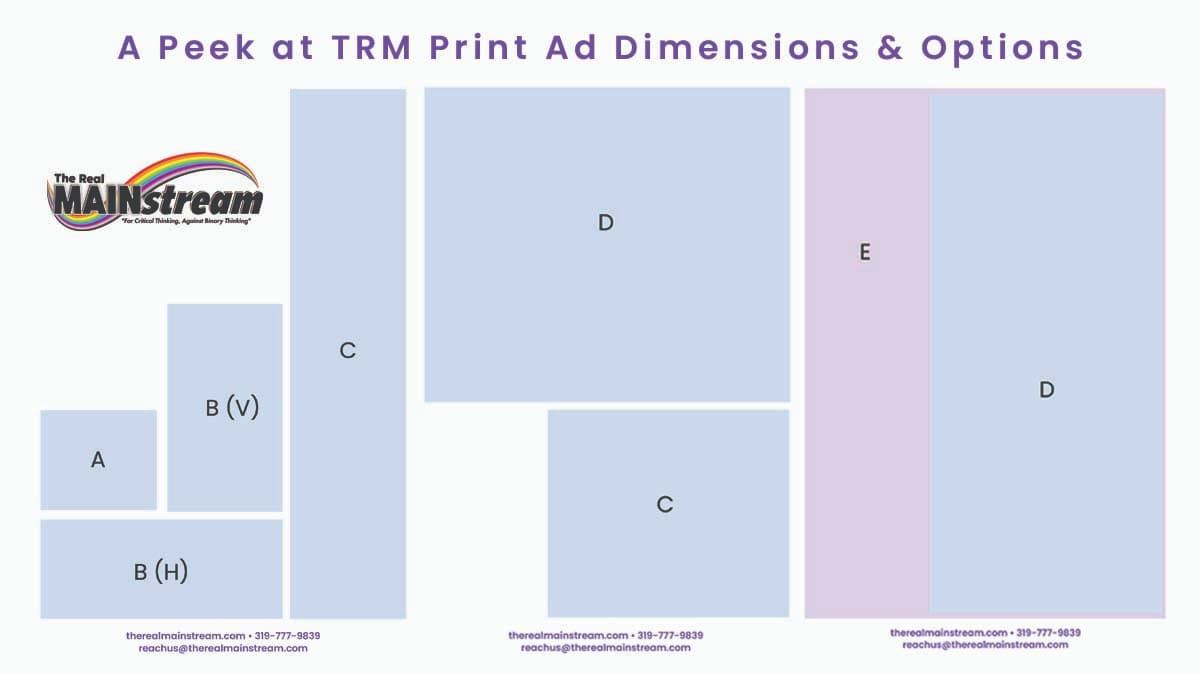 The Real Mainstream, also known as TRM, provides three ways throughout Illinois and Iowa to spread word on behalf of marginalized identities with an intersectional, progressive, journalism-based approach to modern-day topics and challenges.
• A 6″ by 9″ full-color print edition is published monthly. This print edition of The Real Mainstream is available in four ways: () by mailed subscription for one low annual fee (2) through bulk order at a discount (3) through a base supply of donated free copies in the Quad Cities, eastern Iowa, and in southern Illinois, with more regions added each month, and (4) as a donated "house copy" at 100 public libraries and public diversity and inclusion entities throughout Illinois and Iowa, with more added each month.
• TheRealMainstream.com (also known as readtrm.com) is constantly updated and improved with (1) news and feature articles (2) columns and photo galleries (3) themed and regional events calendars, and (4) fresh or new ads.
• A TRM e-newsletter goes out every one to two weeks that highlights the latest new features in print or online, and often includes timely original content.
Eight Reasons to Advertise in TRM
• TRM is affordable and flexible. You can advertise in TRM for as little as $43 a month. We also have a bunch of discount plans to meet any and every need, including a standing 15% nonprofit or community group discount.
• You receive both print and online ads. You also receive a landing page, which boosts search engine visibility and can be especially helpful to businesses and groups that don't have a web presence.
• You receive exposure across two states (Illinois and Iowa).
• You receive customized service focused on your unique needs. This can mean extra copies, requested placement, ad updates and more.
• You help more LGBTQ, BIPOC, female and other marginalized identities gain valuable on-the-job training and experience to enter professional communications trades. TRM also provides modest compensation for all contributors.
• You're part of a constant stream of intersectionality and help amplify the voices of all marginalized identities rather than just one. TRM regularly strives to serve not just LGBTQ+, BIPOC and female readers, but also people with disabilities, gig workers, the self-employed, independent artists, substance users, people of alternative faiths, and others who are often marginalized by society.
• You're part of an uplifting, empowering approach to serving marginalized identities. TRM aims to identify solutions and not just problems, and counters approaches that dwell in grievance.
• You're part of something organic, grass-roots, and alternative. In this era of corporatization, monopolies and dying smaller media, TRM is pursuing a different path to stability and service to Illinois and Iowa. You get to be part of that!
The cover image offers a peek at print ad options. For more information on both print and online advertising with TRM, contact Christine Hawes at 319-777-9839 or by email.   She'll respond within 24 hours!