QUAD CITIES — Eric Puryear is not your typical Black Lives Matter activist.
He's a gun rights enthusiast. He's a libertarian. He disagrees vehemently with socialism.
Yet he's also a pioneer of standing up against inappropriate policing in the Quad Cities and the Chicago area. He's one of the most active attorneys in the Iowa-Illinois area representing victims of police brutality or helping to share about their cases in writings.
Puryear, founder of Puryear Law, is also leading a series of rallies against police brutality in the Quad Cities. The next one takes place Saturday (Aug. 22) at 4 p.m. It's the second protest he's led in the last two months, after working against inappropriate policing since at least 2012.
Like the first one July 11, which drew about 200 people, this one will be held in the parking lot of the Davenport Police Department — an important detail for Puryear, who uses blogs and columns to help spread his message against inappopriate policing.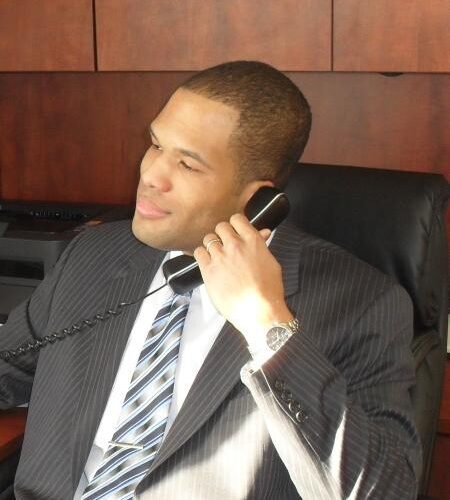 "I chose the Davenport Police Department for a reason. Protesting should take place where the focus of the problem is," Puryear says. "Why would i go to a park to protest the police station?
"At the protest that took place at Vander Veer Park a few months ago, the chief of police showed up and kneeled with everyone and passed out water and said some nice stuff. Sounds great …. but that's the same chief who keeps cops accused of police brutality on the payroll, and who is not doing anything about the problems. We can't allow ourselves to be placated by a few nice words and some kneeling."
Puryear is referring to a string of incidents over the years where Davenport police officers have been accused of or even found guilty of police brutality, but remained on the job or were protected from liability. These cases included:
• a 2015 case, just decided in June 2020, involving six officers accused of excessive force. One officer was found to have stomped on a suspect's ankle, breaking it, but a jury decided in June the officer deserved "qualified immunity," a concept that protects officers from being held directly responsible for violations they commit while on the job.
• Six officers from three different Quad Cities police departments are being sued by the American Civil Liberties union for excessive force in the March 2019 bad arrest of Jaylan Butler, a member of the Eastern Illinois University swim team. The officers are accused of threatening Butler's life and singling him out for mistaken arrest among a bus full of swim team members. In addition, 50 minutes of police bodycam video are missing from the case.
• In 2015, the community held a panel to discuss cases of police brutality or inappropriate policing.
• In 2013, videotape captured a police officer repeatedly punching Brandie Redell after a shoplifting arrest. The case went on for three years before Redell and the police department settled for $45,000, only $15,000 of which went to Redell.
Puryear lays out why tackling police brutality is so difficult and elusive. He says so many factors pile up against a police brutality victim, it can seem impossible to make a case and receive justice.
"It is impossible for a person, as they sit in jail facing another charge, to do anything about police brutality," Puryear says. "Attorneys are generally reluctant because the person will have credibility problems in court. When you have these hurdles of qualified immunity, credibility issues, and the fact that a jury will likely end up hating that person as a result of them committing a crime … it's very difficult to get justice for people.
"When you have police brutality, you are working often with some of the least educated people, and they may also have language barriers or may not say things 'right,' especially when talking to police initially. You have an entire system that seems constructed to deny justice to the people most wrongly harmed by police."
Puryear also blames the criminal justice system for systemic racism and says it's unrealistic to point all fingers at the police. "You have judges who are approving search warrants they shouldn't be. You have prosecutors who are giving nicer plea deals to white people than to Black people," he said. "It's a huge mess."
His open objection to socialism leaves him at odds with some groups involved in the Black Lives Matter movement, which is often stereotyped a being driven by socialists. In addition, Puryear's distant friendship with a gun club owner, who is also a business neighbor, led him to be enmeshed in a social media mix-up that has now become central to the protest tomorrow:
Puryear was portrayed in the thread of the Davenport Guns & Shooting Club as sympathizing with the gun club owners' views. Puryear posted in response to her comments that his interaction was mischaracterized, and said during an interview he thought his conversation with her helped her better understand systemic racism.
This was hours after the owner had posted encouragement for a "Blue Lives Matter" counter-rally in Davenport — a post that has since been removed. It's unclear whether the counter protest will continue.
Puryear went on to engage in a massive thread within the thread, debating a fellow gun rights enthusiast who was attempting to equate white gun deaths to those of Blacks at the hands of police.
Overall, Puryear says the work against police brutality in the Quad Cities is especially important for several reasons.
The Quad Cities connects two states that are both among the country's worst for disproportionate incarceration of Black people in a common measure of comparison: marijuana arrests. Illinois has the third-worst record in the country of imbalance between Black and white arrests, says the ACLU. , when it comes to marijuana arrests. Iowa is the fifth-worst.
Scott County, a key part of the Quad Cities, has a rate of Black incarceration for marijuana arrests that is almost twice as bad as Iowa's already dismal rate. In Scott County, a Black person is 13 times more likely to be arrested for marijuana than a white person.
In addition to organizing protests, Puryear is undertaking a petition drive to support changes in the Quad Cities area police departments. The petition asks for many of the same policy changes pressed by Black Lives Matter organizations throughout Iowa and Illinois:
• use and retention of bodycam and dashcam video for all police interactions with the public
Above, video of Brandie Redell's assault by a Davenport police officer, eventually settled for $45,000 — $15,000 of which made it to Redell.
• mandatory termination of any police officer who has been found by a court to have engaged in brutality, racism, or falsification of evidence
• an independent citizen oversight boards to review allegations of police misconduct
• public information on every case of confirmed brutality, racism, or falsification of evidence;