Amalia Vagts could hardly contain her joy today at the signs of Pride adorning her hometown of Decorah as it prepares for Saturday's second annual Pride parade and festival.
"We have 40 Pride flags hanging up on our main street this morning, and it's absolutely stunning," she said.
Decorah Pride takes place tomorrow with a parade, community gathering, dance party, and all-ages trivia night. Organizers expect at least 800 people to attend and emphasize allies are equally welcome.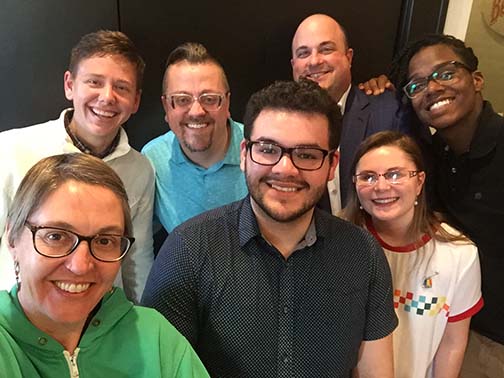 "The chance to have visual excitement and support and affirmation is so important, " Vagts says. "We've been thrilled by the community's response. We want allies to know all the ways they can help unleash this freedom and creativity. We want them to know that our LGBTQ community's creativity is something for everyone to experience."
Vagts actually grew up in Decorah, left for work, and then returned several years ago. "We have a sizeable gay community here, but no center, no organizing community group. We finally just said last year, 'let's just do this.' " Last year's debut festival was led by Alex Enriquez.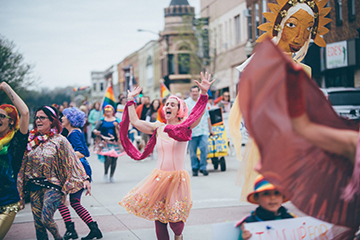 Here's a peek at the day's schedule:
• 2 p.m.: Parade kickoff at Mary Christopher Park
• Immediately after the parade, until 5:30 p.m.: 'Party in the Park' behind the Oneota Community Food Co-op. Featuring speeches by local members and friends of the LGBTQIA community, live music by local duo Eggen and Hippen, drag performances and Luther College acoustic group Beautiful Mess. Vendors, face-painting and aerial performers from the Discover Happy Pilates Studio. Food will be available for purchase from Salt/Water (run by local chef Justin Scardina).
• 6-8 p.m.: Pride Trivia Night at Courtyard & Cellar, 421 W. Water Street, with hosts Erik Ellingsen and Toby Cain. Open to all ages, families welcome. T-Bock's Sports Bar and Grill and other local other area businesses are contributing appetizers. No cover; alcohol and non-alcoholic beverages will be available for purchase.
• 8 p.m. – ??: Pride After Party at Pulpit Rock Brewing Company, 207 College Dr., with DJ Smiley. Featuring a special canned beer for Decorah Pride and offering several special taps.
For more information about Decorah Pride, go to www.decorahpride.com.