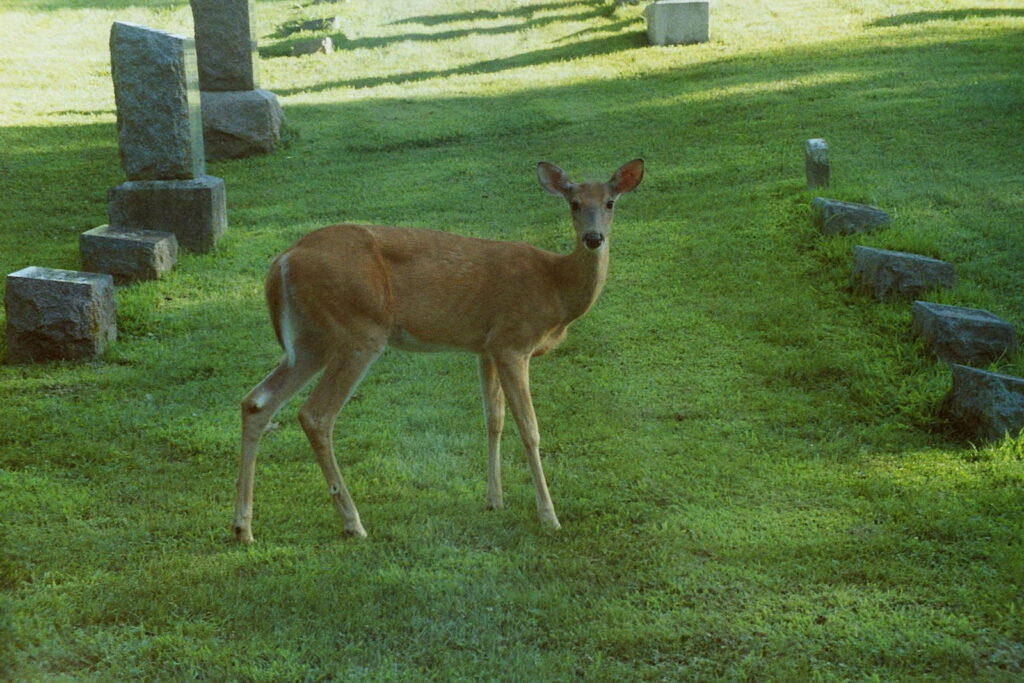 IOWA CITY  — They call themselves the Iowa City Deer Friends, and they're out to change the way Iowa City has chosen to respond to complaints about deer invading people's yards and living spaces.
Formed last year, Deer Friends tried to prevent and is still working to stop the city's practice of hiring both sharp-shooters and bow-hunters to take down deer en masse. The mass deer execution, which will resume again in February, is a threat to other citizens and residents, inhumane to the animals, and is ineffective in stopping the growth of deer populations, the group asserts.
"Our main objective is to get the city to stop bow-hunting," says Dawn Frary, who started the group and designed its website. "We'd like for the city to go fully non-lethal. We would be delighted if they would go for contraception."
The group objects to the mass kill plan for several reasons, all upheld by research and documentation:
• The kill rate for bow-hunters pursuing deer is about 50 percent — which means 50 percent of the animals struck by an arrow will live indefinitely with the wound.
• Studies show mass killing of deer doesn't help reduce population. By contrast, strategies like fencing, contraception and relocation to preserved areas has helped reduce deer population.
• The group questions how much freedom the hunters have to chase deer through others' private property, and also question the extent of background checks.
• Once the bow-hunting period is over and sharp-shooters are allowed to kill deer en masse, park-goers and nearby resident are endangered by flying bullets.
• Animals who do not die from their bullet wounds are left to carry lead bullets in their bodies, leading to painfully fatal lead poisoning.
• Lead contamination throughout the environment is furthered by the lead contained in the rotting flesh of deer who die later from their wounds. Scavengers who feed on the carcass further spread the lead contamination.
In the past month, at least three animal carcasses have been discovered just off of park trails or near publicly-frequented areas, says ICF member Allison Jaynes. One had been shot in the back, and the other in the head.
The sight of bloodied animal carcasses can be disturbing for the public, especially for people who have experienced trauma, says Florence Boos, another ICDF member.
In fact, she finds herself personally traumatized by the fact that the deer killings are allowed in a public cemetery, where her late husband is buried. The cemetery was identified along with seven public parks as an area where deer gather and so is included in the areas open to bow-hunters and sharp-shooters.
Deer are targeted for kills because of their explosive population growth in the past 30 years. Iowa is considered among the "worst" states for deer issues such as car collisions and nibbling of landscape
But no research supports the mass killing of deer as a successful way to reduce deer populations. Rather, research shows deer killings cause deer to have more twin and triplet births, confirming the proven concept that nature abhors a vacuum.
Yet, Iowa has 14 state-sanctioned hunt zones, and many other states and communities follow the practice, too.
Meanwhile, more communities are applying strategic non-lethal measures and achieving greater success at a lower cost in reducing the deer population. They include programs in British Columbia, Ohio, California, Maryland and Montana.
The Iowa City Deer Friends believe the practice of mass deer hunting continues because of its contribution to Iowa's hunting economy. A recent article in the Des Moines Register said deer hunting generates $214 million in sales annually of gear and supplies.
The state also receives hefty licensing fees, the group notes.