QUAD CITIES — If you're a gay man trying to escape from domestic violence, your path out can seem almost impossible.
"The police may not understand," says Mona Ritemon, the new LGBTQ domestic violence advocate for the Quad Cities. "If a man gets beat up by his boyfriend, they may just look at him and say, 'Man up. What's the problem?' "
Or what if you're a lesbian who realizes you're being abused by your partner? Sometimes, threats of outing you to your family, co-workers or church may lead you to stay silent, says Zachary Nielsen, survivor services supervisor for Family Resources in the Quad Cities.
"That power and control is amplified," Nielsen said. "The financial abuse, the emotional abuse … all of these pieces can be wrapped up and hinder the survivor from seeking services. Even transmission of sexually transmitted infections can be used as a way of power and coercion. When you think of the mindset of a perpetrator, they'll seek any way to keep that victim under their power."
Breaking these extra-complicated dynamics of power and control in the LGBTQ community is the mission of Ritemon in her new advocate role. Her new position was created five months ago by the coalition.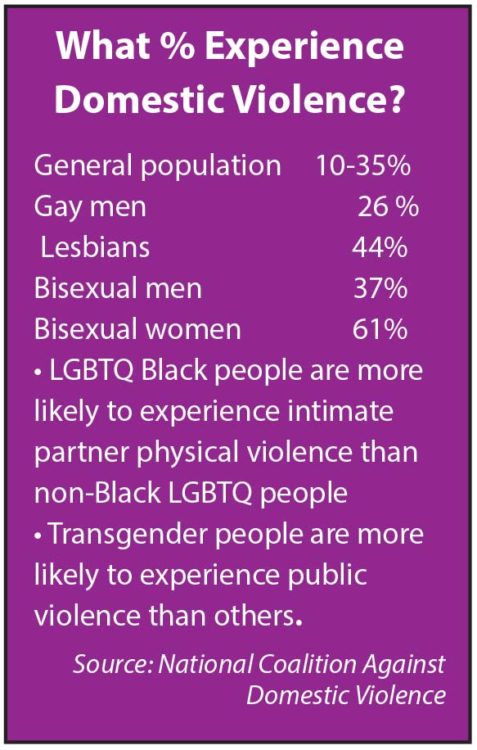 The program serves three Illinois counties and five Iowa counties; Ritemon is available as an empowering, comforting presence through the legal system for LGBTQ people trying to escape domestic violence. She helps them navigate the legal system and accompanies them in the courtroom if they desire.
"Mona's role is to wrap holistically around survivors," says Nielsen. "It's a recognition on the part of family resources that there is a huge missing gap when it comes to inclusivity and wrap-around services for LGBTQ people."
LGBTQ people are at greater risk of domestic violence than the general population, statistics show:
• 10 to 35 percent of adults nationwide are likely to experience domestic violence in their lifestimes, according to the National Coalition Against Domestic Violence.
• About 30 percent of Iowa women, and 20 percent of Iowa men, are likely to experience domestic violence in their lifestimes, the NCADV says.
• By contrast, domestic violence is likely to be experienced by 26 percent of gay men, 43 percent of lesbians, and 61 percent of bisexuals, Ritemon says.
The situation becomes even more dire for LGBTQ people of color, Ritemon and Nielsen say. Their rates of domestic violence are already higher; for example, about 40 percent of black women in general will experience domestic violence, according to the Institute for Women's Policy Research.
Ritemon's ability to reach out to people on the "down-low" is essential to the program's mission. She was born and raised in the Quad Cities, grew up deeply involved in her father's church, and is a board member with QC Pride. and a drummer with the Metropolitan Community Church of the Quad Cities. She  also did not "come out" until she was in her 20s, after getting married. "I understand what people are going through," she says. "I want them to know they're not alone. I try to let them know in any way or form, that I'm there."
To seek Ritemon's help with your situation, reach her at monetar@famres.org, or call /text her at 563-265-1035.