The Real Mainstream publishes in three forms: this website, a print edition home-delivered or bulk-distributed, and a free e-newsletter (sign up for it here!). Find a list of locations at the bottom of this page where you can find free copies throughout Illinois and Iowa. You can also order home delivery while also supporting TRM's work and mission:
Regular subscription: $38.40, auto-renewing once a year.
Half-price subscription: $19.20, auto-renewing once a year.
Free subscription: Pay nothing, but it's a great way to show your support for the work! To subscribe for free, use this link and enter the code 'passiton2'
If you're a business, church, agency or nonprofit interested in offering TRM at your location, check out bulk orders for 2 or more subscriptions.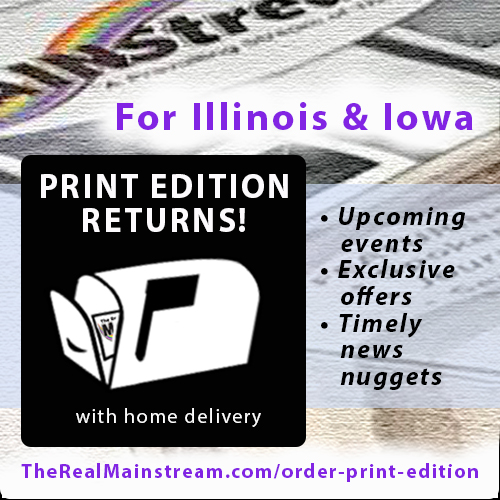 Order Print Edition
Receive the print edition each month (except for dual-month editions) for $38.40 a year. Featuring print-only or print-first content; exclusive offers; highlighted upcoming events; and TRM Weekly by email. Auto-debited ANNUALLY on a recurring basis.  If you're a nonprofit or community group, enter 'nonprofit' coupon code, for 15 percent discount. Bulk orders available at five levels for additional discount.
Home Delivery for One Year
Where to find free copies of The Real Mainstream
In Illinois
At public libraries in:
Aledo
Anna
Bolingbrook
Carbondale
Colona
DeKalb
Dixon
East Moline
Freeport
Galena
Geneseo
Moline
Morrison
Mount Carroll
Odell
Rock Island – Downtown
Rock Island – Southwest
Rock Island – Watts/Midtown
Rockford
Romeoville
Silvis
Also, at these private, nonprofit, or agency locations in the Quad Cities (Illinois side):
Circa '21, Rock Island
Hope United Church of Christ, Moline
Nature's Treatment of Illinois, Milan
The Artsy Bookworm, Rock Island
The Project of the Quad Cities, Moline
Twisted Bo-Kay, Moline
Also, at these private, nonprofit, or agency locations in southern Illinois:
Carbondale Unitarian Fellowship, Carbondale
CHOICES Center for Reproductive Health, Carbondale
Cobden Village Shops, Cobden
E Claire Salon, Carbondale
First Presbyterian Church of Carbondale
First Presbyterian Church, Harrisburg
Happy Hair Salon, Carbondale
Keith's Place, Harrisburg
Dr. Jeffrey Kellogg, Carbondale
Morris Library, Southern Illinois University, Carbondale

Rainbow Café LGBTQ Center, Carbondale

The Center for Empowerment and Justice, Carbondale
Wander Community Art Studios, DuQuoin
You can also find a "house copy" of The Real Mainstream, available to read on-site, at these locations:
Albion Public Library
Alton: Hayner Public Library
Belleville Public Library
Biggsville: Henderson County Public Library
Bloomington Public Library
Cartersville: Anne West Lindsey District Library
Centralia Public Library
Champaign Public Library
Clock Inc. LGBT Community Center, Rock Island
Danforth: Gilman Danforth District Library
Decatur Public Library
Effingham Public Library
Elgin: Gail Borden Public Library District
Farmington Area Public Library
Greenfield Public Library
Griggsville: North Pike District Library
Havana Public Library District
Hennepin: Putnam County Public Library
Herrin City Library
Joliet Public Library
McLeansboro: McCoy Memorial Library
Mount Sterling: Brown County Public Library
Moyer District Library, Gibson City
Newark: Charles B. Phillip Public Library
Newman Regional Library District, Newman
Newton Public Library
Normal Public Library
Oak Park Public Library
Osceola Public Library
Peoria Public Library
Pinckneyville Public Libary
Prophetstown: Henry C. Adams Memorial Library
Quincy Public Library
Raymond: Doyle Public Library
Springfield: Lincoln Library
Urbana Free Library
In Iowa:
At public libraries in:
Bettendorf
Burlington
Cedar Falls
Cedar Rapids
Clinton
Coralville
Davenport – Downtown
Davenport – Eastern
Davenport – Fairmount
Decorah
Des Moines
Dubuque
Eldridge
Fairfield
Fort Madison
Iowa City
Maquoketa
Marion
Mount Pleasant
Mount Vernon
Muscatine
North Liberty
Oskaloosa
Ottumwa
Tipton
Washington
Waterloo
West Des Moines
Also, at these private, nonprofit, or agency locations in the Quad Cities (Iowa side) and Iowa:
Early Bird Cafe and the Diversity Market, Iowa City
Edwards United Church of Christ, Davenport
Everybody's Whole Foods, Fairfield
Figge Art Museum, Davenport
Mary's on 2nd, Davenport
MCC of the Quad Cities, Davenport
ReAlive Metaphysical, Cedar Rapids
Running Wild, Davenport
Shakespeare's Pub & Grill, Iowa City
SugaPeach, North Liberty
The Blazing Saddle, Des Moines
Unitarian Universalist Congregation of the Quad Cities, Davenport
You can also find a "house copy" of The Real Mainstream, available to read on-site, at these locations:
Albia Public Library
Ames: Ankeny Kirkendall Public Library
Atlantic Public Library
Carroll Public Library
Clear Lake Public Library
Councl Bluffs Public Library
Eddyville Public Library
Emmetsburg Public Library
Fort Dodge Public Library
Grinnell: Drake Community Library
Humboldt Public Library
Indianola Public Library
Orange City Public Library
Osceola Public Library
Marengo Public Library
Marshalltown Public Library
Mason City Public Library
Monticello Public Library
Newton Public Library
Red Oak Public Library
Sioux City Public Library
Solon Public Library
Spirit Lake Public Library
Storm Lake City Public Library
Unitarian Universalist of Ames
Urbandale Public Library
Vinton Public Library
Waverly Public Library
Webster City: Kendall Young Library
West Branch Public Library
West Liberty Public Library
West Union Community Library
Williamsburg Public Library