Cedar Rapids, Des Moines, Iowa City and the Quad Cities have all expanded their Pride Month offerings, with more virtual fun, chances to join in from your home or yard, and special guests.
Capital City Pride in Des Moines decided just a few weeks ago to cancel this year's event, which had initially been delayed from June to July. Quickly, the group has come up with a new slate of events that includes parades and special guests the Iowa Phoenix women's football team. Iowa City, Cedar Rapids and the Quad Cities have added new features since early June, with more details to come on Cedar Rapids' events.
Here's a chronological look at the new Pride offerings from CR PrideFest (Cedar Rapids), Capital City Pride (Des Moines), The Quad Cities area (Clock, Inc., Quad Cities Pride Festivals and QC Unity Pride), and Iowa City Pride, followed by a reminder of other Pride happenings throughout Iowa and Illinois, and virtually:
Sat., June 20
• DLL Fun Run by Capital City Pride and the Pride Sports League of Central Iowa, all day: Pick your own 5K trail or route, dress up and show your Pride all over town. Special guests to include the Iowa Phoenix women's football team. Winners posted online. Sign up at https://www.ignition.ink/capital-city-pride-5k
• Pride Virtual Parade by Iowa City Pride, 11 a.m. to 1 p.m. Drag performers and Pride board members will drive around Iowa City, Coralville and North Liberty. You can also join the celebration, as a participating car or by asking the parade to pass your house or business, by clicking here. And, you can still order an Iowa City Pride yard sign by clicking here. Sign pick-up will be Thursday and Friday.
• Pride On Live! by Quad Cities Pride Festivals, QC Unity Pride, and Clock, Inc. LGBTQ Community Center, 5 to 7 p.m. All-ages variety show featuring entertainment galore.
• A "mini-Pride" takes place at Jason Zeman's three bars — Studio 13, the Yacht Club, and EDEN — starting at 9 p.m. Reserve your tables by emailing info@iowacitypride.org (social distancing guidelines will be followed!), and enjoy an evening of drag, karaoke, and DJ ACEY, with 10 percent of proceeds at all three bars that night going to Iowa City Pride.
Thurs., June 25
• Craft With Pride, 7-7:30 p.m.: Gather up your sharpie markers, a hole punch or small drill, string or jute, and clear plastic cups, and join this virtual craft session.
Sat., June 27
• Virtual Pride Pet Parade by Capital City Pride, 1-2 p.m.: Dress up your pet at home, set up your own photo session, and send your best shots to marketing@capitalcitypride.org by Sat., June 20. Top 12 winners to be featured in the 2021 Pride Calendar.
Sun., June 28
• Pride Flag Parade by Capital City Pride, noon to 12:30 p.m., East Village: Find your best Pride flags, hang them out your car window, and join in a socially distant parade. Video and pics will be gathered by Capital City Pride. Show up at E. 6th St. and Grand Ave.
Sat., July 11
• CRPrideFest Online: Plans are in the making to have a virtual event on the date that would have been Cedar Rapids' PrideFest. Watch the CR PrideFest website for more information,
Other Pride events still to come this month in Iowa and Illinois:
• Sat., June 20: Join the Virtual Rainbow Run hosted by Twin Cities Pride. Choose your own time to run anytime between June 20 and 27, then register your time on the registration page! Prizes will be awarded for fastest run and best dressed; register by June 5 to receive shirts and bib numbers.
• Sat. and Sun., June 20-21: Virtual Chicago PrideFest offers two days of entertainment, activism and community. Watch its Facebook page for more information.
• Sat., June 20: Burlington, Ia., will hold an informal, socially-distanced gathering in Crapo Park from 11 a.m. to 2 p.m. including lawn chairs, games and community. Watch the group's Facebook page for the latest.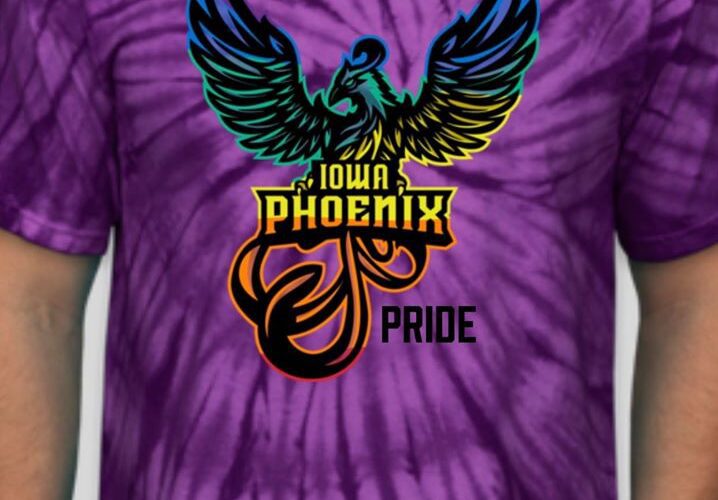 • Sat. and Sun., June 20-21: Denver Pride holds a two-day event that starts at 8:30 a.m. June 20 and continues throughout the evening. The schedule includes authors, performers, draq queen story times, a virtual parade, a virtual 5K, a rally, and more. Watch its Facebook page for more.
• Sat., June 27: Global Pride kicks off at noon. This massive online extravaganza is a collaboration of Pride organizations nationwide. Enjoy speeches, performances, film and other content from Prides in Africa, Europe, Asia, Oceania, and South, Central and North America, all coordinated by a team of more than 100 volunteers. Watch its Facebook page for more.
• Sat., June 27: Pride San Antonio offers an all-day digital festival, Pride Bigger Than Texas, featuring performers, a drag queen story time, a virtual parade and more. Go to the group's Facebook page for more.
• Sun., June 28: NYC Pride had to cancel its 50th anniversary celebration, but it will team with the local ABC affiliate for a broadcast event from noon to 2 p.m. featuring celebrities like Caron Kressley and Dan Levy. Watch the group's Facebook Page for more.
• Sat. and Sun., June 27-28: Twin Cities Pride in Minneapolis hosts a two-day virtual event featuring entertainment and a virtual parade. Learn more at the group's Facebook page.
Do you have a Pride Month event you'd like us to help share? Please email to reachus@therealmainstream.com!