Four humbly serving community leaders with deep impacts on progressive and LGBTQ Iowans have passed away within the last month, making the end of 2021 an extra somber time in several communities.
Korrina Dawson, founder of ReAlive Metaphysical in Cedar Rapids, is the latest to leave, passing Thursday after being diagnosed with advanced cancer just before Thanksgiving.
Earlier this week, progressive Black Hawk County Supervisor Christopher Schwartz announced his longtime partner and new husband Logun Buckley had passed from suicide, reports KWWL. On Nov. 29, Quad Cities volunteer and activist Clayton Peterson ended his long battle with cancer. And just after Thanksgiving, Kristin Sekafetz, who ran Iowa City's Dodge Street Auto & Tires with husband Brian, died following complications of open-heart surgery.
All four worked diligently — and often without fanfare — in their Iowa communities as bridge-builders within and beyond LGBTQ and progressive people. All helped their communities with needs and issues dear to either LGBTQ people or other marginalized groups.
Remembering Korrina Dawson of Cedar Rapids, Logun Buckley of Waterloo, Clayton Peterson of the Quad Cities, and Kristin Sekafetz of Iowa City
• Dawson, 60, was a towering force of metaphysical thought, constantly seeking class presenters and products at ReAlive Metaphysical that followers of nontraditional spirituality had a hard time finding elsewhere. She and collaborator Katheryn CrystalClearvision built a shop that welcomed artists and yogis alongside traditional Christians, pagans and believers in ancient spiritual traditions like witchcraft.
"This is a place people can come to no matter what they believe, and (feel) open and safe," Dawson said in an Uptown Marion profile in 2016. A graduate of Cedar Rapids' Kennedy High School, Dawson started a new career of sharing spiritual and metaphysical items after her retirement as a bartender and retail worker. She kept ReAlive open through the entire pandemic. Last summer, she earned even more respect when moving her store from Marion to Cedar Rapids after the August 2020 derecho destroyed the roof in her original spot.
"Anything is possible when you put the work in," she said in a KCRG piece in August. She was also known as a strong ally to LGBTQ people, and earned a reputation for uplifting people with her continuous Baby Yoda posts. A celebration of her life will be held from 1 to 4 p.m. Dec. 18 at Brosh Chapel and The Avacentre in Cedar Rapids, 2121 Bowling Street SW.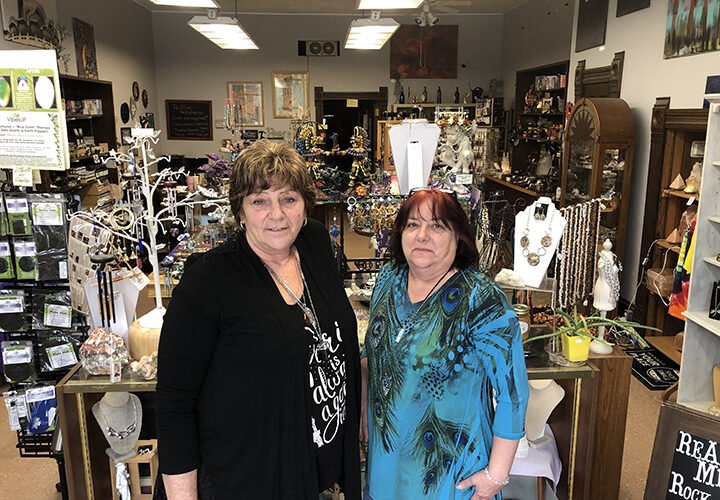 • Buckley, 26, worked for three years as a campaign manager for his husband Schwartz, who earned recognition as one of central Iowa's rare openly LGBTQ local elected officials. Buckley was also an organizer with the Iowa Alliance for Retired Americans, with which he lobbied for more affordable drug prescription prices.
A graduate of the University of Northern Iowa, he was a volunteer with Cedar Valley Pride, Americans for Democratic Action, and Main Street Waterloo, according to his LinkedIn profile. "Logun worked tirelessly for causes like Medicare for All, lower prescription drug prices, racial justice, tuition-free public colleges, and universities," posted Julie Russell-Stewart, head of Black Hawk County's Disability Caucus, quoting a statement released by the Iowa Democratic Party's Stonewall, Veterans, Progressive, Labor, Disability, AAPI, Native American, Womens, and Rural Caucuses.
"As a member of the LGBTQ community, Logun worked to make sure that younger folks following his lead had safe spaces to do so. Logun traveled all over the state of Iowa to help organize some of the reddest counties in the state, regardless of the district they were in. This demonstrated his courage and a commitment to positive change and social justice. Those who knew him were blessed to see his progression from a young college student into a powerful force." A celebration of life for Buckley takes place 6 p.m. Tuesday at the Electric Park Ballroom, 310 W. Conger St., Waterloo.
• Peterson, 74, belonged to and served on behalf of numerous Quad Cities community groups for decades, writes the Quad-City Times. He helped found The Project of the Quad Cities, which now provides health care and harm reduction services to more than 40 counties throughout Illinois and Iowa.
A veteran of the Vietnam War, Peterson was also a volunteer with the Metropolitan Community Church of the Quad Cities, the Mississippi Valley Quilters Guild, the Rock Island Human Rights Commission and Preservation Society. He helped ensure sexual orientation was added to the anti-discrimination clause of the city's Equity Project, says his obituary, and was coordinator of the Gay and Gray division for Quad Citians Affirming Diversity.
"He helped thousands of people over the years, in different ways," said MCC Pastor Rich Hendricks said.  A celebration of Peterson's life took place Dec. 8; those interested in honoring him are encouraged to donate to the Vietnam Veterans of America Chapter #669, or to plant a tree in his honor.
• Sekafetz, 49, helped Iowa City's Dodge St. Tire & Auto become both a local business hero, and a progressive pioneer. A graduate of Cedar Rapids' Jefferson High, Sekafetz and her husband championed the Iowa Hawkeyes with game gatherings, and shop decor (Sekafetz was a University of Iowa grad).
The Sekafetz family also ran fundraisers for Iowa City public schools and groups like the Domestic Violence Intervention Program (DVIP) holiday efforts, and is even holding a toy drive right now for DVIP. oDodge Street had also gained popularity among younger residents through years of earning CRANDIC "Most Trusted Mechanic" honors from the Little Village alternative publication.
In the past two years, Dodge Street had begun openly championing Iowa City's LGBTQ community, as a sponsor of the annual Iowa City Pride event and an advertiser in TRM. Kristin Sekafetz handled most of the behind-the-scenes administrative work necessary to organize sponsorships and ad campaigns while her husband ran the shop. If you'd like to honor her, you're encouraged to donate to the family's memorial fund, which will help support the Iowa City City High Girls Track & Field Team or the Iowa House at Mooseheart, or to donate toward tree-planting in her honor.