Pride in Action-Southern IL to hold planning meeting March 1
Gather with members of Pride in Action-Southern IL this Wednesday to help plan this year's Southern Ill. Pride Festival, happening June 10. The group discussion starts at 6:15 p.m. at The Center for Empowerment and Justice, 213 N. Washington St., Carbondale. learn more at the Pride in Action Southern Ill. Facebook page.

Illinois State Rep. Katie Stuart cancels event over bathroom bill threats
EDWARDSVILLE — Threats over a bill she's sponsoring that would ensure non-gendered restrooms have privacy caused Illinois State Rep. Katie Stuart (D-Edwardsville) to cancel a coffee gathering with constituents Saturday. Stuart is sponsoring House Bill 1286, which sets up privacy guidelines for new buildings that have multi-stall, gender-neutral restrooms, reports Advantage News. It does not actually require gender-neutral bathrooms.
Stuart's statement about the cancellation was released late Feb. 24 and said "out-of-touch special interests are manufacturing controversy where none should be and are preventing people from participating in democracy." Stuart did not share any additional information about the nature of the threats, but told the Belleville News-Democrat she has passed them on to the Illinois State Police.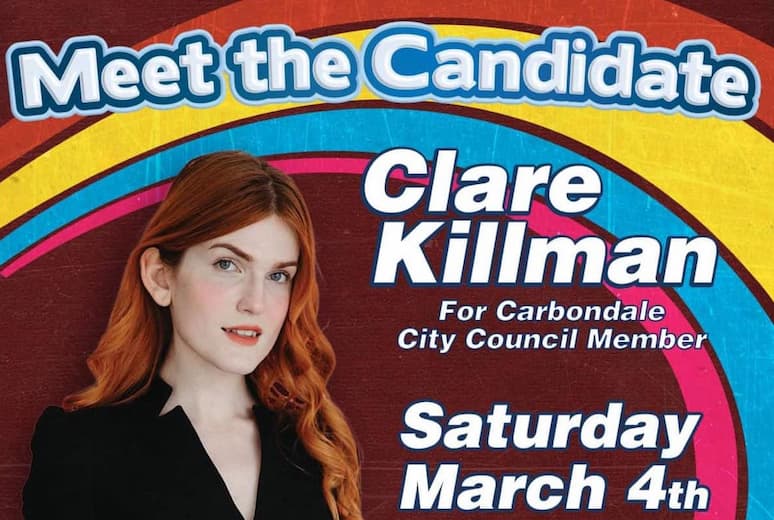 Carbondale candidate Clare Killman holds March 4 event
CARBONDALE — You can learn more about City Council Candidate Clare Killman Saturday at a Meet the Candidate event that will also feature speakers and music by a local DJ. Killman is among seven Carbondale residents running for four seats that will be decided April 4. She is a co-founder of Carbondale Spring, a former board member with the Conversion Therapy Drop-out Network, a member of the Citizen's Advisory Board for the Jackson County State's Attorney's Office, and the office's Violent Crime and Domestic Violence Committee.
Killman is currently a specialist with the Dispute Resolution Institute, Inc., which helps mediate conflicts between landlords and tenants, farmers and the government, and among families. The event is 4 to 6 p.m. at Hangar 9, 511 S. Illinois Ave. You can learn more about Killman in this article from The Real Mainstream February/March 2023 edition, or at Killman's Facebook page.
Gun violence study to be discussed Tuesday
CARBONDALE — A key step toward containing gun violence in Carbondale happens Tuesday, when Southern Illinois University researchers present results of a study they've been undertaking for the past year. Among the information to be discussed: almost half of survey respondents who live in northeast Carbondale reported hearing gunfire at least once a week, reports WSIL-TV.  The study also calls for "hot-spot policing," and notes an outdated Carbondale police records system and overly-redacted reports. The study's release and recommendations follow a press by residents of Carbondale's Arbor District to explore ways to lessen gun violence there, says The Southern. The meeting starts at 6 p.m. at Carbondale City Council chambers, 200 S. Illinois Ave.
Rainbow Cafe calls for support of Tennessee groups fighting anti-LGBTQ bills
A Carbondale nonprofit group is calling for southern Illinoisans to donate and support several Tennessee nonprofit groups that are standing up against two anti-LGBTQ bills. The Rainbow Cafe LGBTQ Center put out a call Saturday for donations to OUTMemphis, the Oasis Center, and CHOICES Center for Reproductive Health as they stand against bills that would criminalize gender-affirming care for minors and classify drag as adult performers. "Anti-drag bills are anti-trans bills and they go hand-in-hand," Rainbow Cafe wrote in its Facebook statement about the bills. Carbondale is located within 200 miles of Tennessee and also Kentucky and Missouri.
OUTMemphis: the LGBTQ Center for the Mid-South hosts health, social and support services for LGBTQ Tennesseeans and also hosts and annual film festival. The Oasis Center provides a program specifically for LGBTQ  youth called Just Us that focuses on core needs that include mental health counseling and housing assistance. CHOICES is based in Tennessee but recently opened a Carbondale office; in addition to abortion and birth care, CHOICES is also starting to provide gender-affirming care for youth. You can learn more about Rainbow Cafe at its website.
(photos courtesy Clare Killman and Illinois State Rep. Katie Stuart)