MOUNT PLEASANT — The greatest inspiration for a new PFLAG chapter in Mount Pleasant, a town of less than 8,700, was not an LGBTQ-related incident.
Bob Mueller, founder of Mount Pleasant PFLAG, says ICE raids that led to the arrest of 32 people in March 2018 inspired him. "Back in Illinois, the LGBTQ+ and immigrant rights groups often worked together as we had many of the same issues," said Mueller, who moved to Mount Pleasant from Westmont, about 20 miles outside of Chicago. Mueller said he felt called to stand up for the rights of his Hispanic and Latino neighbors, in the same way he stands up for himself as a gay man.

He joined fellow residents to protest the raids and met Lian Halawith, head of the Mount Pleasant High School Gay Straight Alliance. Halawith wanted to know how his GSA members could help stand up for Latino and Hispanic civil rights.
Mueller and Halawith soon became colleagues on an Iowa Welcomes Its Immigrant Neighbors (Iowa WINS) panel that reached out to the staff of Congress members Joni Ernst and Charles Grassley on behalf of civil rights. From there, momentum picked up, Mueller said.
A controversy over Mount Pleasant's new middle school GSA arose, when a flier for the group was removed from a school bulletin board. Mueller helped ensure language was removed from district policies that left GSAs vulnerable to shutdown.
The Mount Pleasant First Presbyterian Church held a forum about GSAs. And Burlington Pride held its first-ever event.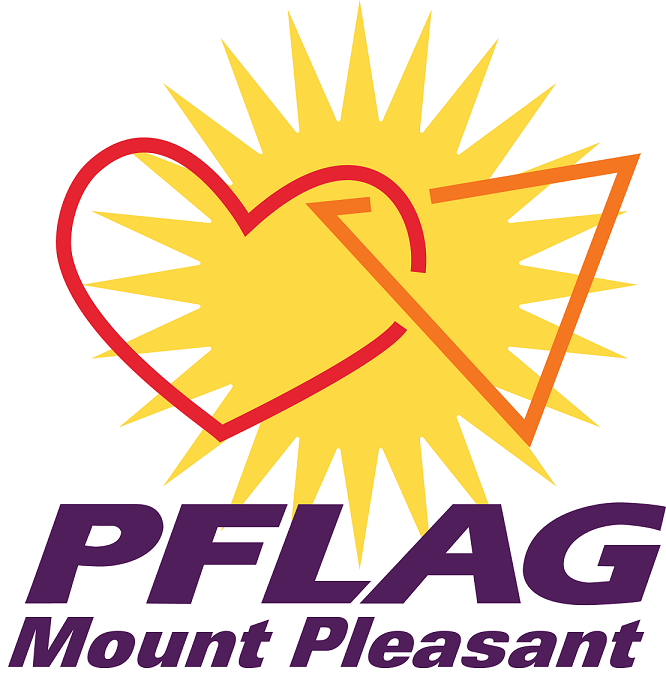 The run of events inspired Mueller to go forth with a PFLAG chapter. "PFLAG was the group that always got the biggest cheers at PRIDE Parades," he said.
Support continues to be strong, Mueller says. The intersectional approach also continues, with one-third of the group LGBTQ and two-thirds friends or family. Though many attending from the Iowa Wesleyan College in town are Hispanic or Latino, Mueller says the new PFLAG group still needs to do better involving more people of color. The group is open to anyone in Henry county and any adjoining counties.
In many ways, Mueller says, eastern Iowa has demonstrated its affirmation of LGBTQ people. He said he was impressed upon first moving here with the strong and fair coverage of the murder of Kedarie Johnson, and the resulting trial and conviction of Johnson's murderers. Johnson,16, was an openly gender-fluid resident of Burlington who was viciously murdered in March 2016 after two men kidnapped them, mistakenly thinking they were female, then turned on Johnson upon realizing their  gender-fluidity.
Though the case was heartbreaking, Mueller said he was impressed with how the community and media responded to condemn the killing. "That kind of story can often can get buried, or you'll get negative comments. But I thought Burlington and the justice system was quite fair."
In addition, Burlington Pride is now in its second year, and the public school system ended up resolving a bathroom controversy inclusively.
But there have been worrisome signs, too. They include not only the GSA flier controversy, but also the presence of picketers at Burlington Pride in 2019. And the rift that developed over the March 2018 ICE arrests has not really subsided, Mueller says.
"Mount Pleasant is still quite divided as far as which side you follow. Do you follow the law, or do you follow a human rights perspective? There's still work to do."
Mount Pleasant PFLAG will also hold a forum on conversion therapy March 24. The group plans to keep on working closely with GSA advisers at middle and high schools, and Iowa Wesleyan, to address topics of bullying and acceptance.
Mueller also hopes to address what he calls "pre-2013 LGBTQ+ families" and their needs, meaning LGBTQ+ families that came together prior to marriage equality. As more of those families reach retirement age, they are encountering challenges of elderly care, shared assets, benefits, and partners' rights.
Mueller points to a recent settlement agreement for 9-11 families, where a clause would allow LGBTQ partners to receive the benefits only if they were formally married at the time, rendering most LGBTQ couples ineligible.
Overall, the Mount Pleasant PFLAG aspires to "make people more aware that there are many LGBTQ+ individuals all around them."
"One can inadvertently hurt someone with off-hand comments and jokes that were commonplace a generation ago."
This article was written by Christine Hawes and Cheryl Weatherford.
COMING UP MARCH 24: Forum on Conversion Therapy Ban