I first met Aubrey Barnes at an open mic I produced. He performed with power and passion, starting his poem before he even got to the stage. I watched as his words, palpable and poignant, landed in people's ears. We were captivated.
Later, I learned this 27-year-old is a spoken word performer from the Quad Cities, who's taken the stage with tenacity for the past five years; a producer of shows for local artists; founder of an after-school program; and a teacher.
When I had the chance to interview Aubrey (you can imagine what it was like, two performers pondering the power of poetry), our conversation both grounded and inspired me.
We started by agreeing that local steps may be the largest steps to empowerment within any community.  For Aubrey, through his new Young Lions Roar program, his mission is to bring writing, literary techniques, performance, and public speaking to the youth around him.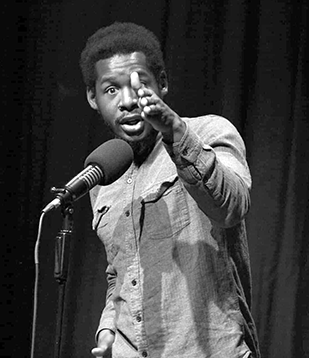 "With kids, I want them to know how to express themselves," he states, simply.
That struck a chord with me. When I started spoken word, I used it as a tool to tackle the questions that felt too big to talk out at first. Once on the page, these words demanded the stage. Through writing, I learned how to speak my truth, and to find my home in it.
Aubrey had a similar experience. In large groups, he said. He often had "anxiety about being 'too Aubrey' here, maybe I should tone it down." Writing gave him a new outlook, "I use writing as a way to figure myself out. Learning to be comfortable in my skin. I kind of become my own best friend."
He hopes Young Lions Roar will inspire youth to make positive changes, and connect them to their community. "We have an amazing art community here, and nobody knows about it." He's determined to change that.
Creating community consciousness is weighty. It can change youth, a power that's often overlooked. When young people are conditioned to see their communities as "lesser," they begin to internalize that outlook. The same applies to the opposite.
Simply put, the energy around our youth is like a mirror, helping them determine their own worth and identity.
Before I was a poet, I was a football player. I was terrible. But playing sports felt like the only option in my community at the time. When I didn't succeed in it, I felt stuck, like a failure without any other options.
But once I started writing and performing, I realized there were others like me. Not everyone was an athlete or fit into the community expectations. To my surprise, a cohort of people—artists—awaited me, ready to help me grow.
Aubrey knows the artist isolation struggle, and he actively combats it with Young Lions Roar.
"When kids get involved in the art community, it gives them something to be proud about. They looked at the community as something mundane, but then start to see it as something vibrant, something they can really be a part of and add to."
Through Young Lions Roar, he finds a home for those who need to know there are other ways—beautiful, valid ways—to live in the Quad Cities community.
This past fall, Aubrey accepted an invitation to travel to Haiti, where he taught youth workshops and collaborated with artists. He focused in those workshops on planting the "little seeds of impact," with a goal of simply "watering the moments."
"The first question I asked them was 'how many of you have written poetry?' or 'how many of you have heard of spoken word poetry?' and nobody raised their hand," he said. "It was so crazy. Part of me was like, 'That's awesome.'  The other part was like 'Oh man, I have to make sure they get it.' "
A class member walked up to Aubrey after his first lesson to say he wanted to learn more about poetry. "It opened up a world where he was like 'Wow, I can use words like that, and I kind of like it.' " Those are the moments we work for, the moments that change our lives.
I think back to the spoken word club I facilitate at West High in Iowa City. One student showed up every week, quietly, refusing to share. He was intrigued by spoken word, I could tell. Still, a full semester went by before I heard him share any part of the poetry he wrote.
Once he did, once he realized it was something he liked, he came running in after track practice one day, still sweaty and panting, asking if he had made it in time to share a poem he wrote at home.
Those "little seeds of impact" are essential to our growth. As poets, both Aubrey and I have had our share.
It's become clear to me, and no doubt Aubrey feels it too: we must learn to be ourselves to make a difference. When we actively cultivate a culture that encourages the youth to do the same, we are all blooming.
(cover photo of Aubrey B. Barnes in Haiti, provided courtesy of Aubrey B. Barnes)