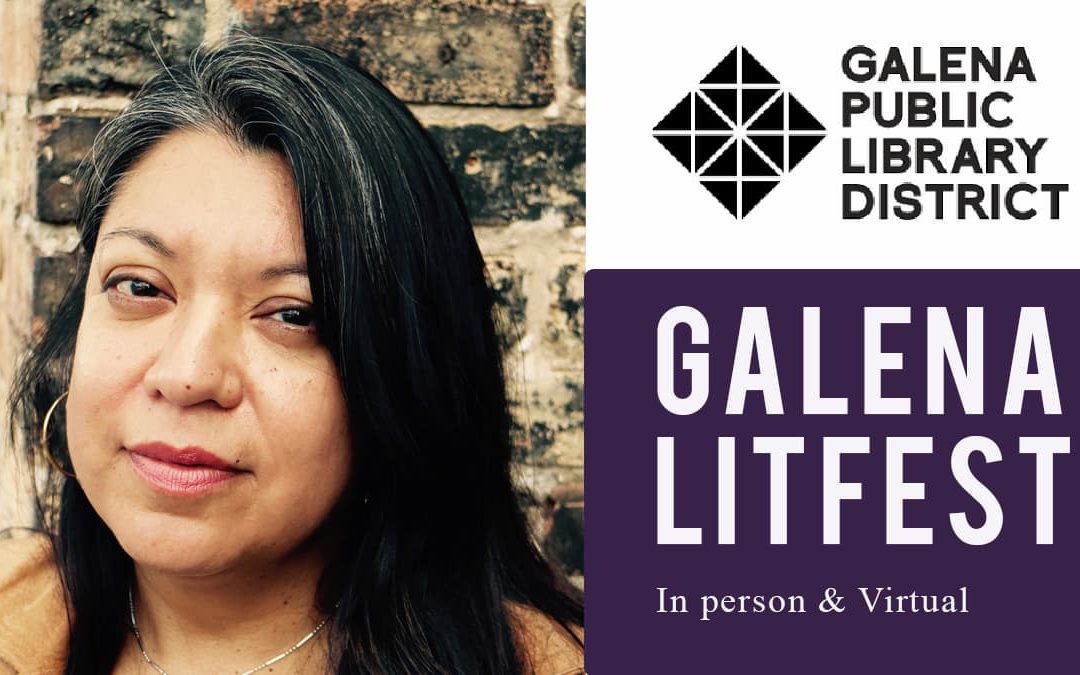 Angela Trudell Vasquez is the first-ever Latino poet laureate for Madison, Wis., a community with a thriving poetry scene.
She'll speak Thursday, Jan. 26, as part of Galena LitFest in a presentation available in-person and online.
Learn about Vasquez' childhood in Iowa City and Des Moines, her commitment to both editing and free-writing, and her many projects to bring the beauty of poetry alive for students and others.
Her talk tonight starts at 6 p.m.; pre-registration is required for both online and in-person attendance.
read more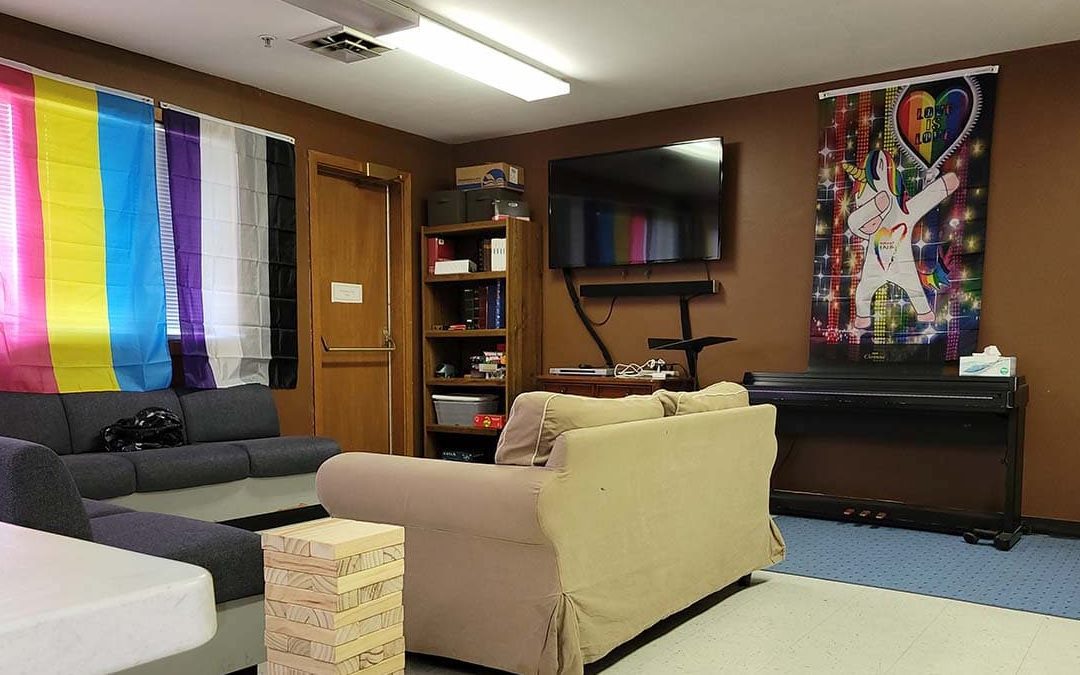 The new Bolingbrook Pride LGBTQ youth program provides a monthly drop-in "safe space" for youth in Bolingbrook and Romeoville.
Allies and partners in the project include the Valley View School District, a University of Chicago professor, a suburban Chicago all-LGBTQ+ counseling service, and PFLAG Bolingbrook. Read about how this new drop-in program helps build on existing efforts in public schools and by other groups to help LGBTQ+ youth feel safe and accepted.
read more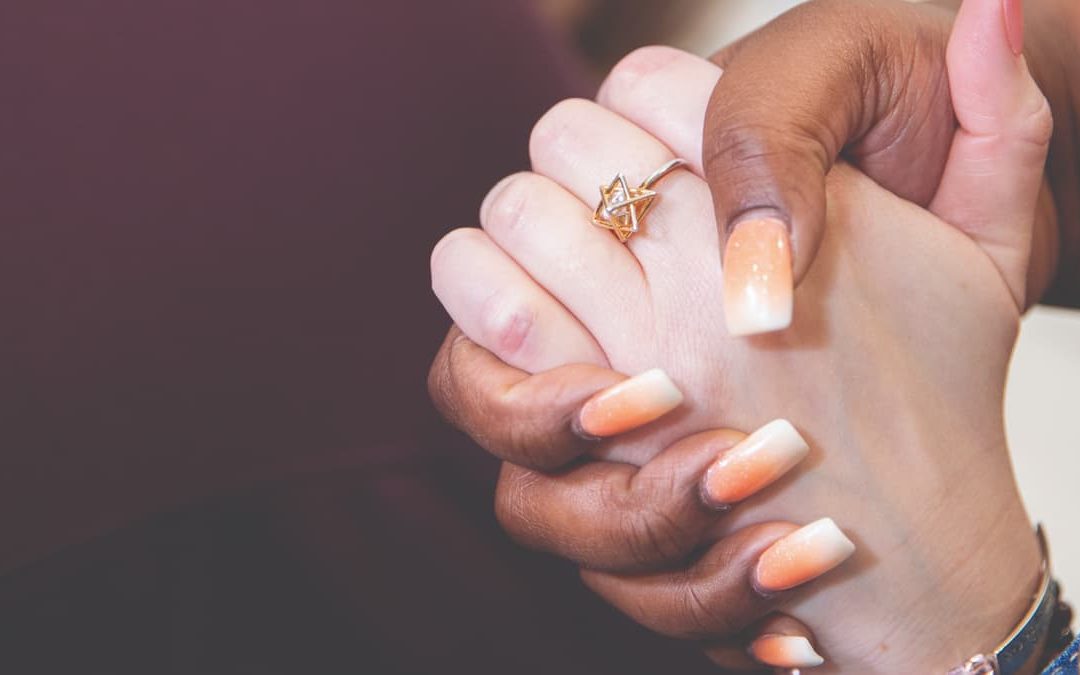 Now that abortion is no longer a constitutional right in America, the state of Illinois and its commitment to supporting "a woman's right to choose" is pivotal to many other states' responses to the historic overturn of Roe V. Wade two months ago. It's happening in...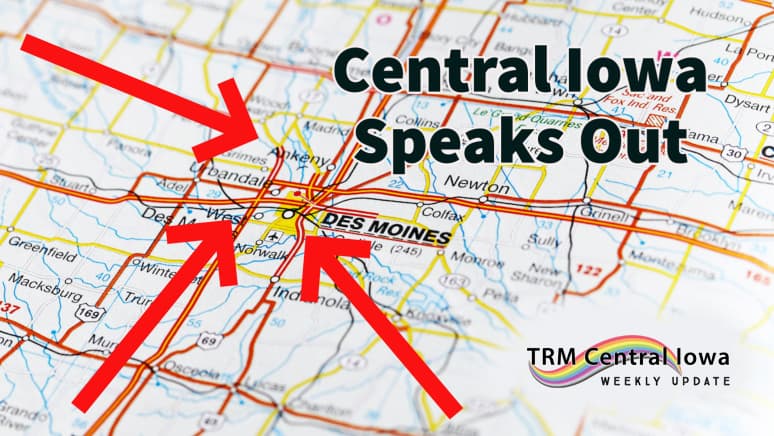 More than 69 businesses in Ankeny, the West Des Moines community of Valley Junction, and Des Moines' East Village have all joined statements opposing the anti-LGBTQ legislation moving fast through the Iowa Legislature.
Plus, learn about the UNI Seven and the stance they took in March 1970 that led to the Cedar Falls university's Cultural Center.
Coming up, Ames Pride offers a "Postcards with Pints" event and showing of a renowned documentary as part of the International Day of Transgender Visibility coming up.
It's all in the new TRM Weekly Update for Central Iowa.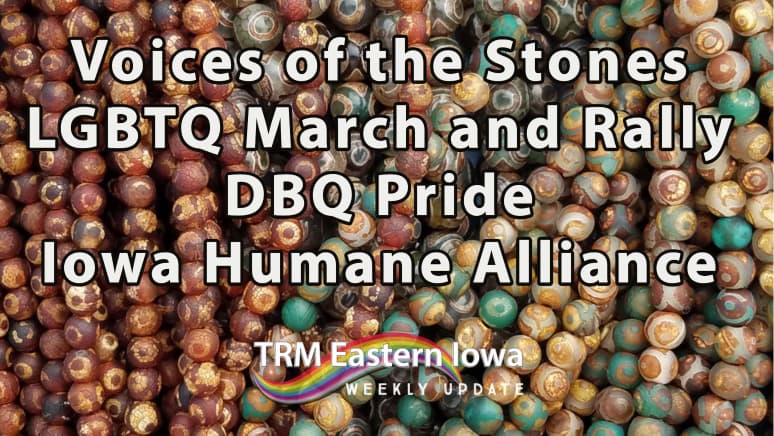 There are now two big protest events happening in Des Moines Sunday, starting at 12:30. Read more about the March on Iowa for LGBTQ Rights and the Rally to Resist.
You can also check out this weekend's annual Beadology Iowa tradition, Voices of the Stones, happening today and Sunday.
Coming up soon, explore a couple of events at Davenport's MCC of the Quad Cities, and a supper-time "carry-out" fundraiser for companion animals in Cedar Rapids.
And finally, Dubuque announces its June 3 Pride Family Picnic and Block Party. It's all in TRM's Eastern Iowa Weekly Update.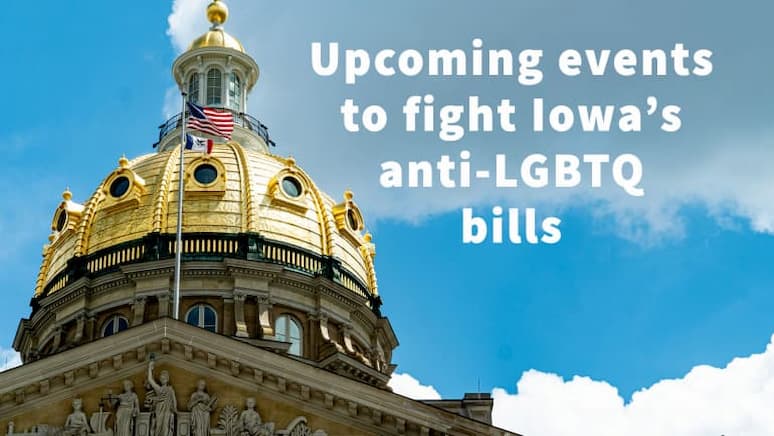 You can join five events coming up to protest or learn about the anti-LGBTQ bills proposed in the Iowa Legislature.
Find out about events happening this Sunday in Des Moines, Davenport, Cedar Rapids, and Iowa City.
Also coming up: the online "Urgent Meeting for Iowa Trans* Families," a chance to focus in on proposals affecting transgender youth and their families. Those bills are the ones likely to make it through this Friday's "funnel" for committee approval.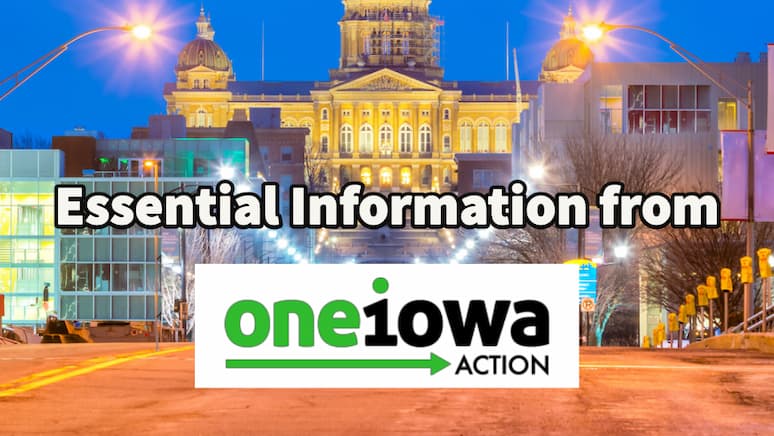 One Iowa Action has a page tracking 29 bills that include measures considered anti-LGBTQ+ .
The page, an annual service by the lobbying arm of One Iowa, is gaining even more focus this year. Iowa is among 14 states noted by the ACLU as having a record number of anti-LGBTQ+ bills proposed among state legislators.
Here's a look at the One Iowa Action tracking page, some of the bills it's tracking, and Iowa's overall legislative process, including its "funnel weeks" — one of which ends this Friday.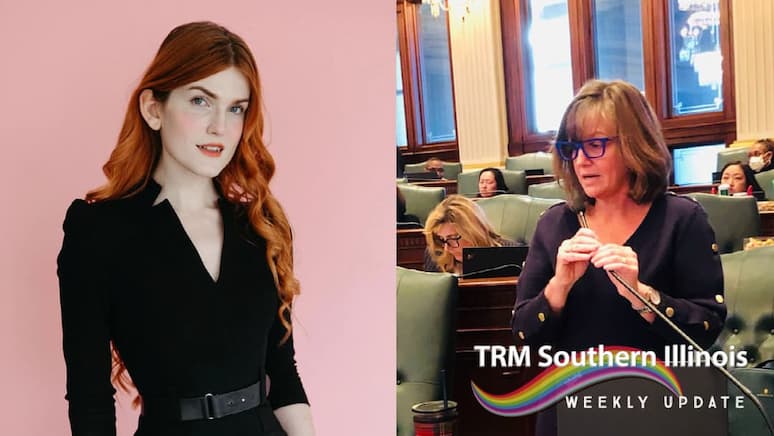 A bathroom bill that doesn't even require multi-gender bathrooms triggers an Illinois state representative to cancel a planned appearance in Edwardsville.
Meanwhile, a Carbondale nonprofit is putting out a call of support for LGBTQ activist groups in Tennessee, where two anti-LGBTQ bills have advanced and are on the verge of becoming law.
You can also learn about some pivotal Carbondale City Council happenings: a "Meet the Candidate" event by Clare Killman, and a gun violence study before the City Council Tuesday.
it's all part of the TRM Southern Illinois Weekly Update.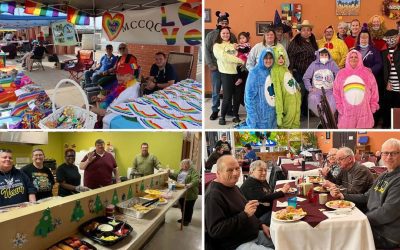 Tomorrow and Sunday, MCC of the Quad Cities holds its annual Cookie Walk, featuring traditional sugary treats but also sugar-free, gluten-free, egg-free and dairy-free cookies, cakes, candies and breads.
It's one of many events that have grown as MCC of the Quad Cities strives to be more than a church, not just Christian, and beyond LGBTQ. Learn about Metropolitan Community Church's history of leadership, social justice, community service, and fun events intended for everyone seeking a connection and healthy relationships.
read more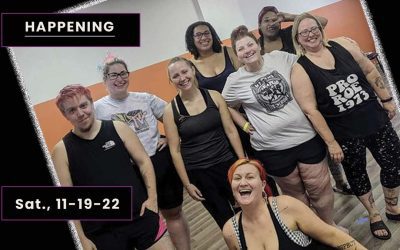 Burlesque as therapy, self-discovery, empowerment and exploring gender will all be part of tonight's Striptease Academy 2022 Showcase at The Spotlight Theatre in Moline. It's one of the year's last big events for Mary Quite Contrary's House of Burlesque. It's one of the year's final events for MQC's, a Quad Cities burlesque troupe that's been performing and providing burlesque and striptease education for six years.
read more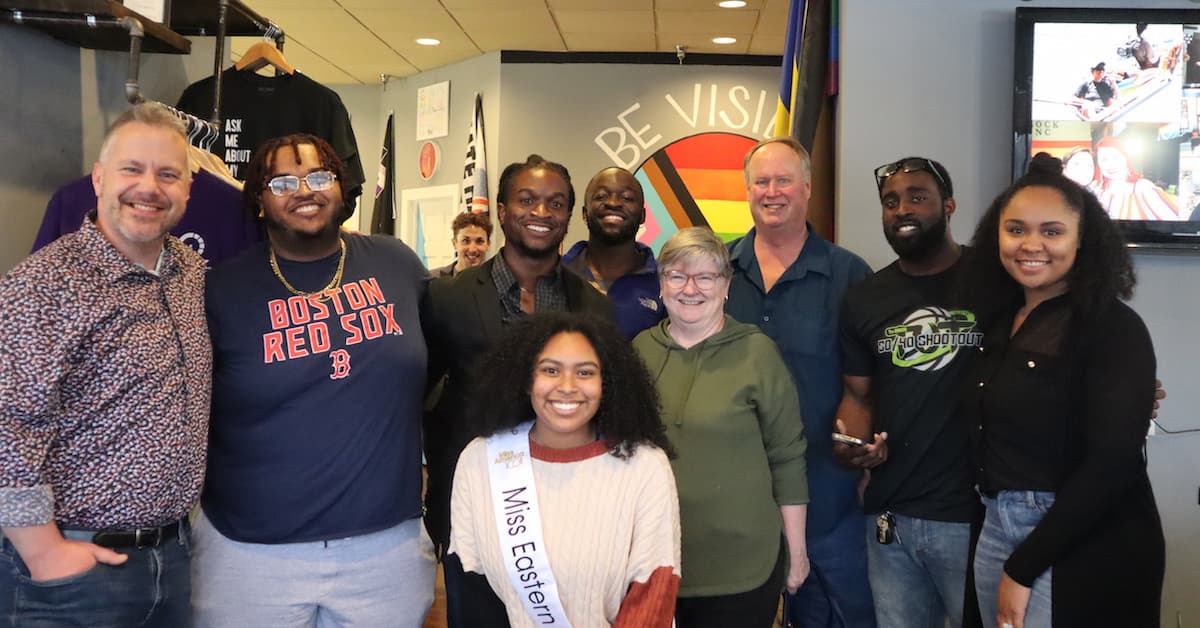 An overflowing crowd turned out April 28 from throughout the Quad Cities to help Clock Inc. LGBTQ+ Community Center celebrate its new space at 4102 46th Ave., Rock Island.
read more