Get a glimpse at progressive events happening around you, with our revived and renamed photo galleries, Out and About. Our first return gallery features a few events from the Quad Cities over the past month; watch in the future for more Out and Abouts from all throughout Iowa and Illinois. Click here to share your own photos and videos, too!
MCC of the Quad Cities honors Julie Meyerson Ross, Cath Bolkcom
(1) Bolkcom (left) and Ross are best friends in addition to long-time activists   (2) Bolkcom claps while Ross receives a plaque and Pastor Rich Hendricks and deacon Sara Meyer smile   (3) Hendricks hugs Bolkcom while Meyer and deacon Michelle Ramsey-Moody applaud   (4)  Ross (center) with her family, l to r: daughter Brenna Ross, husband Jim, sister-in-law Pamela Meyerson, and brother Charlie Meyerson.
Edwards UCC Homecoming Carnival (Aug. 27)
The event was on church grounds, but the goal was laid-back summer fun.
Edwards United Church of Christ
held its second annual Homecoming Carnival Aug. 27, welcoming not only church members but also families and community organizations to enjoy balloon art, kids' games,  and cookout food.
(To see all photos, click on right of photo)
(1) and (2) Two balloon artists at the Homecoming Carnival    (3)  Volunteers from Family Resources  (4)  Scores of people enjoyed the carnival at Edwards, in Davenport  (5) Kerrye Annable and Dawn, organizers of the carnival  (6) Jasmine and daughter Emma (7) Pastor Lisa Gaston (center) with daughter Eleanor (right) and son-in-law Ron Lira (left).
Clock Inc. Queer Field Day (Aug. 19)
The Quad Cities' LGBT+ community center, Clock Inc., held its first-ever Queer Field Day Aug. 19.  About two dozen light-hearted competitors and a small crowd gathered to enjoy or watch kickball and cornhole at Hodge Park in Rock Island. (To see all photos, click on right of photo) 
(1) Erika Mander and Erica Newell enjoy a round of cornhole (2) Volunteers included Julie Klaus of Mid-American Energy, Natasha Lynn of Free Mom Hugs, and player Alyssa Baker  (3) Jane Tiedge of Quad Cities Pride Alliance and her pups join spectators for kickball. (4)  Josie Faith keeps score for the teams.   (5) Spectators included Shaun Edmonds, Brinton Vincent, Perry Alekna, Forest Kane and Brandon Kane.  
Euchre Tournament at Mary's on 2nd (every Sunday)
Drinking and drag aren't the only things going on at LGBTQ+ bars! Mary's on 2nd, the Quad Cities' oldest LGBTQ+ bar, holds weekly Euchre tournaments at 4 p.m. Sundays. Euchre, a card game featuring two teams of two, became popular throughout Europe, Australia and Canada in the 1800s and is considered one of the Midwest's favorite card games.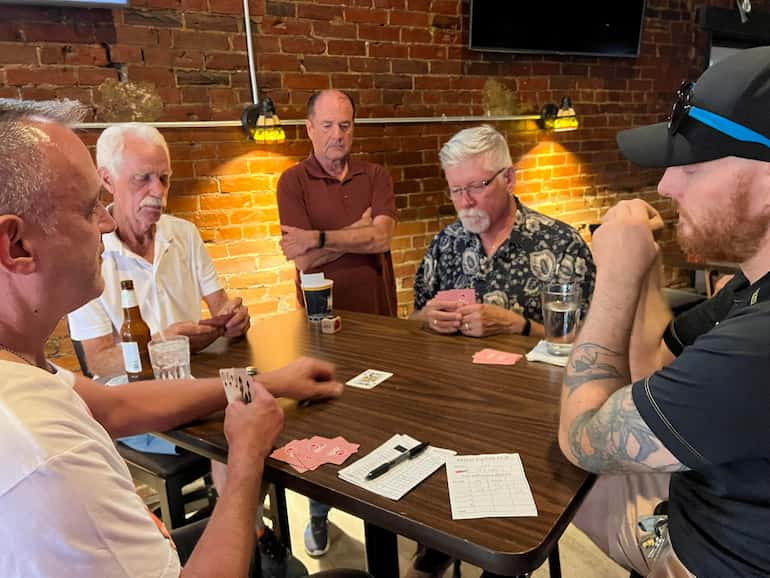 A crowd of card-playing regulars enjoys the weekly euchre tournament at Mary's on 2nd, starting at 4 p.m. Sundays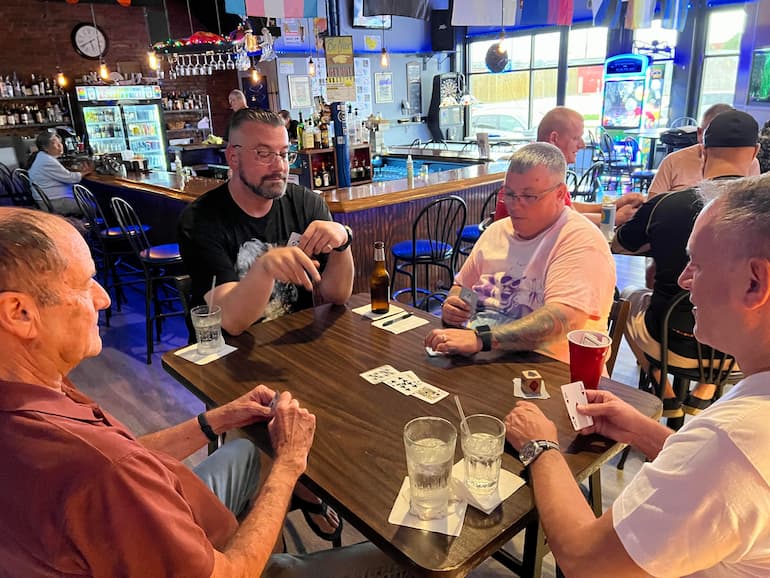 The euchre tournaments at Mary's on 2nd take place every week; joining in to play costs $5. Teams of two or four are encouraged because euchre always involves games of four, but single players can also rotate in.
Watch for more future Out & About galleries throughout Iowa and Illinois in coming weeks. To add your pics to the mix, click here. As you can see above, your pics and vids don't have to be fancy, and you don't have to send a bunch. We're seeking original, as-yet-unpublished event photos and videos of the great progressive happenings all throughout Illinois and Iowa. Email reachus@therealmainstream.com with any questions!