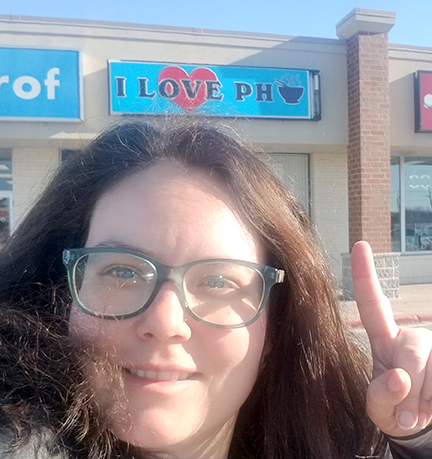 Back in the early 2000s, I knew of only one place in the Corridor that served Pho: Mekong on South Riverside Drive
It was my "go to" restaurant whenever I felt the slight whiff of a cold coming on. The rice noodles, flavorful broth along with the fresh garden of herbs, a splash of Sriracha and Hoisin (never soy sauce) was comfort in a bowl.
Back then, few of my friends knew about the dish. Today, you can't go far without finding Pho.
I Love Pho #1, I Love Pho #2, Oryza Asian Cuisine, Thai Spice Noodle House, Thai Spice, Formosa, Saigon's Corner, Sun Cafe, Pho Lucky… when I google "where to get Pho in Iowa City?" I come up with over a dozen restaurants. In my Google algorithm, even Pizza Ranch and El Banditos come up as results for restaurants that serve pho.
(Warning: cheesy pho puns ahead.)
How many Pho places do we need? Which place is un-pho-gettable? Pho Real. It's good pho you, and sometimes even pho-nomenal. Pho Sure. But is this soup here pho-ever or are we likely to see places start to go— much like a lot of the frozen yogurt places downtown?
Pho is multiplying for good reason: it's freaking delish! A mainstay of the Vietnamese diet since the mid-1880's, it used to be comprised of strips of tantalizing fried Water Buffalo and vermicelli rice floating in broth.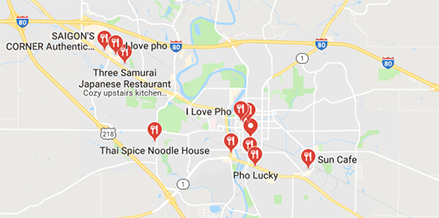 Before that, the "pho" is generally thought to be derived from the French word "feu" meaning "fire". The soup we know and love today was created from a blending of cultural cuisines: Chinese, French and Vietnamese. 
Personally, I have my ways to distinguish among the many Phos. The ultimate taste test is the first sip of broth. It's all you need to know your pho.
Service is a close second. The Pho place in the Old Capital mall is the worst—they don't bring your boiling pho bowl to your table.  You have to carry it on a tiny tray from the window, around a hazard of tables and chairs, and out into the adjunct seating.
It's like a horrible live action video game, where you hope and pray you don't spill your pho. Also, their iced coffee isn't authentic. It's premixed and tastes like Casey's iced coffee, but is twice the price.
Pho and Frozen yogurt aren't the only items that seem to be surging. There are plenty of Mexican food restaurants. Namely, the succulent Cacti have blossomed all around Iowa City, Coralville and North Liberty: El Cactus #1, El Cactus #2, El Senor Cactus… what's next, El Nino Cactus?
Last week, while eating at El Senor Cactus, I overheard a couple in the booth next to mine. They took one look at the menu and promptly left. When the waiter returned to take their order, we shrugged and said they must have been at the wrong El Cactus.
He shrugged back and nonchalantly replied, "It happens every day."