NAPERVILLE: Naper Pride hosts Health & Resource Fair March 18
Find resources and services that include health screenings, public libraries, private businesses and more will be part of the Second Annual Health and Resource Fair in Naperville March 18.
The day will feature an array of agencies, faith groups, nonprofits and small businesses involved in health and wellness — all with the goal of helping Naperville LGBTQ+ folks find "culturally competent care," says Naper Pride co-founder Andi Dempsey, who also directs the fair. Naper Pride also holds its annual festival Sept. 9, along with many other event year-round. The event is 10 a.m. to 2 p.m. at Community UMC, 20 Center St., Naperville. Registration is free; reach Dempsey at andi@naperpride.org, and learn more about the Health & Resource Fair at its Facebook page.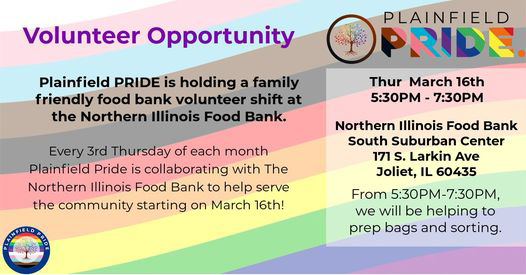 PLAINFIELD: Three March events from Plainfield Pride
It's a productive month for Plainfield Pride, which holds three events in coming weeks. Check out the Homebuyer Event March 16 to learn all about LGBTQ rights when seeking housing and home-buying.  Watch for giveaways from local businesses, and enjoy refreshments.
That same day, you can also join a volunteer event to help prep and sort food for the Northern Illinois Food Bank. Then, honor the Transgender Day of Visibility with Plainfield Pride and a transgender panel March 30 by heading to the for "Come Be Seen With Us" at the United Church of Christ, 24020 W. Fraser Rd.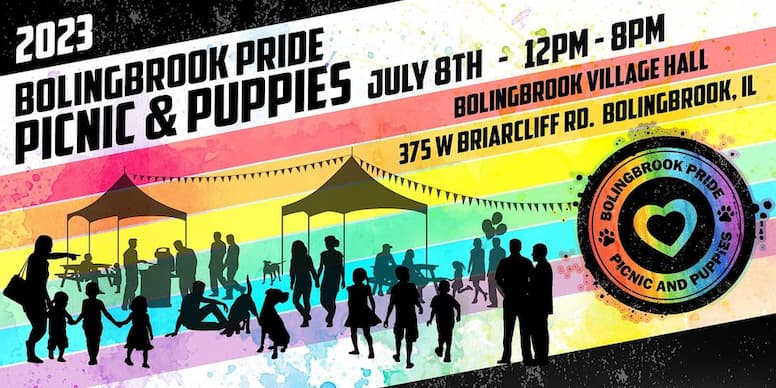 BOLINGBROOK: adult social and youth drop-in this weekend, Picnic & Puppies July 8
Bolingbrook Price continues its Coffee & Tea  for LGBTQ+ adults Saturday, and its new monthly drop-in program for LGBTQ youth in the Bolingbrook and Romeoville area this Sunday. The new youth program will eventually become a weekly program, at a location kept confidential for security and privacy purposes. "Topics of discussion and presentations are driven by youth interest and can cover Coming Out and Identity, Conversations, Healthy Relationships, Safer Sex Conversations, Art Nights, Guest Speakers, Poetry Nights, Finding Affirming Providers, etc.," writes the group. If you're a youth age 12-18 (or an ally), email bolingbrookpride@gmail.comF to be part of this gathering every second Sunday from 2 to 4 p.m. Free transportation is also available; be sure and mention whether you need it.
In addition, Bolingbrook Pride has announced its annual summer festival, a family-friendly event happening July 8 titled "Pride and Puppies." You can learn about sponsor opportunities here, vendor opportunities here, and can learn more about the event at its Eventbrite page.
SKOKIE: "The Negro Motorist Green Book" exhibit open through April 23
From the 1930s to the 1960s, "The Negro Motorist Green Book" was an essential tool for any Person of Color traveling. It provided a guide to safe hotels, gas stations, restaurants and more on the road.
Through April 23, the Illinois Holocaust Museum in Skokie hosts an exhibit exploring the Green Book, its significance to Black Americans, and how it also represents, for People of Color, "strategies that affirmed their humanity, their worth, their light, and their lives – and how it was done with ingenuity, [and] community. Learn more about the exhibit and the museum, located at 9603 Woods Dr., in Skokie, at the Illinois Holocaust Museum website.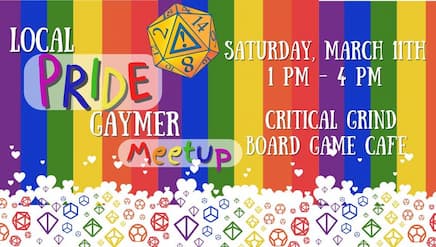 SHOREWOOD: LGBTQ 'gaymers' gather this weekend
The 'gaymer' community is alive and well in northern Illinois! Check out LGBTQ+ 'gaymer' events coming uup this Saturday in Shorewood south of Chicago, and next weekend in Bloomington.
Saturday's "Local Pride Gaymer Meet-up" takes place at Critical Grind Board Game Cafe, 852 Sharp Dr., and will also feature presentations from local Pride groups.
ELGIN, ROCKFORD: LGBTQ Pride groups announce June 3 plans
You can choose from at least two LGBTQ+ Pride celebrations in northern Illinois the weekend of June 3, and both are welcoming vendors, sponsors and volunteers to join their efforts. In Elgin, the city's first-ever Pride Parade and Festival takes place in downtown Elgin from 10 a.m. to 4 p.m. and promises to be "all-ages and family-friendly." The event is organzied by Elgbtq+, a group serving LGBTQ communities in the suburban communities of Chicago. Learn more at Elgin's First Pride Parade & Festival Facebook page, including how to sign up as a sponsor, vendor, parade participant or volunteer.
In north-central Illinois, the Rockford Pride Alley Party starts at 4 p.m. at The Office Niteclub and features a vendor and food truck fair, drag show and more. Organizers welcome interested vendors to register at The Office Niteclub website to participate as a vendor or food truck.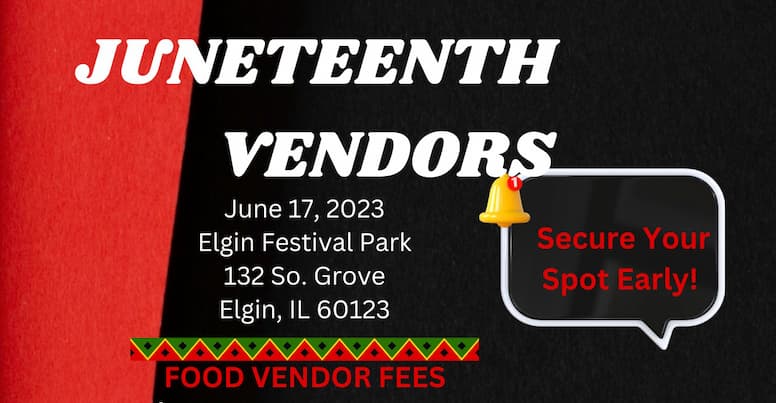 ELGIN: Juneteenth Organizers seek vendors for June 17 event
You can now sign up for the Juneteenth Festival 2023 by the African American Coalition of Kane County, a nonprofit dedicated to preserving African American heritage and culture. The festival happens June 17 in Elgin. Deadline to sign up is May 13, and vendors and sponsors of all kinds are welcome. Find the sponsor packet here or call vendor coordinator Gertrude McClain for more information at 847-702-1664 .
If you're an intersectional, LGBTQ affirming group or business with an event, announcement or other news, email it to reachus@therealmainstream.com for consideration in the Northern Illinois & Chicagoland Weekly Update!