IOWA — Progressive and LGBTQ-identified establishments across Iowa are making their distaste for "#COVIDKim" known by firmly reminding customers: masks and facial coverings, and other common-sense efforts to fight the still-raging coronavirus pandemic, will be followed with or without the governor's leadership.
Entities from Orange City to Des Moines to Iowa City to Davenport are using social media to defy Gov. Kim Reynolds' decision late last week to end Iowa's formal coronavirus prevention efforts as of Sunday. More than a dozen entities — many of them LGBTQ-identified bars — are proclaiming to their customers that masks will still be required, and limited capacity will still be enforced so that social distancing can occur.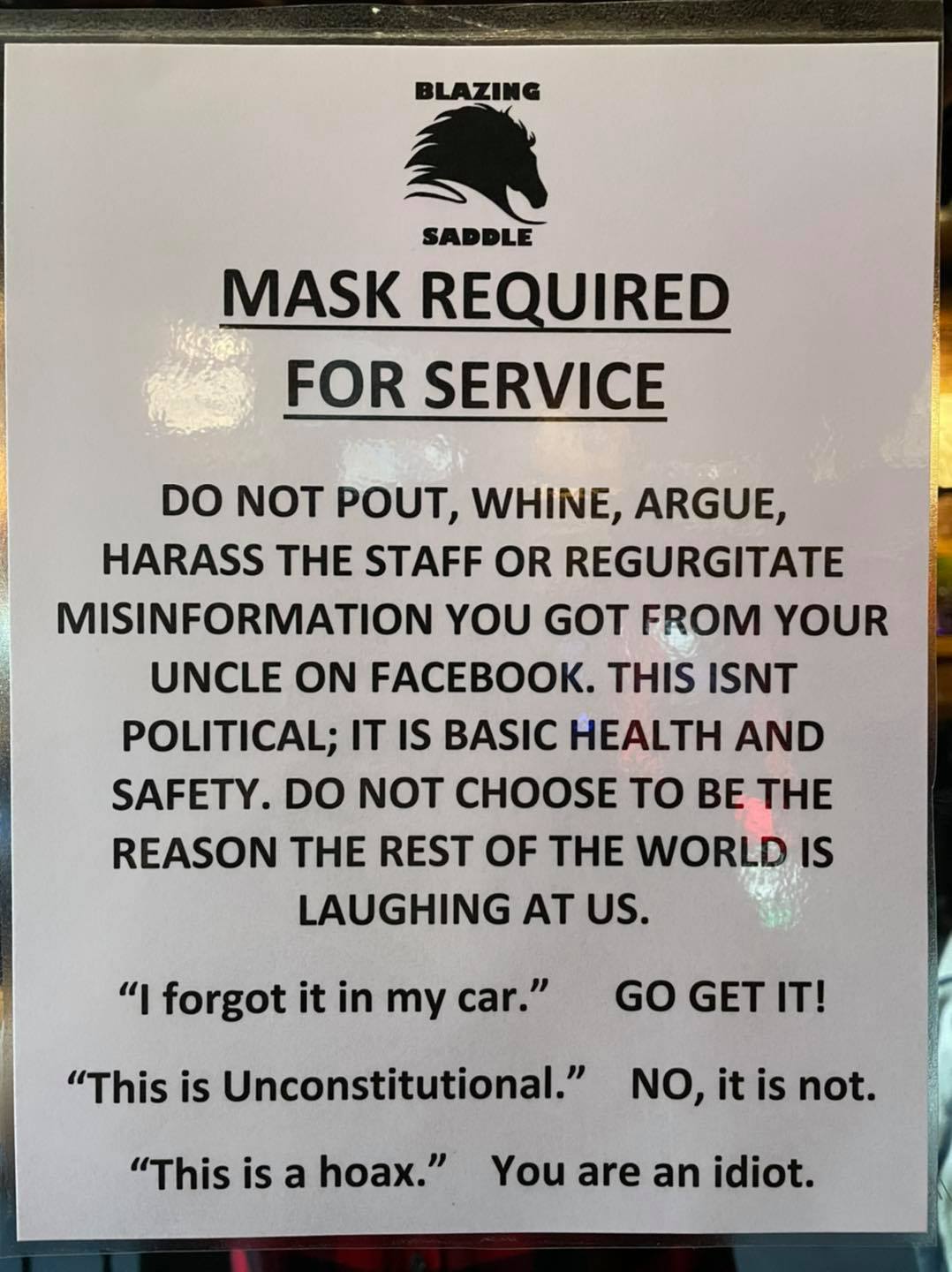 Here are some of the businesses that have recommitted to mask-wearing and other scientifically-proven coronavirus prevention measures, and against Reynolds' decision to drop all state restrictions focused on limiting the virus' spread.
Shakespeare's Pub & Grill, Iowa City: "We believe wearing a mask is the responsible choice to keep everyone safe," wrote Shakespeare's on its Facebook page. "We will continue taking staff temperatures prior to their shifts, maintaining our sanitizing protocols, social distancing our tables, and requiring masks for staff and patrons when not seated in the restaurant."
The Map Room, Cedar Rapids: "The Map Room will continue to uphold all of the safety protocols we've had in place since we reopened in May," wrote owners Christina and Mitch Springman. "This Mama & Papa Bear will always fiercely protect our family. We expect our customers to respect our staff, and during a pandemic, that means wearing a mask when within 6 feet and when up and about."
The Blazing Saddle, Des Moines: "COVID is NOT over. The CDC (real doctors) is still recommending the wearing of masks," wrote The Blazing Saddle in Des Moines on its Facebook page, announcing it will continue to require masks or facial coverings when not drinking. "Please know that we want to be free also, but letting down proven protections is not the way forward."
Iowa City Yacht Club, Iowa City: "We still will have additional health and safety measures in place for the foreseeable future. Face coverings are required, we will continue to limit capacity to 50%," wrote the bar, also mentioning that even in the spring, if live music returns, limited capacity will remain in effect. A similar message was posted on Studio 13, the Yacht Club's sibling bar located in the same building in downtown Iowa City, as well as Sanctuary Pub, another of the four bars owned by Jason Zeman.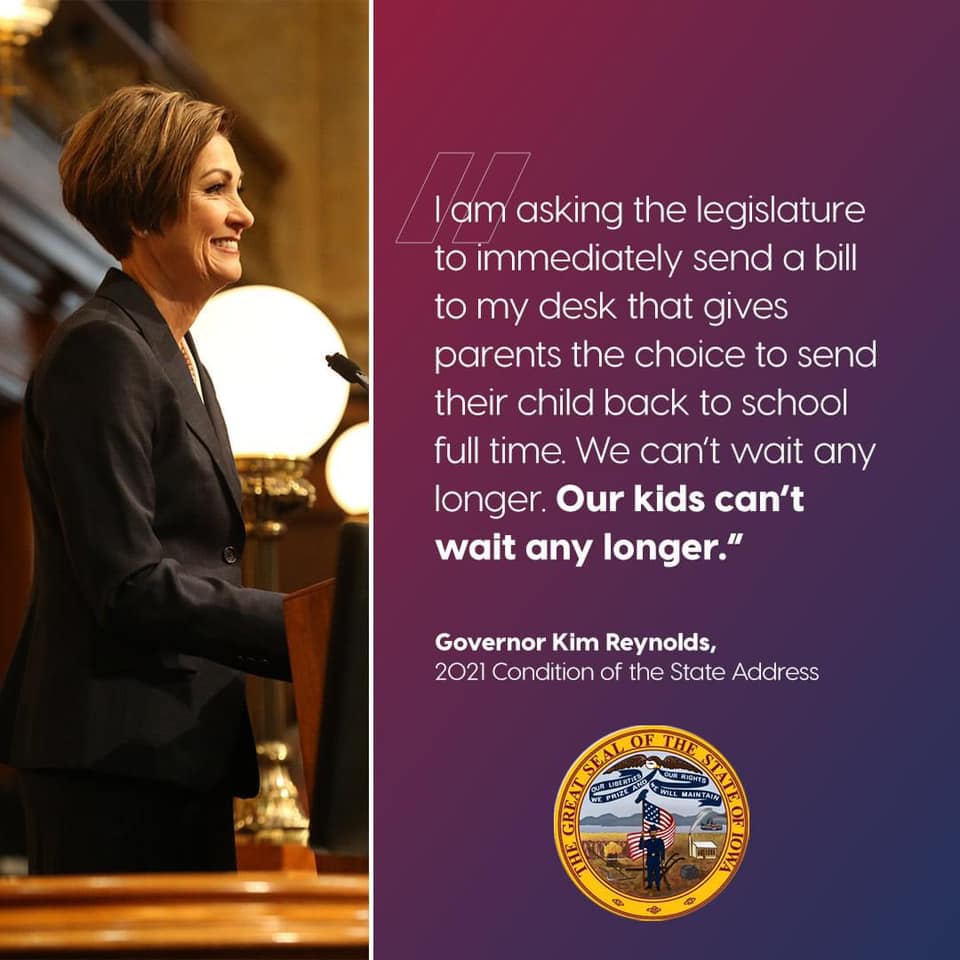 The turmoil over Reynolds' decision to relax coronavirus prevention efforts comes as word emerges that at least three new, more contagious and potent strains of the virus are appearing in Iowa in larger numbers. In addition, while Iowa's infection rate dropped 17 percent this week over last, the infection rate also increased last week over the previous week in 25 Iowa counties, the Press-Citizen reports.
Nationwide, the daily national infection rate of around 96,000 (as of Feb. 7) is still higher than it was throughout all of the spring and summer, reports the Washington Post. Officials are also bracing for fallout from Super Bowl weekend and potential spreading of the virus that occurred on the first day that Reynolds dropped coronavirus restrictions.
Additional businesses that have spoken out in recommitment to facial coverings and social distancing:
The Create/Exchange, Cedar Rapids: "For everyone's safety, we have decided to continue our COVID-19 procedures including requiring face covering and the use of hand sanitizer upon entry, and we will continue cleaning the heck out of high touch surfaces," writes owner Jennifer Stewart on the store's Facebook page.
HABA Salon, Iowa City, and Hartwood Salon, North Liberty: "Since none of my staff or I have been or are able to be vaccinated while also being licensed by the department of public health, I am proud to say both of my businesses HABA and Hartwood Salons will
still enforce and abide by all previous restrictions until the vast majority of Iowans are vaccinated," wrote owner Leah Overman on her personal page, tagging her fellow stylists. "Keeping you safe and us safe is ALL that matters to me."
Hare Parlor, Iowa City: "For the safety of me and my clients, the mask will continue in my shop," wrote owner Paul Clark, then seguing into comments directly to Reynolds. "I understand you want to get people off unemployment. I would love to hire another employee. But it's not safe yet. We still haven't vaccinated enough people yet."
The Haunted Bookshop, Iowa City: Masks will still be required of patrons and employees, the shop wrote on its Facebook page, noting that some customers had complained that the shop had not fully reopened its browing floor. "The political climate may favor reopening, but the science doesn't. Iowa's testing rates have been poor, positivity rates are well over 5%, and both schools and sporting events are about to reopen, which will result in an increase in cases. The faster-spreading "UK COVID variant" has been found in Minnesota, which likely means it is already in Iowa. This building does not have high-volume ventilation…. we're going to unlock the door when we see case numbers falling, a vaccination plan, and patrons consistently wearing masks over both nose and mouth while we all wait for our turn to get the vaccine."
Town Square Coffee House, Orange City: "We cannot in good conscience follow the direction of our Governor and lift our mitigation efforts. Masks are required to enter our facility and order," wrote the Orange City eatery. "If you cannot wear a mask or choose not to, we encourage you to utilize our online ordering and select curb-side pickup." The shop will also continue with social distancing and limited capacity to one-third )30 people at a time). "We are thankful for the low positivity rate in Sioux County and hope that with these mitigation efforts we can keep those numbers low and our community healthy."
Leash on Life, Iowa City and North Liberty: "Despite the Governor's latest order, we are still requiring all customers to wear a mask in the store at all times," wrote the healthy pet products store, highlighting its ongoing curbside (mon-thurs., 10 a.m. to 6 p.m., Friday and Saturday, til 4 p.m.) and delivery (Monday, Wednesday and Friday up until noon for same-day delivery).
Kae Apothecary, Mount Vernon: "Kae Apothecary will still require face coverings and keep a limit of 5 customers at a time with appropriate social distancing. No matter what," wrote Kae Apothecary on its Facebook page. "The governor of Iowa seems to have an agenda OTHER than the health and well being of Iowans."
NewBo City Marked, Cedar Rapids: "NewBo City Market will continue requiring face coverings and taking other precautions in order to keep our Shopkeepers, staff and patrons safe. It is our choice as a business to adhere to the local mask mandate, set forth by Mayor (Brad) Hart," NewBo wrote on its Facebook page.
Belle's Basix, Cedar Rapids: "We will continue to REQUIRE masks to be worn if you are not seated," the bar wrote. "Our Employees are Required to wear a mask while serving you. We will still keep up the dividers and limit parties to 6 or less and keep our tables at a safe distance from each other. We will still limit our Capacity to 60 or less. We still promise to maintain cleanliness and precautions to help prevent the spread of The Rona. If you have a problem with any of this, we advise you find another establishment to visit. We will have ZERO TOLERANCE of anyone who doesn't feel the need to protect our other patrons."
Mary's on 2nd, Davenport: "We will require that you continue to wear a mask when not actively drinking, sitting or socially distanced from others.Masks will be required when you visit us. If you are continually asked to put a mask on then you will be asked to leave. We are all adults and want to have fun but we will do so responsibly," wrote the bar's Facebook page, also adding that bar seating will no longer be required of all visitors.
Cafe Dodici, Washington: Staff will continue wearing masks, tables will remain six feet apart, and customers are asked to wear masks, too, the cafe posted on its Facebook page.
Some places, like Trumpet Blossom Cafe in Iowa City, have stayed closed to in-store traffic throughout the entire pandemic. Trumpet Blossom has focused on a new "take and bake" menu, deli-style carry-out meals, and curbside/delivery service.
Reynolds' premature end to coronavirus restrictions has earned Iowa national focus. Word has also emerged that she made her decision without consulting with public health officials, reports CNBC. ""We asked the Iowa Department of Public Health if they had input into the governor's decision to lift the mask mandate on Friday and they said they had not," said State Sen. Liz Mathis, D-Hiawatha, who had participated in a conference call with public health officials. "I just can't understand why the governor would lift that when we still have such a low percentage of vaccinations completed."
Several municipalities and counties also have mask mandates still in effect, most of which were in place before Reynolds made Iowa one of the last states in the country to mandate masks in November. Iowa City and Cedar Rapids both still have mask mandates, and the federal government began a requirement of masks on public transportation in January.
If you are a business that has publicized ongoing mask-wearing requirements and other coronavirus prevention measures on your social media or in your store, please share it with us at reachus@therealmainstream.com, and we'll add you to this story.