CEDAR RAPIDS, DAVENPORT : Protests of anti-LGBTQ bills today
More rallies take place throughout Iowa today in protest of the anti-LGBTQ bills making their way through the Iowa Legislature. Today in Cedar Rapids starting at 9 a.m., join the "We Won't Go Back" sit-in and protest in Greene Park. Later, starting at 4 p.m., you can also partake of the one-year anniversary of the renaming of Club Basix, Cedar Rapids, LGBTQ+ nightclub.
In Davenport, gather at Vander Veer Botanical Park, 215 W. Central Park Ave.,  for "Proud to Stand for Equality," from 11 a.m. to 2 p.m. featuring speakers and live music. (side note: you can also attend a demonstration today in Mason City). All are in protest of bills awaiting Gov. Kim Reynolds' signature that would ban gender-affirming care for minors, ban the mention of sexual or gender identity in public schools until third grade, and more. Click on links above to find more details about each event.
•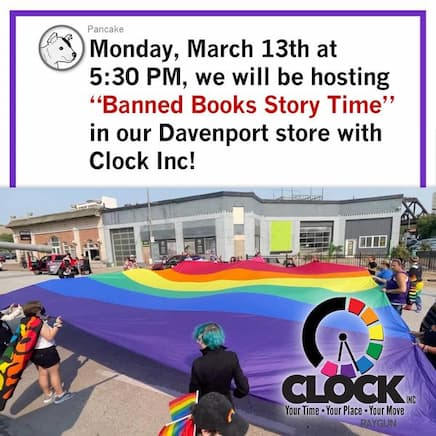 DAVENPORT: RAYGUN, library, Clock Inc. team  for Banned Book Storytime
RAYGUN shirts is taking its smart-witted T-shirt slogans live, with a Banned Book Storytime Monday. The event is in collaboration with Clock Inc. LGBTQ Center, the Quad Cities' nonprofit serving LGBTQ+ teens and adults, and with the Davenport Public Library, which is supplying the books. RAYGUN founder Mike Draper said he decided to hold the event because of the regression of LGBTQ+ rights in Iowa. "I've also been shocked at how silent a lot of Iowas and Iowa companies are at this regression," he said. "A hateful, unwelcoming state is downright dangerous for those in the LGBTQ+ community, and it is also detrimental to the long term societal health of Iowa." The event takes place at RAYGUN's dowtown Davenport store, 210 E. 2nd St.
•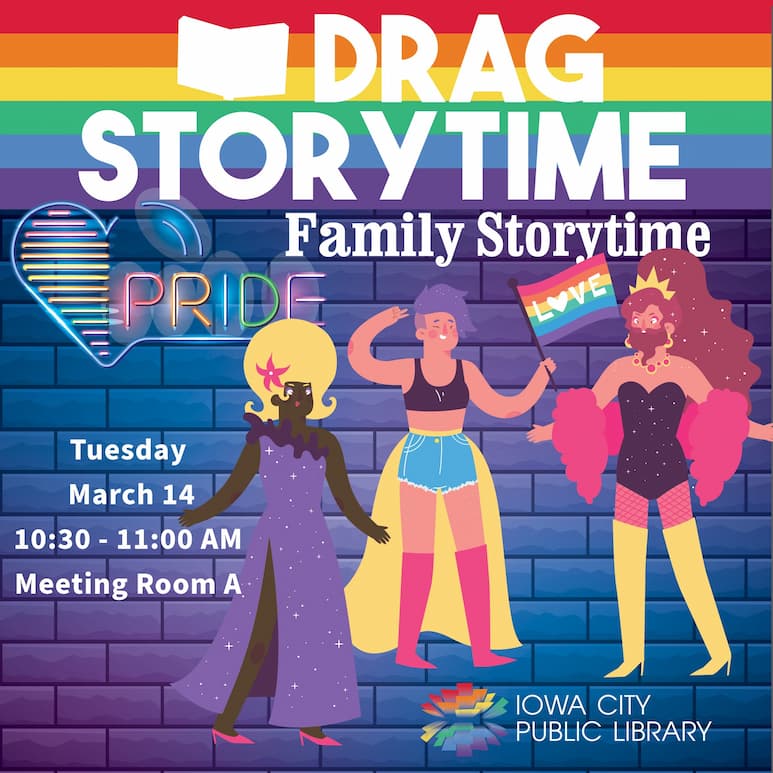 IOWA CITY: Library hosts Family Drag Storytime March 14
The Iowa City Public Library first began holding Drag Storytimes in 2018. And it's holding a session at 10:30 a.m. March 14. Gather for this half-hour of family-friendly fun featuring drag queens and kings reading from children's books.
•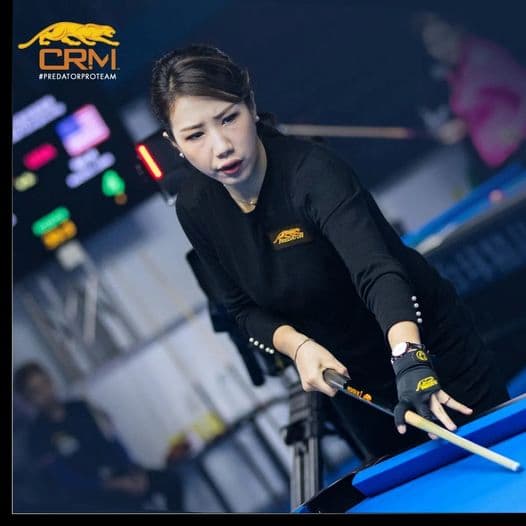 FAIRFIELD: Mad Hatter hosts top women's pool player
IOWA CITY: New Pride at FilmScene is 'Funeral Parade of Roses'
See the latest Pride at FilmScene offering this Thursday: the Japanese film "Funeral Parade of Roses," about a gay bar in Tokyo and the relationships that develop among a drag performer, a bar owner, and the club madame. "A complex love triangle ensues, riddled with jealousy, insecurity and unresolved past events," writes FilmScene.
Get tickets here.
Or at the door.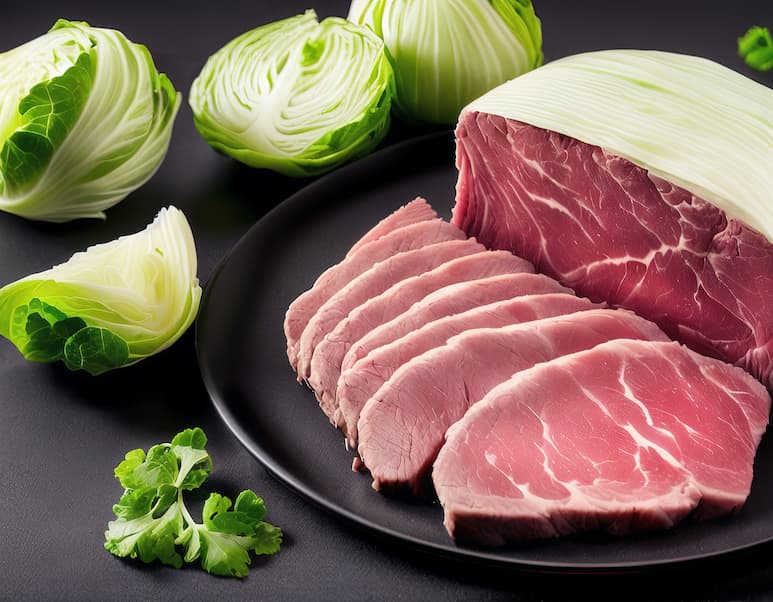 DAVENPORT, IOWA CITY: St. Patrick's Day events at Mary's on 2nd, Shakespeare's
If you're looking for places to grab a great corned beef and cabbage meal to celebrate St. Patrick's Day, here are two advertorial suggestions from The Real Mainstream:
March 17: Shakespeare's Pub & Grill in Iowa City is serving the traditional holiday meal all day Friday, and later in the day offers drink specials on green beer, Guinness and more. You can check out the menu at Shakespeare's website. Or, just head to the pub and grill at 819 S. 1st Ave., Iowa City.
March 18: In Davenport, the city's only remaining LGBTQ+ nightspot opens up for coffee and doughnuts at 10 a.m., and corned beef and cabbage at 2. for community and drink specials. The bar is located at 832 W. 2nd St, Davenport. Learn more at the Mary's on 2nd Facebook page.
•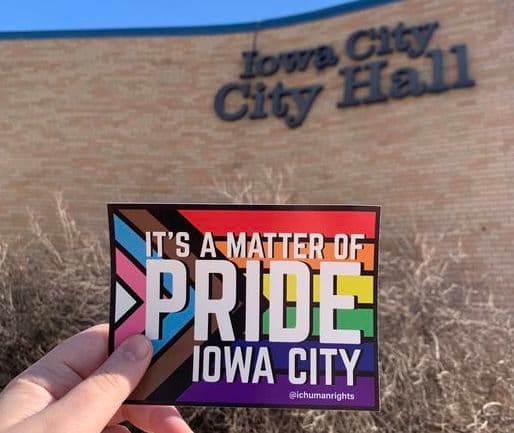 IOWA CITY: Pride stickers at Human Rights Office, Pride festival coming June 17
"It's a Matter of Pride, Iowa City." That's what free stickers from the Iowa City Office of Equity and Human Rights say, and they're available indefinitely at City Hall, 410 E. Washington St. The office also provided a limited supply of yard signs last year bearing the same message. The office is in charge of equity concerns in Iowa City and holds events throughout the year; learn more at its website.
Meanwhile, Iowa City Pride is gearing up for its June 17 annual festival. One of the largest Pride festivals in Iowa, Iowa City Pride is seeking sponsors and vendors for the event, which takes place downtown and features live music, a vendor fair, parade and more. For more information, including upcoming events and links to sign up for Pride, see the Iowa City Pride website.
•

ELDRIDGE, IOWA CITY: Quad City Rollers versus Madison, in Eldridge
The Quad City Rollers take on Madison March 25 at the Eldridge Family Skate Center,  400 S. 16th Ave., in a bout you can see for $12. Kids under 12 years old get in free! A week later, in Iowa City, the Old Capitol City Roller Derby holds its April Fool's bout April 1 at Mercer Park, with an after-party at Tailgators. Learn more at the  OCCRD's Facebook page.
You can also learn more about the Quad City Rollers at their website including how to sign up for a new boot camp in August. Roller derby is a gender-inclusive sport featuring primarily nonbinary, transgender and female-identifying players in fast-moving, physical team bouts.
•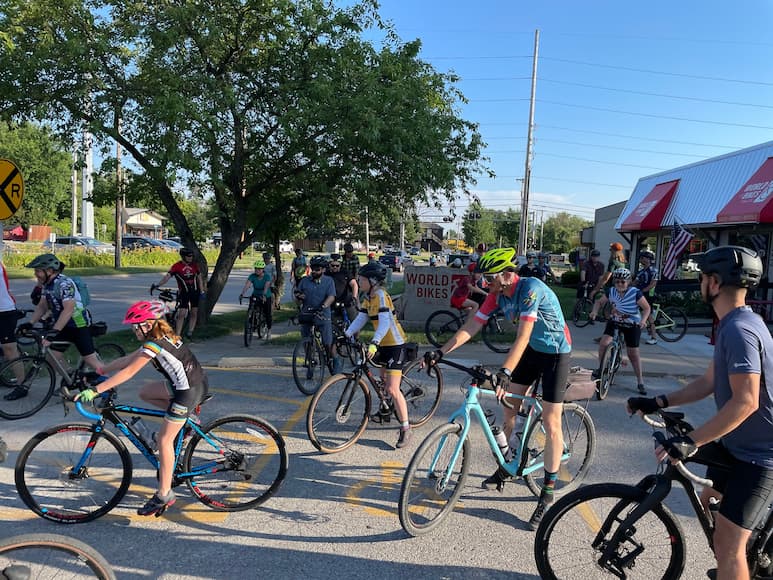 IOWA CITY: Monday Gravel outdoor, disc golf indoor
You can partake of two new opportunities in Iowa City to get active. Starting Monday, World of Bikes resumes its weekly Monday Gravel gathering, a 20- to 30-mile ride, starting at 6:30 p.m. at World of Bikes, 723 S. Gilbert St., and ends at Big Grove brewery.
And, at Hatchet Jack's, a new disc golf league is taking place indoors every Tuesday from 5 to 9 p.m..You can compete for three prizes from pot money. Enter for $5 to $15 apiece for the fun. Learn more at Hatchet Jack's at its Facebook page.
•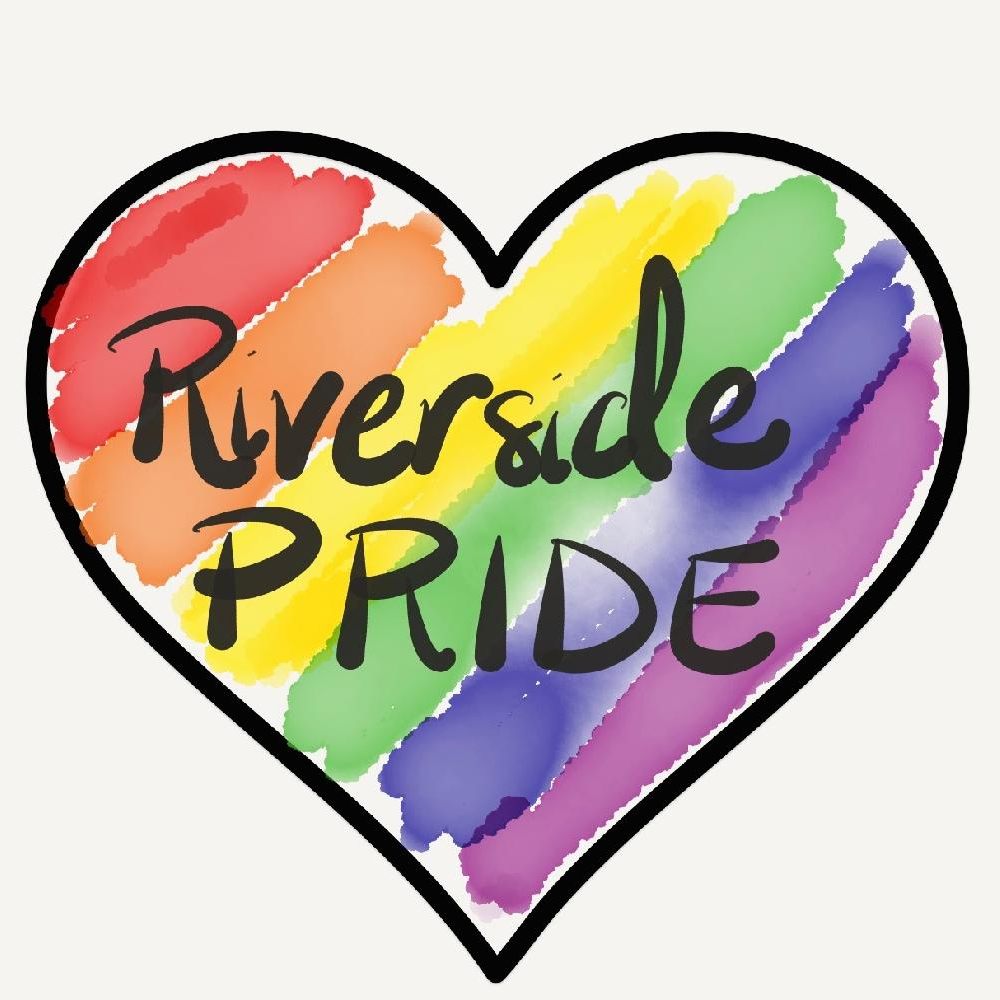 FORT MADISON: Riverside Pride happens June 15
Fort Madison will hold its second annual Riverside Pride June 15. The day will feature a vendor fair, food and other fun soon to be announced. The festival started last year, to replace what used to be a march and parade, when two community members joined forces with a high school music instructor for the event, wrote Pen City Current.  Watch the Riverside Pride Facebook page for more.
•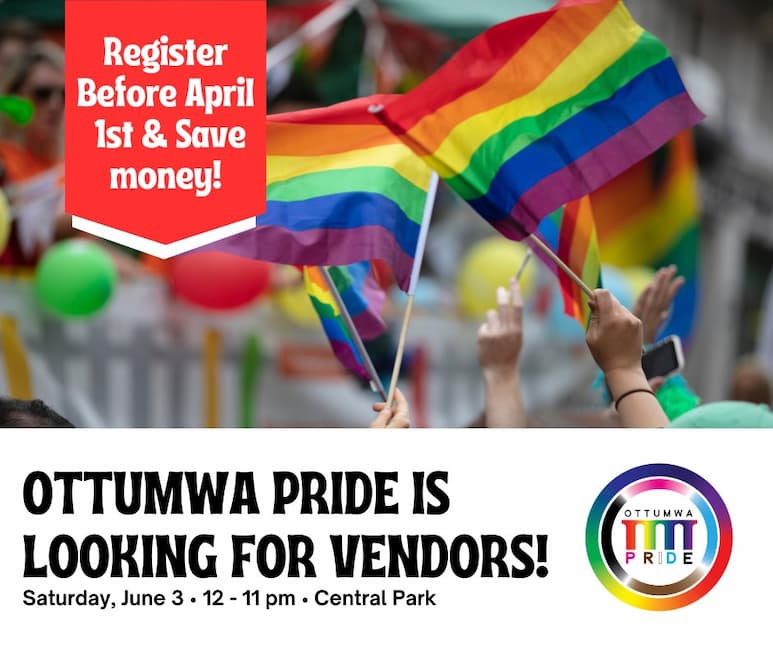 OTTUMWA: June 3 Pride event seeks vendors
Businesses and groups that sign up for Ottumwa Pride's June 3 event by April 1 will save $10, the group announced this week. Registration for the annual Pride event is $40 now, $50 after April 1. You can also participate as a food vendor for a higher rate. Sign up to vend at the block party here. This is the third year Ottumwa Pride has held a downtown block party. The group has also been active in protesting anti-LGBTQ legislation that has been making its way through the Iowa Legislature this year. Learn more about Ottumwa Pride here.
•

IOWA CITY: Five chances to make earrings at Beadology Iowa
Beadology is all about helping people learn art, and do art and fashion, by themselves — and earrings are one of the most popular things to self-create. Coming up, check out three chances to learn how to make your own earrings — in three distinct styles.
Quick reminder: all Beadology Iowa classes include not only the class itself, materials and use of tools — but also big-screen demos and usually, take-home instructions, and one-on-one guidance from the instructor. Virtual participations is also available for any class if you register 10 days ahead, to leave time for materials and instructions to be mailed. See Beadology Iowa's full schedule of classes here.
•
Got events or news happening in southeast Iowa? Email it to The Real Mainstream at reachus@therealmainstream.com