As a self-described "dark-haired olive-skinned, queer kid," Aerin Black felt they stood out among friends while growing up in Washington, Iowa. As an adult, Black began to identify as nonbinary and as a witch and tarot practitioner, and stood out even more.
Moving from Washington to Kalona, they still feel conspicuous, even in liberal Iowa City. Yet, they choose to stay in small-town Iowa. "I'm very much the type of person who believes that I'm where I'm supposed to be, when I'm supposed to be there," they say. "And I've got some work to do. Some outreach."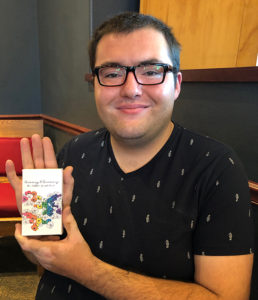 Black has found a unique way to express their self-identity: Queers and Queens, an LGBTQ-identified tarot card deck created by Ealain Studio Arts. A collaboration with two fellow University of Iowa graduates, Samantha Kahn and Bex Carlos, the deck features diverse representations of LGBTQ+ people worldwide, of many races, ages, spots on the gender continuum, and shapes.
"This is a fun summer project that turned into a whole movement," Black says. "We didn't even know if it was going to work. Fortunately, we ended up with a lot of androgynous and 'people of color' models, plus people of many socioeconomic statuses as well."
Black pursued the LGBTQ-identified tarot deck because they felt driven to meld the self-illumination many attribute to tarot, with LGBTQ people like themselves seeing resonating images.
"I wanted us to see ourselves, and not what we're being fed through the media," Black said. "We wanted to see real people, real faces, people we could see as our friends."
Black also believes tarot holds special meaning to both "queer" people, and people of color. The concept of "reclaiming your power of self" and defying society's efforts to place limiting labels is something that "magic" and "marginalized" have in common, Black says.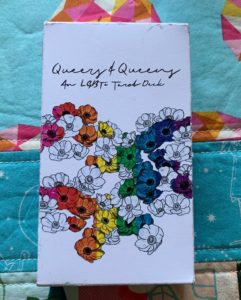 "Being a person of color and queer myself, there's something so exciting about divination and magic and all these things," they said. "It's about a freedom of choice and using these tools to find out who you truly are outside of who the world is telling you that you are."
Reading tarot cards is a practice that some say extends back to ancient Egypt, but is thought to have emerged in Europe in the 1400s. Often misconstrued to be a way of "predicting the future," tarot card reading is today considered a way to inspire different ways to ponder a situation, possibilities, and potential ways to make decisions.
Andrea Gorsh, owner of Kae Apothecary, is among the first retailers to carry the Queers and Queens tarot card deck in her store. She has also experienced a reading from Black, using the cards.
"There is powerful energy behind this deck," she says. "On top of the tarot meaning that each card contains, there is an underlying story, of a real human, whose story you may never know, but whose energy is embedded in the cards nonetheless."
To order your deck, go to www.ealainstudiosart.com.