Building on its historic strength of providing comfort food at an affordable price has been the focus of Iowa City's Shakespeare's Pub & Grill since mid-March when the coronavirus crisis first began.
Throughout an unpredictable four months that included 11 weeks of being shut down to in-restaurant dining, Shakespeare's has found ways to expand on its specialty of fun food. It was among the first restaurants in Iowa City to begin offering no-touch curbside service, and has bolstered its marketing of delivery through Chomp.
Shakespeare's also offers daily specials every week, has resumed offering home-made soups, and has expanded its menu and beer offerings since March.
The growth has happened even while Shakespeare's has been one of the leaders in coronavirus prevention efforts including not only no-touch curbside service and payment, but also disposable utensils, paper menus, and facial coverings for all servers. Shakespeare's was also among the first Iowa City restaurants to announce increased disinfection and coronavirus prevention efforts in March even before shutdowns began.
Shakespeare's has rearranged its interior to accommodate social distancing of six feet or more. Its outdoor patio offers an additional option for customers who are staying away from all public interiors.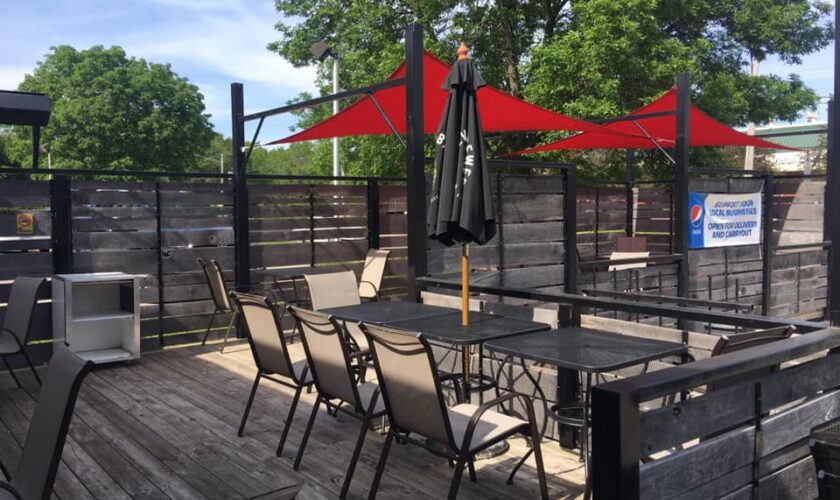 Owner Suzi Spalj has aimed to take a realistic approach that embraces new realities about the food service business, starting with a new "get in, get out" approach that she understands that many customers have, especially when dining in.
"I'm not sure if or when we'll ever see a model we were used to, where people just casually came in and ate and drank and hung out with their friends," she says.
The pub is continuously offering new beers, almost all of them from Iowa breweries like Backpocket in Coralville and Dubuque, Big Grove in Iowa City and North Liberty, and Dimensional Brewing in Des Moines.
Shakespeare's has closely followed guidance from the Iowa Restaurant Association and upped its use of social media to keep the public informed throughout the ever-changing open and close cycle based on state orders, but also a toned-down anniversary and delayed re-opening because of the Black Lives Matter protests of early June.
Spalj says she was thankful to have kept almost her entire staff working throughout the crisis. Some customers and former employees also stepped forward to help raise money for the pub through a GoFundMe account that helped Spalj keep payroll going regardless of sales in the early stages of the coronavirus crisis.
Shakespeare's has also continued its support for community organizations during the coronavirus crisis, continuing as a sponsor for the Lambda Softball Association of Eastern Iowa and Iowa City Pride.
Shakespeare's was first founded in 1999, and closed briefly in 2016 to remodel after fire damage. Pre-coronavirus, the pub offered live music and karaoke, and hosted community group meetings. It still offers Virtual Trivia online occasionally.
Its current hours are Monday through Friday, 10 a.m. to midnight, and Saturday and Sunday, 9 a.m. to midnight. To learn more about Shakespeare's go to its listing in our Advertiser Directory or to its website or Facebook page.
This is part of an occasional series on how advertisers in The Real MainStream are adapting to help protect the public's health during the coronavirus crisis.