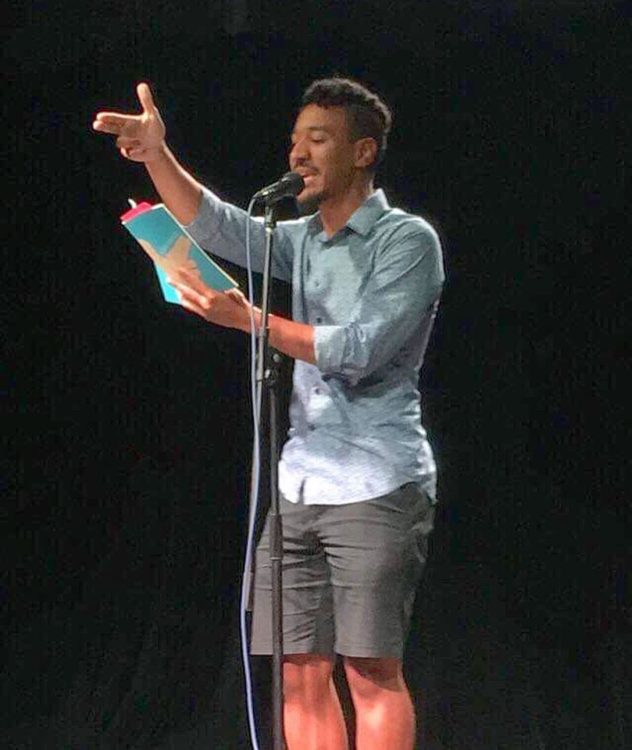 In the documentary, "Louder Than a Bomb," a poet takes the stage and says "poets, breathe now."
Though I wasn't a poet yet when I saw the film, I held my breath and then released it with him. In that electrifying and powerful moment, I breathed life into a poem for the first time. I felt the poetry begin to pulse through me. 
That's how Heather Knowles (aka Heather K, aka Slamama) remembers feeling when she saw "SlamNation," shortly after founding the Des Moines Poetry Slam, Iowa's first-ever poetry slam, which turns 19 this month.
Knowles had turned to the film in 1999 after her writer's group self-published an anthology and held readings of it across the Midwest. "People started asking us if we had been to a poetry slam. We had never heard of that, so we started doing our research," she remembers. "We watched SlamNation, and decided 'We want to do THAT!' " 
Introducing slam poetry to Des Moines and the whole state of Iowa required a lot of work, Knowles remembers. When she and fellow writing group member JJ Feyemuth started building the foundation for the slam, years before social media had taken hold, "we had to do it old-school: fliers posted around town, calls and faxes to local news sources like the Des Moines Register and Cityview, and word of mouth."
She never questioned whether it was possible. "Artists just kind of gravitate towards one another," Knowles says.
An introduction to slam culture took place in the fall of 2000 at Borders Books in West Des Moines. The first official Des Moines Poetry Slam took place at Java Joe's Coffeehouse in November 2000 and has lived there ever since, attracting poets ages 8 to 90.
I've performed on Java Joe's historic stage, as a 2018 Des Moines Poetry Slam winner and a featured poet in 2019. I remember that when I walked in for the first time, I was immediately greeted by other poets, performers, and people who appreciate words. The place seats around 50 people, and the stage is equipped with a mic, spot lights, and plenty of space to perform.
It's perfect for a slam, where the goal is to create a space where everyone is welcome, safe, valued, and heard. Over the years, Knowles says, the poetry slam has experienced ebbs and flows.
"Sometimes we would have packed houses, and sometimes it would be 3 of us hanging out and it just really didn't happen that night," she says. "But it was all okay."
"It's nice to help people  see that poetry can be fresh, exciting, deep, current, funny, and intense," Knowles says. "It's important to show that this is a valid art form, that anyone could be a poet (or spoken word artist), and show the impact their words can have on other people in the audience."
"Connection. Community." The words still echo from the mic.
The Des Moines Poetry Slam is held on the third Tuesday of every month at Java Joe's Coffeeshop downtown at 7 pm, with the next one coming Dec. 17. You can learn more about the historic Des Moines Poetry Slam on Facebook.