CARBONDALE — At first glance, "Farms & Faces of Southern Illinois" seems just another calendar fundraising tool for another nonprofit.
Look more closely, and this compilation of rustic pics is actually a grand statement against toxic masculinity and the rigid, conservative beliefs that research shows are more prominent among people living in rural areas.
The Rainbow Cafe LGBTQ Community Center is behind the calendar, which features 12 farmers in dresses, make-up, flowers, Pride rainbow colors, or other things typically stereotyped as non-masculine. Most are straight-identifying men who have "assigned female at birth" wives or partners. A few are LGBTQ community leaders or respected academicians. Most have been involved with the Rainbow Cafe since it began, and many have lived near Carbondale, Makanda, or other southern Illinois communities for years and some, decades.
The calendar "models" are defying traditional representations of masculinity while showing their support for the Rainbow Cafe, which seeks to expand beyond its strip-mall home after expanding its services for several years. The nonprofit began to serve adults in addition to youth, with support groups, special events, social opportunities and educational programming for southern Illinoisans who identify as lesbian, gay, bisexual, transgender or queer — and their families.
Each of the calendar's images "celebrates positive and diverse representations of southern Illinois masculinity and the land that sustains so much of our community," Rainbow Cafe writes. "Such representations work to counteract ageism and stigma."
Stigmas that stem out of toxic masculinity are a real issue in rural communities, according to many studies. A SAGE publication article about masculinity in rural areas says rural areas are "often less flexible than those in urban or suburban areas, and there are fewer socially acceptable ways for rural men to enact masculinity."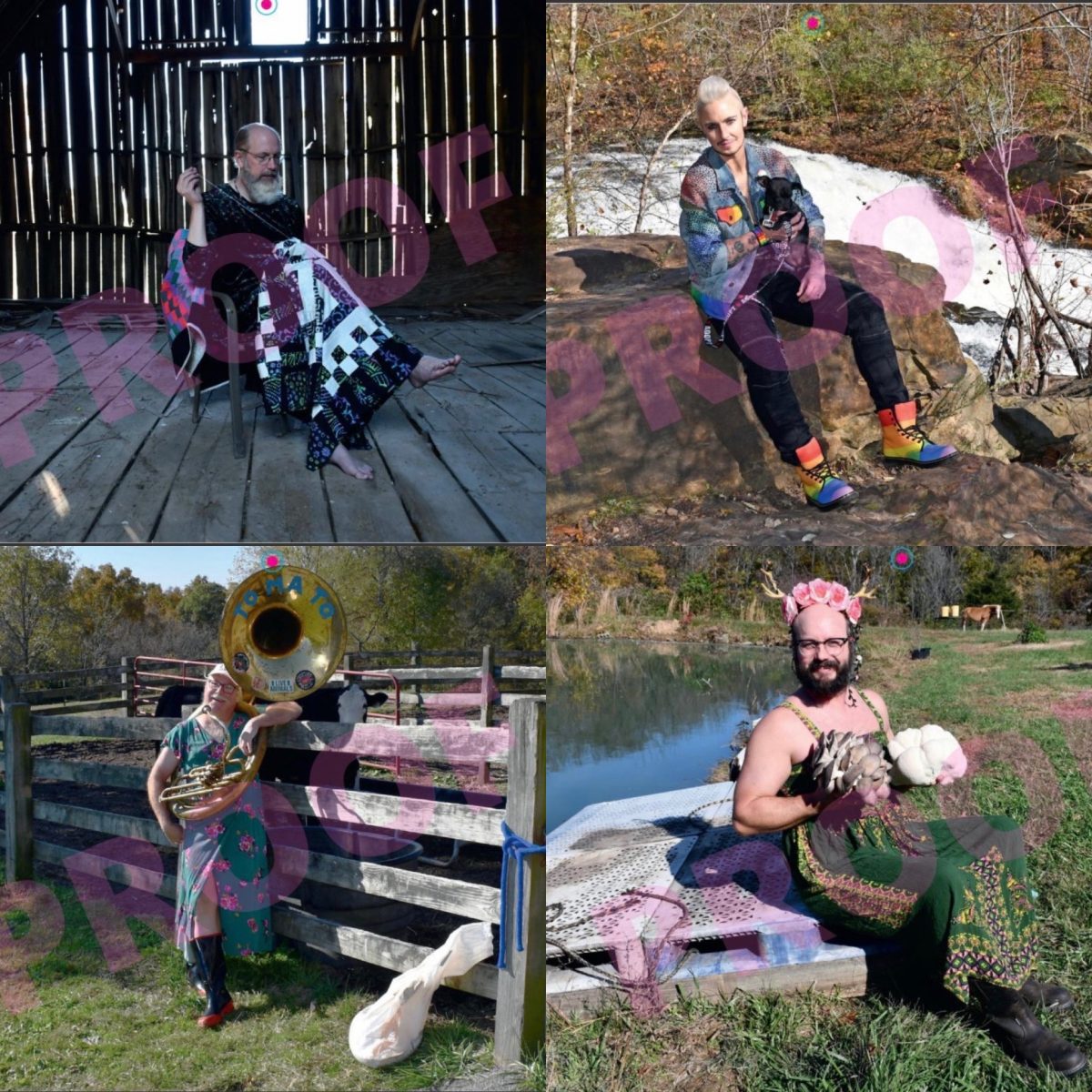 In farm communities, the article explains, physical labor, "toughness," hunting and gun ownership, and "outdoor activities" are valued as masculine activities because they signify "self-reliance and the ability to protect themselves and their family." Those same patterns can also enable sexist behaviors and an avoidance of "softer" forms of masculinity.
For these reasons and more, Rainbow Cafe's "Farms & Faces" calendar is groundbreaking:
• The mix of models includes transgender people, straight grandfathers, and professional drag performers.
• Several are AIDS or HIV survivors, activists or public servants.
• All are somehow involved in caring for animals or nature.
• Many of the models are also older than 50.
Stigmas related to HIV/AIDS are also heightened in rural communities. "Rural communities are often made up of small, close-knit social networks, which can make it difficult for individuals to privately seek HIV-related care," writes the Department of Health and Human Services in a May 2020 report on HIV/AIDS in rural communities. "People may be concerned that their neighbors or co-workers may see them accessing HIV-related services. Stigma may make people less willing to engage in HIV testing, PrEP, and HIV treatment. Stigma can be especially problematic for vulnerable populations in rural areas that are disproportionately affected by HIV, particularly LGBTQ+ people, and people who inject drugs."
And ageism is a problem for half of the world's population, writes the World Health Organization in a May 2021 report.
Countering all of those is why Rainbow Cafe chose these models in particular, said board member Carrie Vine to The Southern Illinoisan. The idea grew so popular, she said, many models needed to be turned away.
The models include musicians Curt Wilson and Bob Iltis; academician Jonny Gray and Matt Sronkoski; AIDS/HIV activists Steven St. Julian and Anthony Wyatt; animal rescue leader and three-time Southern Illinois Pride King title-holder Faim Lee Jewls; mushroom farmer Mike Hatfield; Makanda horse trainer Marvin Miller; pumpkin farmer T-Roy Bandy; and family farmers Karl Mackenbach and Whitney Tyson.
Wilson is among the many "assigned male at birth" and still living as masculine models in the calendar. Identifying as pansexual, Wilson described the calendar's purpose as going beyond tackling "dogmas surrounding masculinity," into promoting "a larger vision of humanity that respects and affirms all beings as they are." He hopes it helps promote "respect for the earth in a win-win scenario beyond limited old-world concepts, as we move forward into the fulfillment of our true human potential."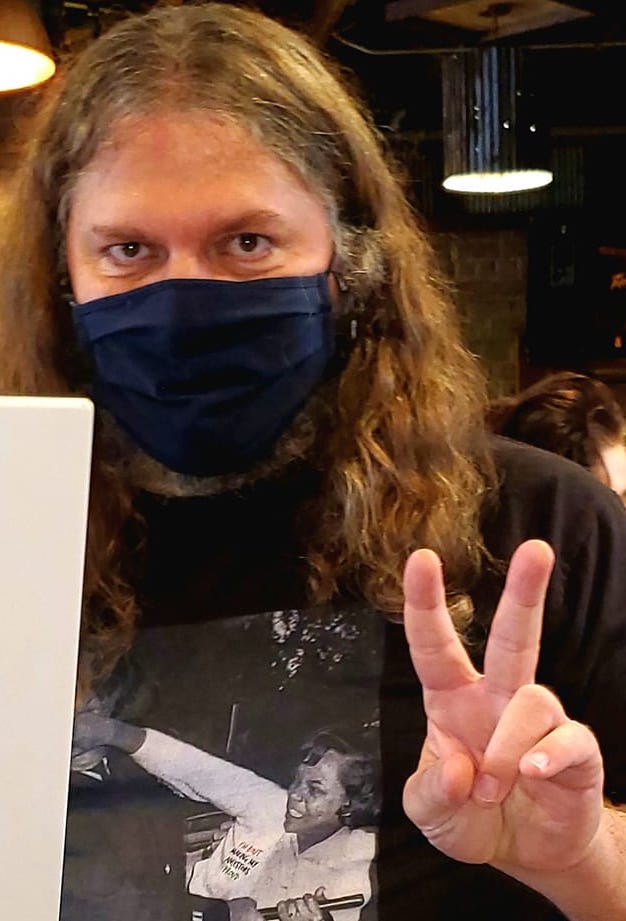 Those goals may sound lofty and beyond tackling toxic masculinity, but Wilson is not alone in thinking that changing attitudes about gender roles will have far-reaching positive impact. Novelist Jared Yates Sexton, most famous for revealing the vitriol that became part of most Donald Trump election rallies in 2016, also wrote "The Man They Wanted Me To Be: Toxic Masculinity and a Crisis of Our Own Making." In an interview about toxic masculinity with Erin Keane of Indiana State University's College of Arts and Sciences, Sexton talks about how toxic masculinity in rural America creates an "us versus them" mentality that can be counteracted when we talk openly about gender roles and expectations.
"When you look at things like rural America, [the idea is] those people are lost, they're unredeemable, there's nothing they can do and to get out is to escape this orbit and gravity of ignorance and evil," he said. "But even the people who are perpetuating these things, they know deep down that it's wrong. When they're alone and when the lights are out they know that this is a persona and they are overcompensating, and they're putting a character out in front of the world.
"I think when you start to look at these things as behaviors that can be changed, and if we can start to understand it and wrap our heads around it, all of a sudden there's not going to be us and them. Those things that exist to push us apart are only there because of the things that we don't talk about."
See this preview of the Rainbow Cafe Farms & Faces of Southern Illinois calendar. Order the Farms & Faces calendar, for $15, here.
(cover photo features, l to r, Karl Mackenbach, T-Roy Bandy, and Anthony Wyatt)
EDITOR'S NOTE: Much respect to the Rainbow Cafe and all of its models for this groundbreaking project! Yet, as part of our obligation as an intersectional publication devoted to context, we must point out: missing from this statement against toxic masculinity are … transgender women, and people "assigned female at birth" who are still living as female. For a follow-up analysis, sign up for our free newsletter. Next edition comes out Thurs., Dec. 30.