A student, let's call him Andrew, swings open the classroom door and steps in, sweaty and out of breath. All the students in my workshop look at him with surprise.
"I had cross country practice," he says, "is there still time for me to share?"
Typically shy, Andrew shared for the first time last workshop and now, standing in front of all of us, he was asking for another chance. He had literally run to the opportunity.  He found the power and connection that comes from speaking his truth.
Starting in August, I created a new program called IC Speaks, sponsored by the Iowa Youth Writing Project and the Englert Theatre. It aims to create a community of young writers and performers in Iowa City that can take the stage and speak their truth.
IC Speaks is in four schools in the Iowa City Community School District: West High, City High, Tate High, and Liberty High. Each school has a weekly workshop, and once a month the students from each school gather together at the Englert Theatre to connect with each other and perform at an open mic.
The objective of every workshop and meeting is to make sure the students have a safe space to be themselves, tackle and play with language, and feel heard.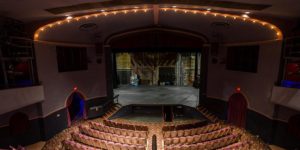 In times like these, where students have to practice active shooter drills, or worry about the new immigration policies, or stress about their family's healthcare, on top of school work, it's vital that we provide them a place to unpack all these experiences and emotions.
We want to reach youth all throughout Iowa. So on Nov. 16, IC Speaks is having its first bi-annual statewide conference.
Every high school writing program in the state will be invited to spend the day with IC Speaks for morning workshops, a panel discussion with notable local spoken word artists, and a small open mic. The final event will be a giant IC Speaks showcase where all the students will take the Englert Theatre stage and perform for the public. It's our chance as a community to listen to and empower the youth around us.
The students have already started writing and practicing. Andrew is not the only one anxious to share. Each group at each school has its own energy and personality, but there are underlying commonalities. All of them have a spark, a passion pushing them to write and share.
Every group is also diverse in age, race, gender, sexuality, and class. There are students writing about body dysmorphia or being first generation immigrants or managing mental illnesses or food scarcity or sexual assault. They all have such distinct stories to tell.
And that's why, most importantly, every student leaves feeling valued, and heard. To learn more about IC Speaks, reach me at thenegroartist@gmail.com.