Here's some information that will become more important now that Iowa has legalized sports gambling: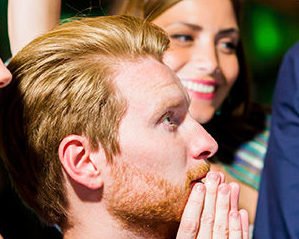 Sports wagerers in Iowa are almost twice as likely as other gamblers to become "at-risk" gamblers, the latest results of an annual study shows. Almost all of them are also already doing another kind of gambling.
Furthermore … even before sports gambling was legalized Aug. 1, 20 percent of sports wagerers in Iowa were already participating in another form of sports gambling.
"Whether it's pick-up games at the court, or skins on the golf course, or fantasy sports, or a bookie, or illegally … they were already. There is something unique about sports wagerers," says Eric Preuss, program director for the Iowa Gambling Treatment Program.
The program was created in the mid 1980s when Iowa first legalized gambling. Funded with 0.5 percent of the revenue generated by gambling Iowans, the agency exists to provide Iowans the resources to remain healthy gamblers.
That is defined as gamblers who are not at risk for addiction, Preuss said.
Overall, he said, Iowa is generally "safe" in that regard. Its overall percentage of potentially "problem gamblers" — 13.1 percent — has remained relatively stable ever since gambling became legal in Iowa.
But this new realm of gambling, based on sports, carries a new set of factors, attractions, risks, and reasons to be alert.
Today, every Iowan is likely within 90 miles of a casino, Preuss said. And today, casinos are no longer just casinos. They are destination spots, with attractions of restaurants and concert venues.
"They're advertised as family activities," he said. Local community centers and senior centers often bring older residents to casinos as a group social activity, he said. "We're not really seeing anything significant, nothing to worry about," he said. "We just want to make sure that every person and every county can know where they can potentially get help."
The commitment to healthy gambling has positioned Iowa among the top 10 states that spend the most on gambling education, Preuss said.
Tips for healthy gambling include:
• Set a time limit. Casinos almost never have clocks or windows, Preuss said, which makes it hard to tell how long you've been gambling. He encourages casino gamblers to wear watches and not only set a time limit, but stick with it.
Set a money limit — and stick with it whether you win or lose. Leave your credit cards at home; bring only cash.
Don't slip into the trap of thinking that gambling is a way to make money. That's a concept similar to making a living through sports: it happens only rarely.
Be sure you're using your discretionary income — meaning gambling only with money you can afford to lose.
Don't gamble when you're depressed, or under the influence of alcohol or drugs.
Preuss says healthy gambling behaviors can actually be developed before you arrive at the casino. Lots of smartphone games are structured to encourage gambling behaviors, through techniques like offering players "new lives" right away, instead of 35 minute later, in return for small expenditures.
From our perspective these are very gambling-like behaviors," he said. "You're not necessarily getting any reward out of that other than to play the game longer. And we mostly have people under the age of 21 participating in these games."
Preuss encouraged all gamblers to check out yourlifeiowa.org/gambling for a summary of ways to ensure your gambling remains healthy.