(Originally published Nov. 21; updated Nov. 22)
With victims' and heroes' names now released, and accounts shared of Saturday night's mass shooting at Club Q in Colorado Springs, more events and support are coming from LGBTQ+ groups throughout Iowa and Illinois.
Quincy, Illinois, hosts a vigil tonight (Tuesday) in Washington Park. The Blazing Saddle in Des Moines will hold a benefit show for Club Q Wednesday evening. So will Studio 13 in Iowa City.
The Garden Nightclub in Des Moines plans a benefit show Friday evening, and Basix in Cedar Rapids holds a benefit show Nov. 27. Mary's on 2nd in Davenport is also working on putting together a memorial and fundraiser for Club Q, but details are not yet finalized.
The Saddle also held a vigil Monday in its parking lot, along with other central Iowa LGBTQ+ groups. In Illinois, Fox Valley Pride in St. Charles, Ill., also held a Monday night vigil.
In addition, many groups are circulating information on where to turn for mental health support following the mass shooting in Club Q in Colorado Springs Saturday evening. They include The Project of the Quad Cities, which has released a list of five support lines people can call to cope with difficult feelings created by the shooting.
"It is completely normal to feel sad and overwhelmed right now," the health service provider wrote on its Facebook page. "If you need someone to talk to, consider one of the following resources." TPQC lists Trans Lifeline (877-565-8860),  Crisis Text Line (text HOME to 741741), The Trevor Project: (866-488-7386 or text START to 678678), LGBT National Help Center: (800-246-7743), and the 988 Suicide & Crisis Lifeline (dial 988).
The Project is also among five LGBTQ+ organizations in the Quad Cities who released a joint statement Tuesday morning blaming "special interest groups who benefit from attacking marginalized people" for the shooting, which claimed five people whose names were released Monday evening. They are: mother and nonprofit worker Ashley Paugh, transgender woman Kelly Loving, teenager Raymond Green Vance, bartender and open transgender man Dan Alston, and bartender Derrick Rump.
"What happened on Saturday is the culmination of intense, unrelenting anti-LGBTQ+ rhetoric that our community has experienced over the past year," said the statement from The Project of the Quad Cities, Quad Cities Pride Festivals, QC Pride, Quad Citians Affirming Diversity, and The Clock Inc. "The type of hatred required to commit such a horrendous crime is not born overnight; it is nursed little by little by anti-LGBTQ+ public officials and special interest groups who benefit from attacking marginalized people."
LGBTQ+ CLUB OWNERS IN ILLINOIS, IOWA REACT
"It's unreal to wake up today to the news of the shooting at Club Q. It brought us back to the morning of waking up to the news of the Pulse shooting in 2016," said Justin DeClour, co-owner of Clique in Springfield, Ill. "The entire clique family has Club Q in their thoughts, wishes them strength in their time of healing, and sends love."
"Our hearts truly go out to those who lost their lives, the survivors, their friends and loved ones," said Bryan Smith, manager of The Blazing Saddle. "So many of our 'safe places' have been tainted by these violent crimes at not only LGBTQ+ businesses but also schools, universities, places of worship, etc."
For those who want to give directly to victims of the Club Q shooting, the nonprofit Colorado Healing Fund has set up a donation site specifically for Club Q victims and their families. The organization exists since 2018 to provide secure and speedy financial aid directly to Colorado families that are victims of mass tragedies. Donate here. 
Suspected Club Q shooter tackled by club-goers, previously arrested for bomb threats
The five people who died in the Nov. 19 shooting at the Colorado Springs LGBTQ+ nightclub have also been named. They are Ashley Paugh, Kelly Loving, Raymond Green, Dan Alston and Derrick Rump.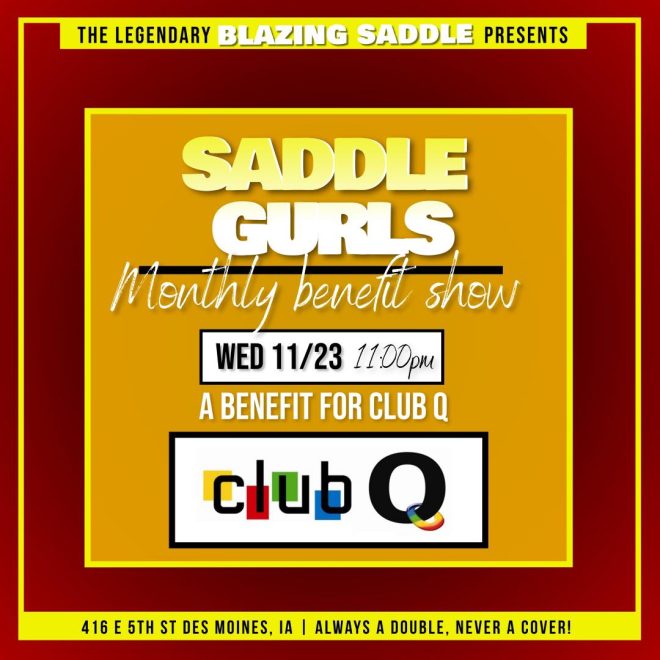 The shooting that also injured more than 20 occurred just before midnight Saturday. Lone gunman Anderson Aldrich is alleged to have opened fire and was taken down by clubbers within seconds. Richard Fierro, the father and war veteran who took down the shooter, has told reporters he was "just trying to protect my family." He was at the bar along with his wife, daughter and her boyfriend, who was among those killed.
Fierro has told reporters he grabbed the shooter's handgun and began beating him with it. Aldrich, who was also wearing body armor, is currently hospitalized and hasn't yet been charged.
Aldrich, 22, was also arrested in 2021 after he threatened his mother with a bomb and caused a scare throughout his Colorado neighborhood, reported the El Paso County Advertiser and News. He is hospitalized along with 18 other victims of his alleged shooting spree.
Information is not yet available on how Aldrich was able to obtain a firearm given his record of previous serious threats to others' safety, or what his specific motive was for the shooting. Colorado's district attorney has said the shooting is being investigated as a hate crime, CNN reports.
Some bar owners are saying the shooting shows voids in society even beyond LGBTQ+ hate. . They include Bobby Stansberry, owner of Mary's on 2nd in Davenport. "Another event that shows we need stricter gun laws. And the need for improvements to provide people with mental health care," he said. "How can we even remain safe in our safe places when people are running around deranged and having guns?"
Another LGBTQ bar owner from Davenport said the shooting shows the need for unity. "This is a reminder that we still have a long ways to go, and there is still a lot of hatred out there," said Keith Newman, owner of Varieties Nightclub. "We must stand together and not be divided. The gay community must come together and support each other."
Jason Zeman, owner of Basix in Cedar Rapids and Studio 13 in Iowa City, echoed Newman's comments. "This incident is a reminder that words and actions matter," Zeman said. "We must support each other and all LGBTQIA+ owned businesses, community organizations and friends."
Security measures get extra focus at some LGBTQ bars
The Garden in Des Moines will be starting "bag checks, self-defense classes for all staff, reviewing egress plans, looking at handheld metal detector options, and more. We will take no chances or make any compromises when it comes to safety," said spokesperson Blake Staake.
Even before Saturday's shooting, Des Moines' three LGBTQ bars (The Blazing Saddle, The Garden and Buddy's Corral) had all begun a "security chat" about possible security issues, Smith said. He said the staff may receive a fresh round of self-defense training, something The Blazing Saddle provided to its employees after the Pulse shooting in Orlando in 2016.
Smith said The Blazing Saddle already posts a "No Weapons Allowed On Premises" sign and has a "strong relationship" with both The Project of PHC Iowa for mental health services, and the Des Moines Police Department, which is located within blocks of all three bars.
At Basix and Studio 13, Zeman says several employees have received ALICE@ active shooter training. The program trains school and workplace employees to follow five key steps in response to shooters: alert, lockdown, inform, counter, evacuate. 
Smith praised Club Q staff, patrons and police, who responded within three minutes of 911 calls, reports said. "We would like to give credit and kudos to the patrons/staff at the Club Q who had the wherewithal to take down the shooter," Smith said, "and the quick response of the Colorado Springs PD in apprehending the shooter before more bloodshed occurred."
FBI joins investigation, hate crime charges explored
Names of all the victims have now been released. Interviews are now taking place with Richard Fierro, the father and war veteran who took down the shooter along with bar-goer Thomas James and an as yet unnamed drag queen. In addition, the number of injured has grown from an original estimate of 12, to 22 Tuesday morning.
In addition, the FBI has joined the investigation though officials have also said the shooter appears to have acted on his own. Some LGBTQ activisits say they don't need to hear Aldrich's specific motive to connect the shooting with a recent growth in anti-LGBTQ+ rhetoric.
"You can draw a straight line from the false and vile rhetoric about LGBTQ people spread by extremists and amplified across social media, to the nearly 300 anti-LGBTQ bills introduced this year, to the dozens of attacks on our community like this one," said Sarah Kate Ellis, CEO of the anti-discrimination advocacy group GLAAD, to the Denver Post.
If you have an event, vigil or benefit planned, please contact The Real Mainstream at reachus@therealmainstream.com.