I have been to quite a few away-from-home events over the last couple of years and often have seen my Leather family posting about their "event drop." But I've never really experienced it.
I thought maybe I was broken, or maybe didn't have my heart in it. Maybe that was why I was completely fine upon returning home from most events, ready to go with house duties, mom duties, work, and "let's get it done."
This time is different, so very different. This time, I was helping kick off a new Leather Back Patch club called The Vixxens Leather Club.
We are a club created to hold and claim space for underrepresented queer women and nonbinary people, and to encourage social interactions, in a Leather community that is still very much male-dominated. We're a family that can lean on each other and trust each other.
I was asked to be help out by the founders of this group: Amy Phillips, Jen Gaynor, and Aliza Robin. We've been planning this kick-off event for more than a month over Facebook Messenger and Zoom. We made it work in spite of the challenges.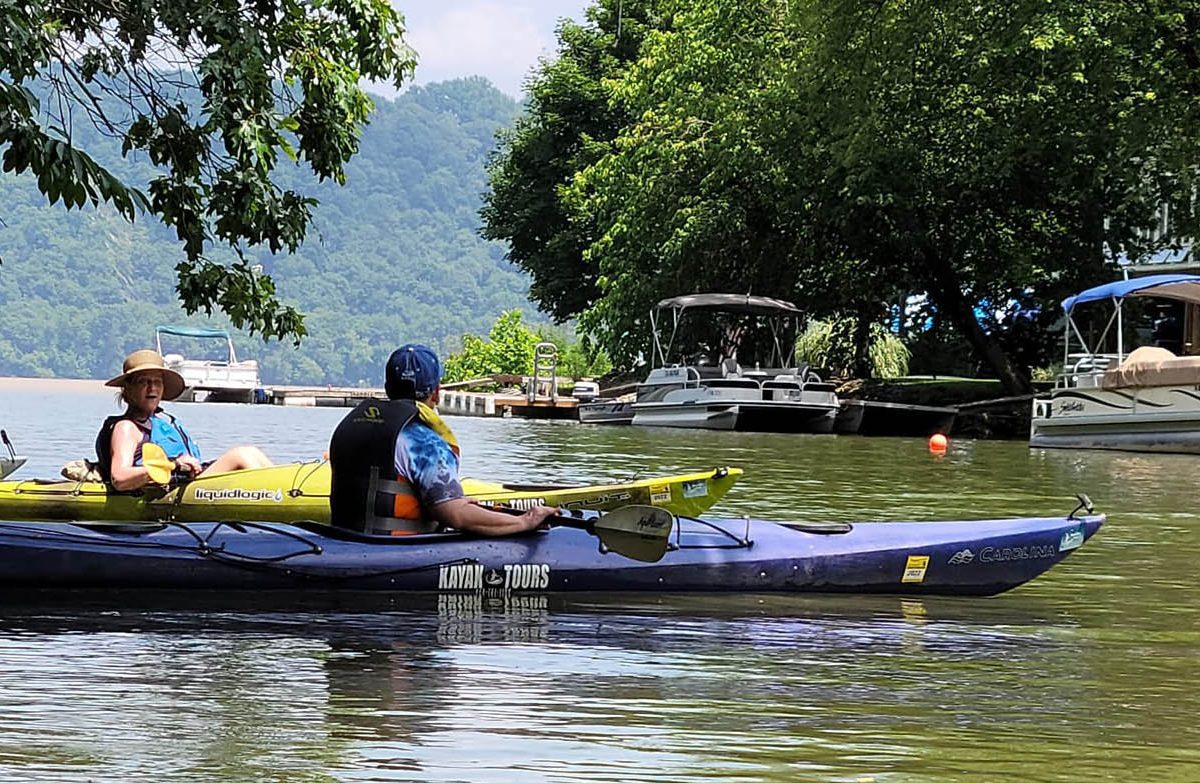 But we also had a near-death experience, and a real-life reminder of the reliable family connection we are building online. Here's my tale of "not dying" on the Susquehanna River:
We made the hour-long drive to the river from Maryland Saturday morning, after a beautiful night that included dinner at Little Italy with my friends. We hopped on the river, paddled downstream to a little cove area, docked the kayaks, swam in the river, fooled around, and took pics until our two guides let us know it was time to go.
We left the cove with just a few sprinkles coming down. By the time we entered the river, we were in a full downpour and lots of lightning. Our guides kept telling us to get our asses moving and keep going.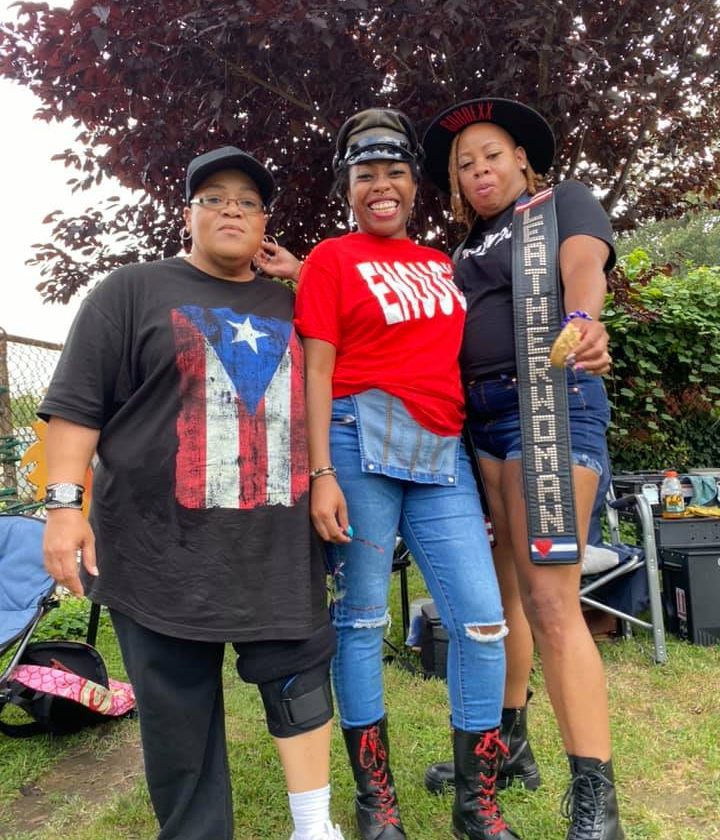 Before I knew it, I lost sight of both the pack of friends kayaking in front of me, and the pack behind me. I was alone, tired, and scared. The current kept pulling me away from the shore, until eventually the waves launched me out of my kayak and into a downed tree.
I remember treading in the water and thinking, "This is it." I used so much brainpower to tell myself what I had to do. "If you get out into the middle of that river, you are fucking dead. They are never going to find you," I kept telling myself.
It was maybe a little silly; maybe I wouldn't have drowned. But that's what I felt at the time. At the party later, when we were all telling our stories. I remember saying, "I wonder if they would have shipped my body home with my return ticket!"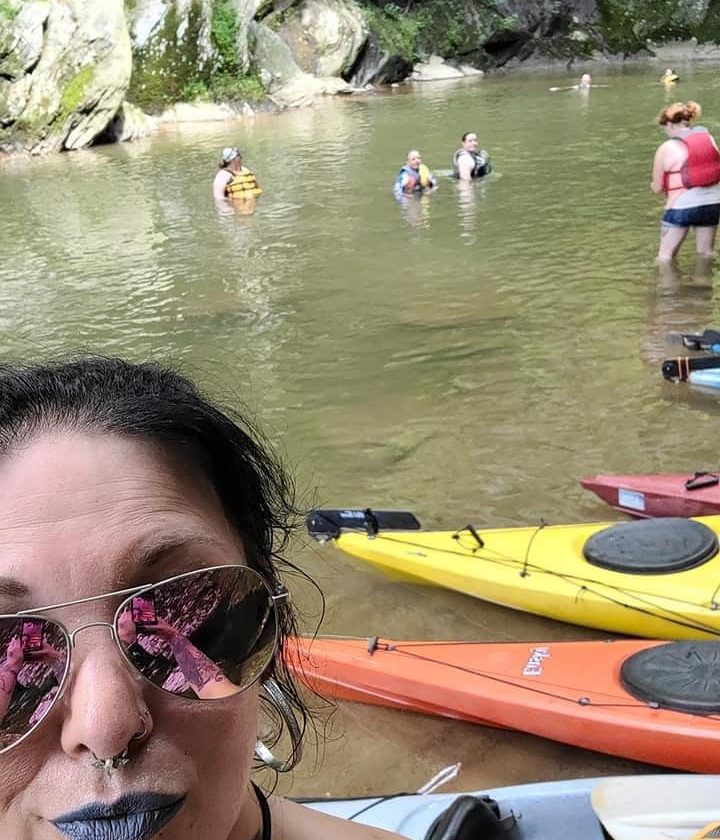 As I tried to swim back to shore, the river — this HUGE river, sooooo not like the rivers we have here in Iowa — pulled me back out. I was SO thankful for my life vest; earlier in the day, I didn't want to wear it because of …. tan lines. Vanity nearly did me in.
Eventually, I fought my way back to shore, with my kayak. But the challenge wasn't over: there was no embankment. After a good 10 minutes trying to walk on rocks that were slippery like oil, I found another downed tree, and just waited.
Deep down, I knew half of my group would be coming up the river soon. Still, I was in panic mode, legitimately thinking I might die right there on the river. I felt like I hung on for 30 minutes, when one of my group members finally appeared. Though my friend was calm and collected, and somehow helped me back into my kayak, I really have no idea how I got back.
We passed a smokey tree along the shore; we'd learn later that lightning had struck a tree near where one of our guides was standing. In the end, we all made it safe and sound, though some of us got beat up.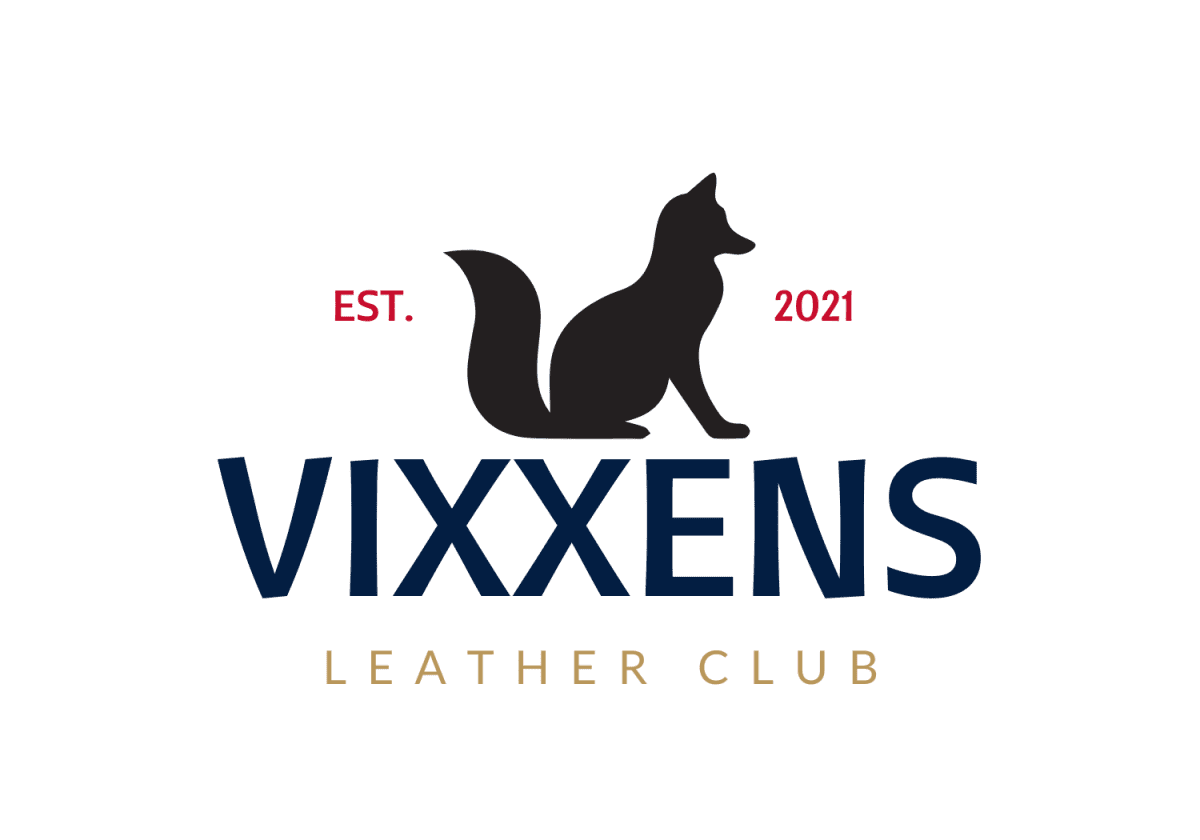 Saturday evening, as we shared our tales of the river, we held space with each other.  Some of these folks on the river trip, I didn't know. Some, I was friends with on Facebook, but I'd never met them in real life.
It was a huge bonding, for all of us. While many of us were strangers, we were there "doing it" together, and helping each other. I certainly know that I was helped.
One of the kayakers took me aside at the party and asked me if I had ever heard the term "turtling." It's something experienced kayakers already know, a term for when you tip over. She handed a tiny wooden turtle to me and the other two kayakers who had capsized; we had a memento.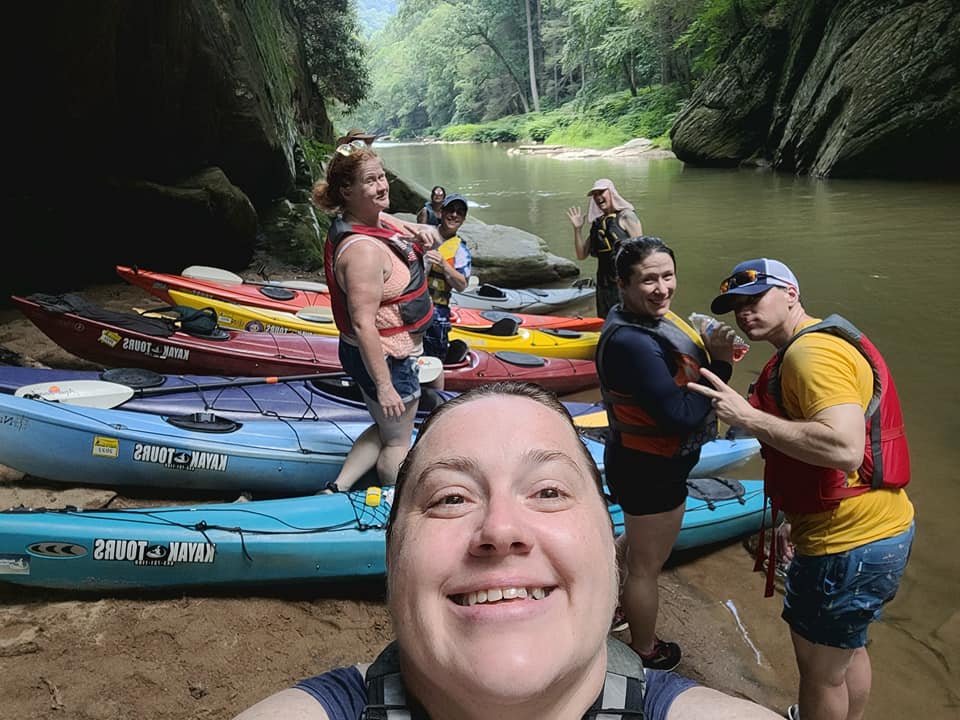 The rest of the weekend was a run of in-your-face fun. Sunday, we co hosted a Leather and Levi party as our inaugural event as Vixxens at the Clifton Pleasure Club. We had a kinky carnival with a dildo ring-toss, the Golden Cup game, a game where we had to use a straw to suck penis candy along a table against an opponent …. And my favorite game, "peg the slut." 
I, of course, one of the sluts, wearing white tanks and underwear. Ten tickets gave you three chances to hit us "sluts" with water balloons and get our tanks nice and wet (you can imagine the rest).
One rule: if your balloon hit me in the face, you got a bite (consensually, of course). One person whose balloon hit my face asked their master if I could bite them, and once consent was offered, I bit so hard they called "red."
Another player who DIDN'T hit me in the face asked if I would bite her anyway. I flag houndstooth and love biting, so I obliged, of course.

I had a long travel day home the Monday after the event. The "event drop" crash happened when I arrived safely in my own home, with a body beat to hell but a heart so full it is leaking out of my eyes, even today.
Experiencing all of the bonding, and survival, and support, and "coming down" from it all, I now consider these people family. I now have a home away from home. I'm now integrated into another community. I can pull some of my Iowa community into that community.
It's like the Leather community overall. We are a family. A family that comes together and gives support. We are there for each other, again and again. Just like the Vixxens were for me this weekend.
I cannot wait for my next event with people that fill my heart — but this time, I think I'll skip the river.