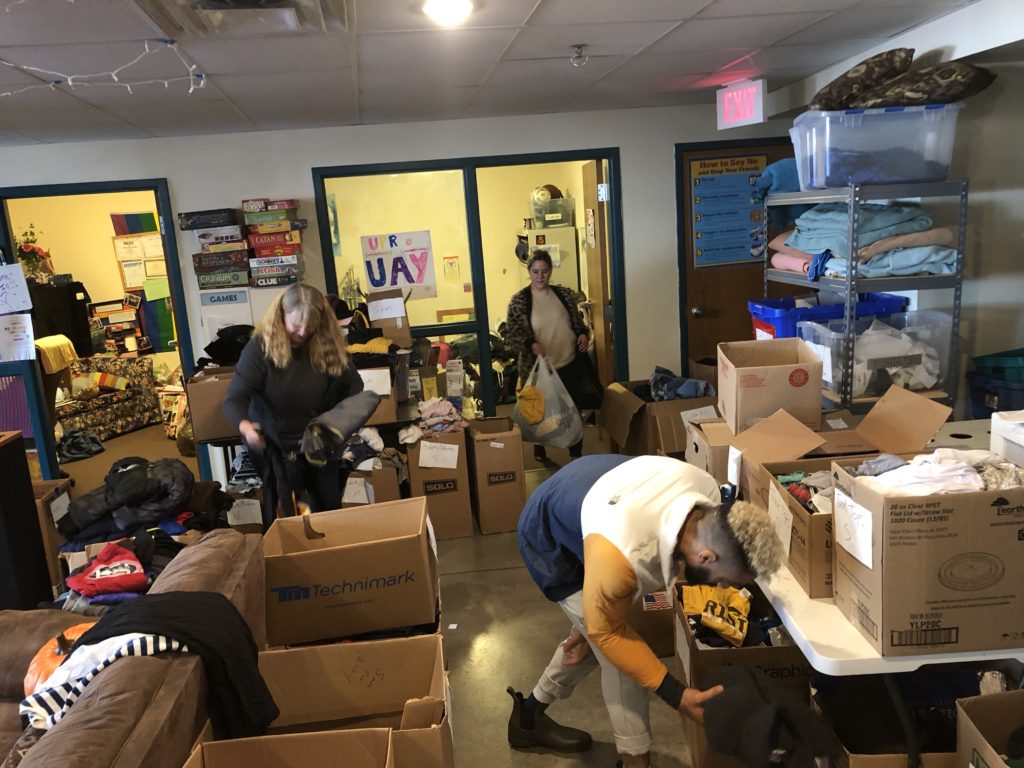 IOWA CITY — An estimated 400 youth are expected to find needed clothes and coats Tuesday during the annual UAY Clothing Drive for Youth in downtown Iowa City.
From 4:30 to 8:30 p.m., youth of all ages and their families are encouraged to visit the UAY Swaim Youth Center, 355 Iowa Ave., to "shop" through racks and piles of coats, sweaters, formal wear, T-shirts and more.
"This has been going on for about a decade," says Kai Kiser, Americorps volunteer with UAY. "We started this when we saw youth were going to school who didn't have clean clothes, clothes they felt comfortable in."
For four hours, UAY converts its teen center into a "storefront," where teens can shop comfortably, Kiser says. The donated clothing comes from many different sources: private individuals, groups that have already held clothing drives and have leftover items, and consignment/clothing stores like Revival.
Kiser says the clothing drive is a way to supplement, rather than compete with, other used and consignment operations supporting nonprofits like Goodwill.
"Goodwill is an amazing resource," they said. "But not everyone can afford Goodwill."
Each year, coats are in huge demand — especially after a fresh snow — and so clothing drive organizers limit each recipient to just one coat. For all other items, the limit is 20.
The clothing drive is just one way that UAY helps to serve many different needs of youth and their families, says Nick Mendoza, also an Americorps volunteer. The nonprofit also needs donation support for all of its programs year-round, beyond the clothing drive, Mendoza says. "We try to be a one-stop shop for empowering youth."
Here are some of UAY's other programs and donations that could help those specific efforts:
• Support for UAY's Young Parents Program, with cribs as the most timely need
• Musical instruments as long as they are in full working condition, to help with UAY's outreach through the schools' arts programs and with the private lessons offered by staffers like Kylie Buddin.
• Transportation for UAY's counseling program
• Food, cash donations, volunteer support and other support for UAY's annual PrideCon for LGBTQ+ youth in February
• Supplies for UAY's bi-weekly Pride Group, such as art supplies, markers, sharpies, and name tags
All in all, Kiser and Mendoza estimate, UAY serves about 3,240 youth and their families annually. You can learn more about UAY by stopping by during tomorrow's clothing drive, or at www.unitedactionforyouth.org.