QUAD CITIES – Rich Hendricks got his first job working as a clerk at Gruber's Gladiola's in the big building at 3019 N. Harrison St. in Davenport.
Today, decades later, he is the pastor of a church in the same building.
And not just any church: Hendricks leads Iowa's only Metropolitan Community Church, a primarily Christian denomination openly serving mostly LGBTQ people. Founded in 1968 by the Rev. Troy Perry, the MCC denomination now has 300 congregations in 22 countries.
But in Iowa, there is only one. It draws about 65 regular attendees in a building that also holds tai chi classes and other community events. Mostly Christian, the MCC-QC also welcomes people of other faiths; Hendricks estimates about 8 percent of its regular attendees are non-Christians.
"We're all about the spiritual journey."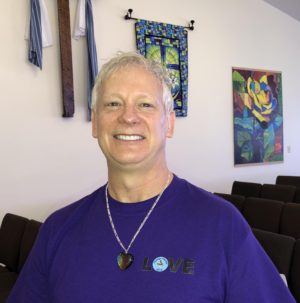 Hendricks, who grew up in the Quad Cities, was assigned the Davenport location upon his first stint out of the seminary. He's been leading MCC-QC ever since, constantly keeping the church at the forefront of not only LGBTQ visibility but intersectionality.
"When I first moved here, we had that discussion about flying the Pride flag," Hendricks said. "I said, 'If we're not going to fly it, I'm not going to be your pastor.' "
Hendricks also wears intentionally mis-matched rainbow tennis shoes. And he can often be found making his way around the Quad Cities as part of One Human Family. That's the nonprofit he's formed with Rabbi Henry Carp that is devoted to intersectional harmony.
Hendricks is a graduate of Davenport West High, Drake University, and the University of Virginia Law School, and attended Emory University for a while. He served as a United Methodist pastor before joining the MCC, and founded an anti-poverty nonprofit in Macomb, Mississippi, as well as southwest Mississippi's first racially integrated church.
Throughout all of that community service, Hendricks said, he could not escape the sexuality he had denied.
"I had three brothers; I grew up at a time when you get married because that's what you're supposed to do," he said. "The church tells you that who you are is not right. So you just try to conform. But it got to the point where I was no longer willing to do that. I needed to be who I was."
Hendricks moved back to Chicago, where he discovered the MCC.
Upon settling back in the Quad-Cities, Hendricks said he was "pleasantly surprised" with how progressive the state and the area had become.
Hendricks helped co-found QC Pride, the Quad Cities' original Pride organization. After a few years of "growth pains," the group began making a rebound last year and is holding its second annual week of Pride events this year from June 22 to 28.
His newest passion is One Human Family. "I wish we didn't have to, but because of the rising tide of hate, I felt it was important to respond and have an organization with a mission specifically to protect and welcome all people in all places in our community."
The group has distributed 1,600 yard signs, puts up billboards, and holds symposiums on topics like racism and islamophobia. Hendricks' hard work has earned the praise of colleague Carp, who notes that Hendricks also gets involved in other local intersectional groups like the area's interfaith group.
"We have to stand together as human beings. it's imperative," he said. "No matter who you are, you have s take in the health and well-being of your community. Part of that health and well-being is protecting and cherishing our diversity."
Hendricks holds fond memories of great times during the Quad Cities' LGBTQ history. He recalls doing weddings in "the gazebos down by the river."
"All those weddings we had, people would come by on the bike path and applaud and cheer," he remembers. " It was wonderful."
He says the area's youth are one reason why he is so committed to promoting an overall more accepting and collaborative society. He's concerned about reports of tense incidents at schools involving students.
"We're really trying to be a positive voice for diversity and reminding people that this is who we are and what we really value," he says. "You need to move the middle from being bystanders to being people who stand up for what's right."
Hendricks also believes local communities are starting to feel the affects of the anti-LGBTQ policies coming from the Trump administration. He points out that the Quad Cities has only one LGBTQ bar, when it used to have six.
He says even with other denominations like Presbyterians becoming more welcoming of LGBTQ people, there's something special about being part of an MCC.
"Some of these folks who go to these other churches are missing out on so much," he says. "When you have a spirituality that affirms your sexuality and your humanness and your diversity, it makes a big difference. That's what we're all about."