It's the end of June — but something feels, off.
This Pride month is different, and many of the spaces — physical, emotional, spiritual — have been drastically altered.  We've felt the loss of live performances and underground glimpses of poignant art.  Instead, we've found a grieving for the face-to-face conversations yelled across a loud, dark room thumping with bass … and this looming sense of unarticulated loss, or of being lost. 
It's weird to even be a person right now.  I've forgotten how to be comfortable chatting in groups, how to float between numerous conversations, how to make my exit on a joke.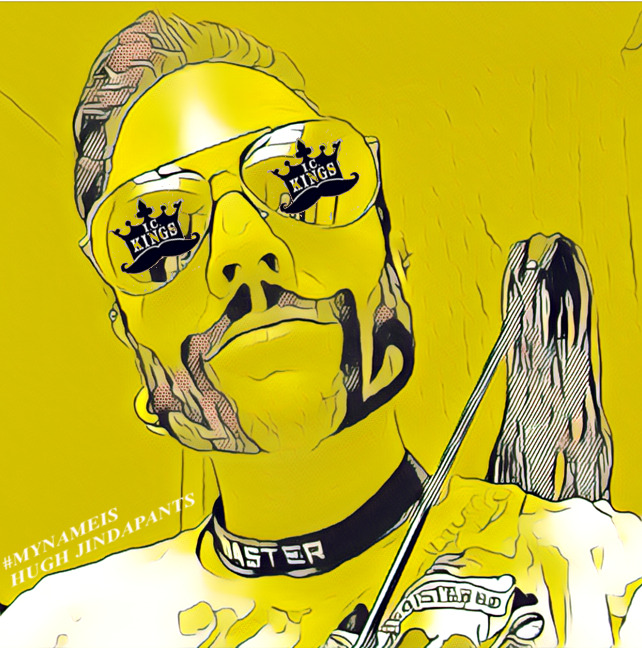 A huge part of my definition of Pride has been playing the character of Hugh Jindapants with my I.C. Kings drag king troupe. For a decade, we performed monthly at Studio 13. We traveled too — as far as Canada to perform at World Pride.  The Kings were affected by more than just COVID.  Some of us relocated, are pursuing higher education, or expanded their families by welcoming new children.
As a result, a local scene once routinely buzzing with dazzling male impersonators, demonstrations and redefinitions of femininity, tongue-in-cheek displays of (sometimes toxic) masculinity, comical and socio-political commentary is … resoundingly silent. 
And so, it doesn't feel like Pride, or June … or even real summertime, yet.  Pride ignites when the noon sun beats down on the parade route, the smell of sunscreen mixes with rainbows and glitter, and the douchebag beard I am wearing starts to melt off my face.  It's walk-jogging behind slow-creeping vehicles, throwing fistfuls of candy to beaming faces of all ages.
Pride is stomach knots before a show, and again as I leap onto a stage and slip into my Hugh Jindapants character.  Where I'm suddenly able to inhabit a space otherwise forbidden to most female-presenting humans: representing masculinity in our male-centric culture.  And it's a Completely. Different. Experience.
As a drag king, you have so much immediate power — to command attention, embody unapologetic entitlement, and act without hesitation.  All of  these are simply unavailable to me, until I effectively personify a male or masculine form.  When I do, the reaction is favorable, to say the least. 
As Hugh, total strangers throw money at me and scream like Beatlemaniacs when I make a cocky gesture or smirk in their direction.  This male-identifying character can do anything and say anything.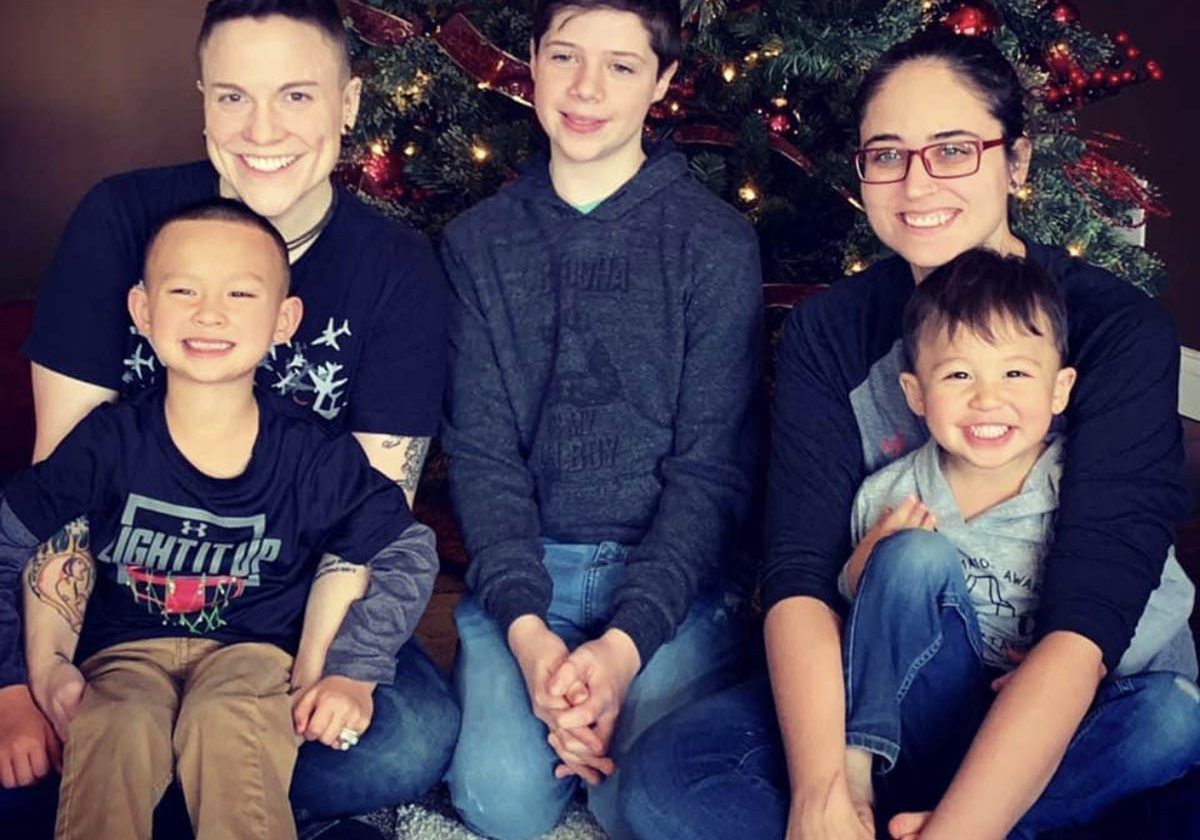 Is this toxic masculinity?  At times. But it's also masculinity warped completely, when filtered through my body, a body otherwise heavily restricted by female or feminine labels.  
Hugh, exhibited via a human with a lifetime of knowledge of what it feels like to be a marginalized person, takes on new meaning and provides commentary at a new level.  This is masculinity through the lens of its impact on the feminine.
I took these concepts one level deeper, when I created a secondary character, Mister Faux Sister.  I describe MFS as Hugh in drag (meta-drag).  A tip of my hat to Victor Victoria, MFS is Amanda depicting masculinity (Hugh), through femininity (MFS) via a masculine lens.  Interestingly, portraying MFS is the most comfortable I've ever been with my own gender (I identify as non-binary).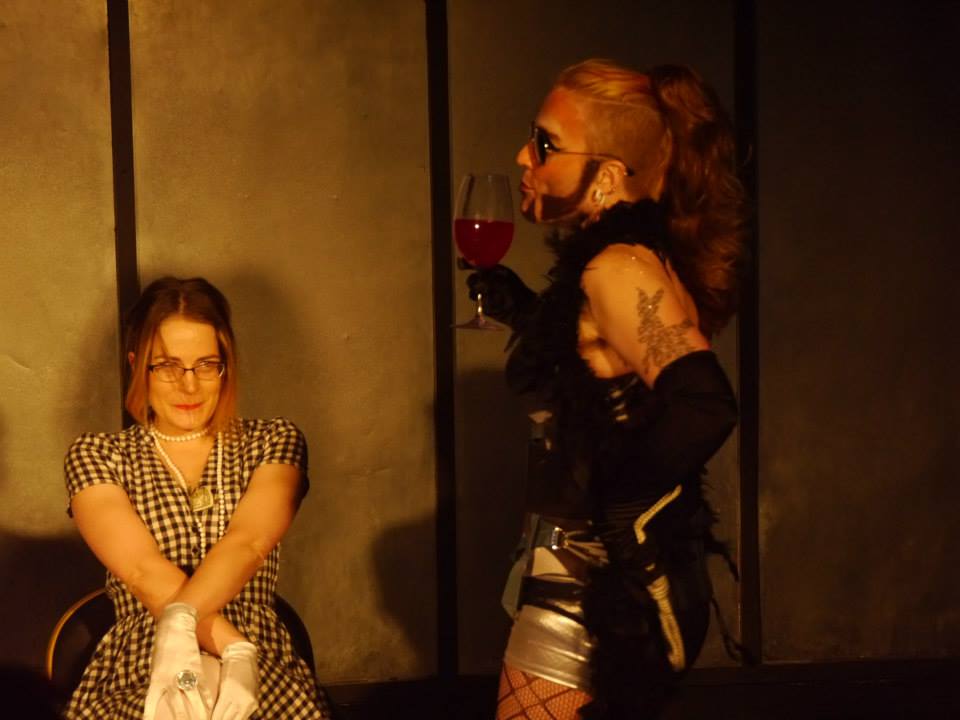 Over the past decade, I saw both positive and negative aspects of this power, available both onstage and off.  When I fully passed as Hugh or male (as long as I didn't speak), I was no longer afraid to walk down dark allies by myself.  That was something I otherwise NEVER experienced in my life as a relatively small, female-labeled human.  
Hugh's persona was also easy to take advantage of, hide behind and use as needed, without consideration.  It's what I imagine real male privilege feels like and I admit, I allowed it to become toxic in my own life a few times.
I.C. Kings consciously worked to create one of very few safe performance spaces for female-bodied, non-binary, and trans performers.  Often, our group served polished entertainment for a queer audience, particularly women and female-identifying members of the queer community, who were otherwise often noticeably omitted from other nightlife.  
Other times, we spotlighted specific current events, striving to engage and impact multiple marginalized identities.  We worked closely with multiple youth organizations, to demonstrate representation and leadership, and offer support and entertainment to queer youth.
Sometimes, that meant bringing in local politicians to discuss voting and voting rights. Other times, it meant incorporating major headlines into skits, or raising thousands of dollars (over the years) for numerous organizations including:
• The Trevor Project
• The Matthew Shepard Project
• Pulse Victims Fund
• Moms Demand Action
• The American Cancer Society.
• Iowa Safe Schools
• United Action for Youth (UAY)
• Transformative Healing
• Black Lives Matter: Des Moines Chapter.  
In addition, I.C. Kings partnered with and supported groups like
• Women's Resource & Action Center (WRAC)
• Safe-Walk
• Rape Victims Advocacy Program (RVAP)
• UI Gender, Women and Sexuality Studies.
We often used our fan base to share information and events from groups such as Eastern Iowa Community Bond Project, InsideOut Reentry Community, and the Sankofa Outreach Connection (addressing Needs + Potentials for Women & Girls of Color).
As a group based in the largely homogenous Midwest, we eventually realized our obligation to begin consciously seeking diversity.  We hosted repeat performances by all members of the LGBTQIA+ community, some BIPOC artists, local musicians, burlesque performers, circus entertainers, and differently-abled actors.  We incorporated an ASL (American Sign Language) performance.  
I'd be remiss if I did not acknowledge that most I.C. King members and performers have been white.  We eventually improved at extending repeat invitations to BIPOC performers.  But I wish I had personally worked harder to achieve this goal more consistently.
The future of the I.C. Kings as it once was is not yet clear.  Some of the I.C. Kings have been performing individually and some will perform at Iowa City Pride this October.  But we'd like to broadcast a clear message to our co-performers, fans, and future emulators:
You have a RESPONSIBILITY to use your platforms to discuss gender inequities and toxicity, foster safe spaces, and create tangible impacts in our communities.  You should especially work to elevate marginalized voices, address racial disparities, highlight injustices, and encourage activism.
Whether that means inviting diverse performers to your stage, creating deliberate dialogue through your acts, fundraising for nonprofits, supporting local and diverse politicians…or ALL of these things – – this should be considered an obligation for the privileges you enjoy. 
The stage, the attention, the influence and literal microphones allowed us through performance art cannot be taken for granted.  The impact we make is the legacy we leave.  
Honor the history of drag culture, largely established by BIPOC Trans Women.  Impose progress, and carry that message forward, during this atypical Pride month, and beyond.
Cover photo by Danforth Johnson features (front row l to r) Hugh Jindapants, Miss Kitty, and Joey D; (back row l to r) Chaz E Burger, Jt Amore, Johnny Derp, and Franky D Lover