CARBONDALE, ILL. – With its first Pride Royalty Pageant in four years coming May 13, and its first-ever 5K walk and run coming May 6, the group holding Southern Illinois Pride events is putting out a call for more walkers, runners and drag pageant contestants.
Pride in Action-Southern Il seeks more contestants to apply for the May 13 pageant by May 1. No experience is needed; winners will appear at events throughout southern Illinois as ambassadors for southern Illinois' LGBTQ community. Contestants are welcome from throughout a 150-mile radius of Carbondale, including Kentucky and Missouri.
Pride in Action is also calling for more entries in its May 6 5K Run and Walk. Organizer Tara Bell emphasizes participants can join on virtually; walkers and runners don't have to show up in person at the Logan Aquatic Center in Cartersville, in order to join the effort. Both the pageant and the 5K walk and Run raise money for the big festival and concert coming June 9-13.
Southern Illinois holds first drag pageant since 2019
Choosing "royalty" during the month of Pride, or to lead performances during Pride month, is a tradition at LGBTQ Pride events nationwide. Some groups choose them through affiliations with local LGBTQ bars, and others are like Southern Il and connected only to the Pride nonprofit. 
The last time southern Illinois had a Pride Royalty Pageant was 2019, and Rainbow Cafe organized the event. The two performers who received the titles, Pride King Faim Lee Jewls and Pride Queen Blanche DuBois, have been community ambassadors for Pride throughout southern Illinois for dozens of performances each, for years now.
This year, Pride in Action is opening up the competition to performers from a broader area as part of a way to engage more contestants. Pageant director Jodie Santana said finding contestants can be hard for a lot of reasons: many performers are already involved  in organizing the event or Pride.
Plus, the area has no LGBTQ bar to help support the competition, though many different LGBTQ-friendly nightspots host occasional drag shows. Some venues, like Keith's Place in Harrisburg, have had to weather conservative backlash for hosting drag shows.
Opening up the competition to Kentucky and Missouri is also a way to show support for drag in two states where the art form has been under attack by Republican legislators proposing limits and bans.
A bill that would criminalize drag performers was introduced but failed to advance in the Kentucky State Legislature, reports the Louisville Courier-Journal. A similar law was also proposed in Missouri, where the state's attorney general also pressed for a resolution  that would ban drag shows from schools. Iowa Republicans also proposed a law that would ban drag performances before minors, and Tennessee actually passed such a law, which is now held up in court, reports NBC News.
"Forty-five minutes south of us, both of those states are where anti-drag legislation has been proposed and considered," Bell says. "And there has also been all kinds of really damaging anti-trans legislation, along with censorship in libraries. 
"This pageant is part of recognizing Carbondale as a safe space not only for its own residents, but for the LGBTQ communities that surround Carbondale."
The big event is 7 p.m. May 13 at Varsity Center for the Arts, 418 S. Illinois Ave., Carbondale. The $10 admission benefits Pride in Action-Southern Il. Deadline to apply for performers is May 1.
Southern Illinois Pride efforts undergoing big changes
The group handling Southern Illinois' annual Pride celebration now is different than the one that used to run the annual event. Pride in Action-Southern Il is the new group, and is also a different kind of nonprofit than its predecessor host of annual Pride events, Rainbow Cafe.
The new group is formed to focus on social welfare and political advocacy, a distinction officially known as a "(c)(4)." By contrast, Rainbow Cafe is a traditional c3 focused on charitable and educational efforts. In addition, this year in the pageant, three titles are up for grabs: Mr., Miss and Mx.
"What I want people to know about the pageant is that it's always good to give to your community, and to give back, and that's what this is," she said. "It's volunteer work. It's always a blessing to do that. The title-holders will be a major part of our group in the coming year."
May 6 Fun Run among several more Southern Il Pride events coming.
Here's more information on the 5K Fun Run and Walk, and other Southern Illinois Pride event and news:
• Use this form. to sign up for the May 6 5K Fun Run and Walk. You can participate in person or virtually; the $20 registration helps fund Southern Illinois Pride Fest.
• Volunteers sought for June 9-11 Pride Fest weekend: fill out the form at this link if you'd like to help out with events taking place during the three-day celebration. You can also reach Jessica at coordinator@carbondaleunited.org
• Local performers sought for June 10 Pride Fest show: Pride in Acton is seeking at least 10 performers to hit the stage throughout the festival June 10. If you're interested, email juliesocorro.events.piasi@gmail.com by May 31.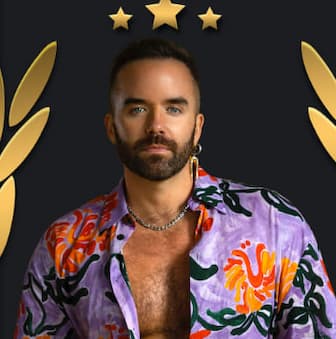 • June 10 Evening Show features Brian Justin Crum:  A contestant on the 2016 edition of America's Got Talent, Crum will perform at Hangar 9 for an evening concert June 10. Crum finished fourth in the competition and has since performed on Broadway in a musical tribute to Freddie Mercury of Queen. Crum also made it to #2 on the Billboard dance charts with "Show Me Love" in 2017. Crum was remaking the original 1997 version of the song by Robyn.
Pride in Acton also coordinated a Carbondale City Council candidate forum in March and holds other events year-round. For more information on Pride in Action-Southern Il events or ways to get involved, see the group's website at prideinactionsi.org, or its Facebook page.