HIAWATHA — Aime Wichtendahl embraces her status as a role model for LGBTQ Iowans, an obligation and privilege she earned when she won a seat on the Hiawatha City Council four years ago and became the first-ever openly transgender elected official in the state.
She regularly responds to requests for input from media on LGBTQ issues, and Wichtendahl was among several dignitaries who co-hosted One Iowa's historic LGBTQ presidential forum in September.
But her trademark quality is not being on the front lines for LGBTQ equality. Rather, Wichtendahl is known for bringing a practical focus to public issues, and for taking up causes that benefit all Hiawathans and Iowans.
"I just try to go out and do what I can to make the place I live in a better place to live," says Wichtendahl, just elected in October to her second four-year term.
"Stand with local businesses"  was the slogan that originally helped earn Wichtendahl her Hiawatha seat. She was first inspired to run for the seat in 2013, when the tattoo parlor she frequented was threatened with closure because of development.
Her top priorities as an elected official are to find new ways to attract and retain young professionals through measures like improving Iowa's water quality, ensuring discrimination protections are in place, and keeping wages competitive with other states.
And by respecting people's privacy, sexual orientation, and gender identities.
"As a public official, this is the thing we struggle with," Wichtendahl says. "We need to attract young professionals, but then the State Legislature begins passing laws that say, 'Just don't stay here.' The reality is, you can't force this hard right-wing agenda down people's throats and then wonder why people won't stay in Iowa.
"You can't have it both ways. Either we open up the state to everyone, or we don't."
Wichtendahl focuses her work as a city council member on policies that benefit everyone. She is an advocate for responsible development that addresses broad community needs, such as the upcoming Village Center.
The development is set to feature affordable housing and senior housing in addition to retail.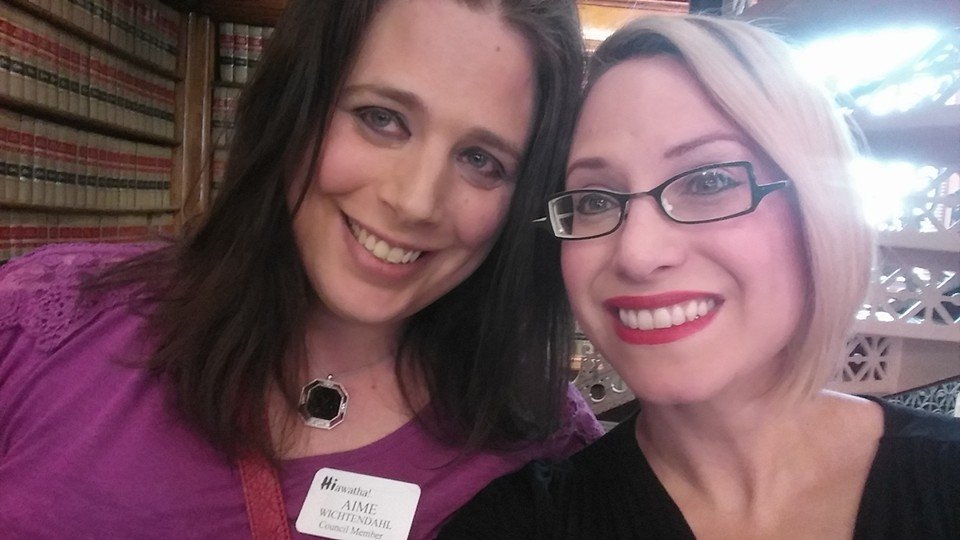 "She is known for her straightforward style where she speaks her mind," says State Rep. Liz Bennett of Cedar Rapids, a friend of Wichtendahl's. "She's known for focusing on and advocating for the town of Hiawatha, and I think her straightforward style makes her more trustworthy."
While she establishes herself as a practical voice that supports small business, Wichtendahl is also building a following in the LGBTQ community with a strong social media presence and regular visibility at LGBTQ events.
She was among the most popular models at One Iowa's "You Do You" Fashion Show in April.
Among the issues she feels most strongly about: the denial of Medicare for gender reassignment surgeries. It's a pivotal issue that transcends transgender rights, she says, because it goes to the heart of defining "pre-existing conditions."
"So you don't want to put tax dollars toward people's transitions? What about someone who smoked for 30 years? Or athletes who blew out their knees? You can keep playing this game over and over until you gradually disqualify everyone."
Consistent procedures from state to state for undergoing gender transitions would be a huge step, Wichtendahl says. She notes that some states require nothing but a court order for a legal name change, while other states make it almost impossible to obtain a name change.
"The laws are being determined by the courts and not the Legislatures. The pace of change can be glacial," she says.
Wichtendahl's path to transition began as a child, shortly after her family moved to Newhall, when she first became aware of being in "the wrong body."
"I remember feeling acute pain when I was a teenager and my body changed in the wrong direction," she said. "It was very difficult. But what could I do about it? Ellen (DeGeneres) had barely come out, and she went through absolute hell. All you had at that time was the daily talk shows, and Jerry Springer."
Wichtendahl went through high school and college trying to conform. Her time at Mount Mercy College included running the college paper, during which hints of activism emerged: Wichtendahl oversaw the controversy of the school paper taking advertisements from Planned Parenthood.
Her actual gender transition didn't start until after college, and after parenting a child with her former wife. Privately, she had been "gender-queer" for years, dressing as a woman. For years she fought depression, often feeling "disconnected from your own body, with sensations and feelings that are alien and don't fit what your brain perceives."
"I always thought of myself like a classified government document: very good at showing people what they wanted to see and blacking out literally everything else," she says.
When repeated depression finally began to interfere with Wichtendahl's parenting motivation,  she made the change. Son Steven is now 14 years old, and Wichtendahl continues to share her story when asked, even though it can be hard. 
"There is always a part of me that just wants to leave this in the past, but I balance that with the responsibility of being Iowa's first openly transgender elected official," she says.
Among her key goals as an LGBTQ role model: helping the various parts of that community unite together, partly by reminding her fellow LGBTQ community members that a group "as broadly diverse as the LGBTQ community can have different facets that are contradictory."
"We need to keep our eyes on the bigger goal of achieving true equality. There are still 20-some states where you can get fired for being gay. There are still some states where you can't change your birth certificate after you transition. We can't get bogged down in the petty battles of one acronym or the other."