ONLINE AND CARBONDALE: Town Hall Monday is about transgender rights
Hear how local School Board candidates will handle transgender rights in public schools at the Southern Illinois Town Hall happening Monday evening. Coordinated by the Rainbow Cafe LGBTQ Center and Equality Illinois, this event takes place at the Carbondale Unitarian Fellowship, 105 N. Parrish Lane, and will also be available through Zoom (watch for the link Sunday). Learn more at
the event Facebook page
.
•
CARBONDALE: City Council candidate forum March 22 focuses on LGBTQ+ issues
You have a chance to learn how candidates for Carbondale offices feel about policy issues specific to LGBTQ+ people, at a March 22 forum coordinated by
Pride in Action Southern Il
. Candidates attending will include Clare Killman, the only Carbondale city candidate
endorsed by Equality Illinois
. Killman is a former member of the Conversion Therapy Drop-out Network and also a co-founder of Carbondale Springs. Killman is among seven candidates running for four city council seats. Two candidates are also v
ying to be Carbondale's mayor
.
•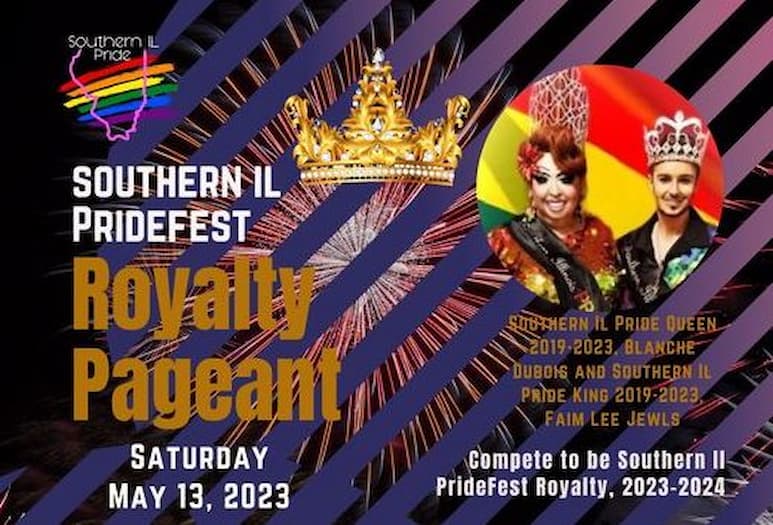 CARBONDALE: PrideFest Royalty Pageant to award three titles
Come out for a good time — and also a chance to stand up for drag and help raise money for Southern Il PrideFest at the Royalty Pageant coming May 13. The event will award three titles: Mr. Southern Il PrideFest King, Miss Southern Il PrideFest Queen, and Mx. Southern Il PrideFest In-Between. The expanded titles are part of an effort by Pride In Action, Southern Il to be gender-inclusive.
"We are committed to protecting this art form in Illinois," organizers said, referring to new drag bans in Tennessee and proposed in nearby states. "and want to be seen as a safe space for drag and gender performance for our neighbors as well."
Title-holders will travel throughout southern Illinois to perform and liaison with communities on behalf of the nonprofit. "More than title holders, our Pride Royalty embody the soul of Pride," organizers write. "They commit their volunteer work, time, and energy to the mission of Pride in Action, Southern Il and Southern Il PrideFest." Potential contestants and others with questions about the pageant are encouraged to call director Jodie Santana at (618) 964-5811.
•
MT. VERNON: Pride Kickoff coming May 27
Get an early start on celebrating Pride Month with the Mt. Vernon Pride Kickoff May 27. Out Mt. Vernon is coordinating the event and has put out a call for vendors, "with priority given to LGBTQIA vendors." To inquire email OUT.Mt.Vernon@gmail.com.
•
ANNA: Choate hospital changes trigger both support and concern
When news first broke that Gov. JB Pritzker would move half the population of Choate Mental Health and Development to other hospitals in the state, , the initial reaction welcomed the step as one way to improve conditions at the 150-year-old facility. Recently, families have begun to express concern about the upheaval created by the move, reports St. Louis Public Radio.
The overall plan calls for a 49-bed psychiatric hospital to remain at the location just east of the Illinois/Missouri line, and to determine how another 112 inmates in "specialty units" will be treated and housed, the station reports.  The changes come after months of reports of abusive, inhumane treatment of resident of the facility by Choate employees, reports ProPublica.
•

CARBONDALE: Coming Rainbow Cafe events include Pride Prom
Looking for even more ways to connect with the LGBTQ+ community around you? Rainbow Cafe has at least three more events in the next month. That's in addition to a workday today at its future home in downtown Carbondale, and Monday's Southern Illinois Town Hall. Here are the other events:
March 31, Transgender Day of Visibility Resource Fair: Find guidance and resources on all kinds of things that support the needs of transgender people. Topics include legal advice, fashion, mental health support, general health support, and more.
April 2, Picnic in the Park Pride Edition: Join fellow LGBTQ+ community members and allies at Evergreen Park for this joint effort between Rainbow Cafe and the Carbondale Park District. It's family-friendly, and filled with kid fun including an egg hunt and bouncy house.
April 8. Southern Illinois Pride Prom: This all-ages event is happening for the second straight year, and is a chance to wear "your gayest formalwear," organizers say. The fun includes live music by Shaad and Thomas, giveaways, mocktails and bubble tea, and a group vote for Pride Prom King, Queen, and In-Between (nominees must be under age 25 and are due March 24). Tickets are $10; order here or at the door. Proceeds benefit Rainbow Cafe's numerous support programs for kids, teens and adults.
Got news or an event you think should be in the TRM Weekly Update for Southern Illinois? Send it to us at reachus@therealmainstream.com.