Pride at Bass Street Landing June 17 headlines Quad Cities Pride events
MOLINE — The Project of the Quad Cities has a packed June yet again, with its signature Pride at Bass Street Landing happening June 17 — and three other Pride events, too. This is the third straight year that The Project has held a late afternoon/evening Pride Party in downtown Moline. This year's event starts at 3:30 p.m. and features vendors, a drag show, live bands and more.
Other June Pride events coordinated by TPQC this year include the black-tie 30th anniversary Red Ribbon Gala in East Moline June 10; the second annual Pride 5K Walk, Run and Roll starting 8 a.m. June 25; and Pride Night with the Quad City Bandits the evening of June 29 at Davenport's Modern Woodmen Park. The Project provides health care, counseling, social opportunities and quality of life support for marginalized identities throughout 40 counties along the Iowa/Illinois border; learn more about these events and all of The Project's services at the TPQC website.
Moline could see two new cannabis dispensaries this year
MOLINE — Moline is already slated to have one new cannabis dispensary along Avenue of the Cities, and may have two if a city plan commission approves  a proposal from Revolution Dispensary March 7. Revolution already operates several dispensaries in the Chicago area and has proposed one for  4301 44th Ave., reports WQAD. A dispensary at 27th St. and Avenue of the Cities, created by Quad Cities realtor Dan Dolan and Deeprootz, aims to open this spring after receiving the city's approval last fall, reports KWQC. The two new legal cannabis stores would join Nature's Treatment of Illinois in nearby Milan, which opened in 2016 to serve medical marijuana customers and began recreational cannabis sales in January 2020 when it was legalized in Illinois. The new dispensaries are the result of almost 200 delayed dispensary licenses released throughout Illinois last fall after a multi-year hold-up because of concerns about the lack of diversity among the state's dispensary owners and operators, and whether the state was upholding its commitment to ensure equity among the state's dispensary industry.
Galena Pride Picnic announces June 10 event
GALENA — Plans are underway for the third annual Galena Pride Picnic, coming June 10.  For the second straight year, the Galena Public Library District is coordinating the event, and this week the library released registration forms for vendors and sponsors along with a call for baskets to raffle and performers to feature. You can find the form to register by May 1 here. You can learn about how the Galena Pride Picnic was created in this article in The Real Mainstream from June 2022. You can also learn more at the Galena Public Library District website, or at the Galena Pride Picnic Facebook page.
Kewanee to hold first-ever Pride festival in June
KEWANEE — The northwest Illinois town of Kewanee will hold its first-ever Pride festival this June, and it will be coordinated by the city's Commission on Human Relations. "This is just a way that the commission can do our part to let everybody know no matter what you are, no matter who you are, you are loved, and we want to make sure you are represented in the town." says the commission's co-chair, Kasey Mitchell, to OurQuadCities.com. A local pastor has already vowed to protest the event, reports WHBF.  A date has not yet been chosen for the Kewanee LGBT Pride Fest. You can learn more in this article by NewsBreak contributor Susan DeVilder, or at the Kewanee LGBT Pride Fest Facebook page.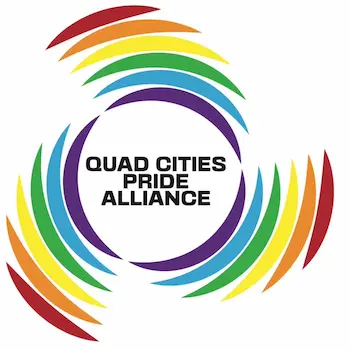 Quad Cities Pride Alliance will now coordinate Quad Cities Pride Fest June 2, 3
The annual Quad Cities Pride Fest in June will now be coordinated by a group known as the Quad Cities Pride Alliance (QCPA). It's the new name for Quad Cities Pride Festivals, the for-profit group that coordinates two Pride festivals a year for the Quad Cities since the mid 2010s. The group's new chair is Andrew Painter, while Jane Tiedge remains on board as the vendor fair liaison, with the title of Community Relations Director. The group says it plans to announce its board soon, has applied for nonprofit status, will soon have a new website, and will plan events year-round in addition to Pride festivals.
For now, you can learn more about the group at quadcitiespridefestivals.com, or at the Quad Cities Pride Alliance Facebook page. The group is among three groups that organize Pride events annually in the Quad Cities. The other two are QC Pride, which organizes a parade and events such as film showings and panel discussions; and The Project of the Quad Cities, which began holding June Pride events in 2020 and now holds an annual Pride party, 5K Walk/Run/Roll, minor league baseball Pride night in collaboration with the Quad Cities River Bandits; and its black-tie Gala.
(cover image features the Galena Pride Picnic logo, and the Pride at Bass Street Landing flier from The Project of the Quad Cities)