Five years ago, before there was a Burlington Pride, a group of teenagers in Burlington, Ia., wanted to hold an LGBTQ+ Pride event.
The youth caught word that protesters planned to crash the event, recalls Cody Flietner, now co-head of Burlington Pride. At first, the teens' parents planned to cancel the event, out of concern for the kids' safety.
But Flietner said that then Cindy Bowen, the other head of Burlington Pride, stepped up and said, "Why don't we have strength in numbers?"
The two of them connected with hundreds of fellow Burlington residents and helped pull together vendors, volunteers, free rainbow give-away items and music. "We ended up reinstating what they now call Pride in the Park," Flietner said.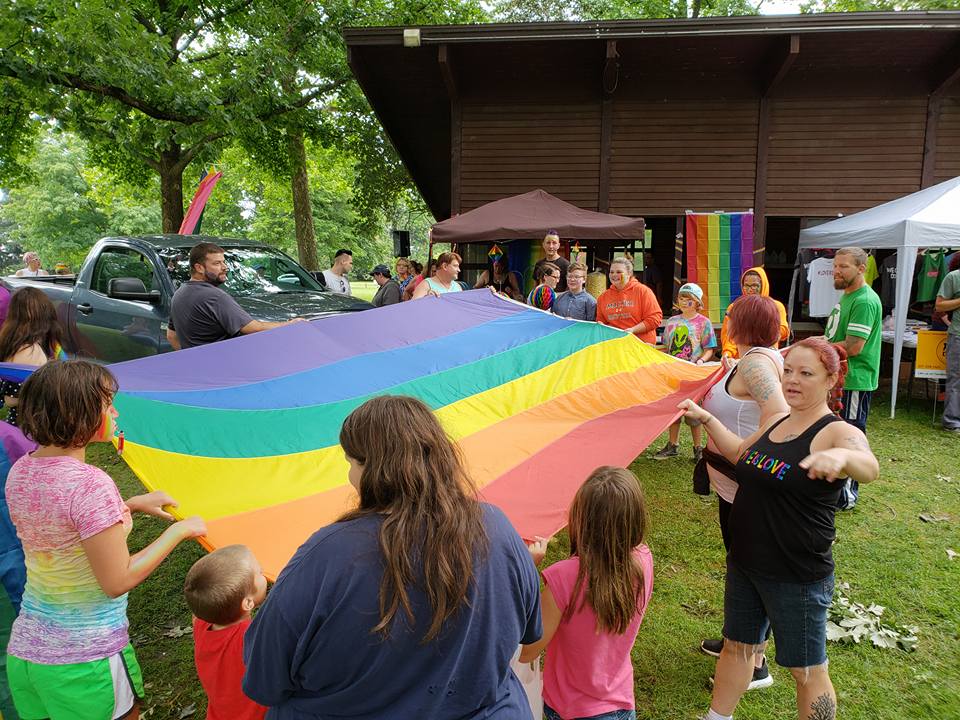 That was in 2018. The next year, 1,000 people showed up to the event at Crapo Park. And Saturday, Burlington Pride in the Park 2022 happens in its largest form ever, with a full day that includes yoga, drag and food, for starters.
"We have over 50 vendors and a slew of food trucks," Flietner says. "We've got an entertainment portion in the afternoon with kings, queens and singers. We've got an opening ceremony we've done since 2018 where we walk the pride flag around the lake."
Bowen remembers watching the start of Burlington Pride unfold in 2018, watching plans to protest grow and discourage the teens."Overnight, in less than 24 hours, we had people printing T-shirts, and donating food. We had a little over 100 people, and we were just thrilled.
"People in the past seemed to think, 'Oh we're a small town, it won't be received very well.' But I always thought, wouldn't it be fun to have a laid-back, nice event that is family-friendly? It's important because there are so many people in this town and area, young kids especially, who are gay, bisexual or fluid or transgender, and they don't have any place to go to feel themselves.
"My opening speech is going to be just that," Bowen said with a broken voice. "That you can be yourself. Today, and here, you can be yourself."
Burlington is just one of several smaller Iowa communities holding new or revived LGBTQ+ Pride events this weekend. Those other communities include:
Fairfield: A  three-day celebration coordinated by a 10-member group called the Fairfield Queer Parliament starts tonight with a Safe Space Crawl at 5 p.m., continues tomorrow with a Pride March at 5:30 p.m., and also includes a Pride Family Picnic from 1 to 4 p.m. on Sunday.
Decorah: Though its actual Pride Fest isn't until Oct. 1, Decorah Pride holds a fundraiser tonight featuring the I.C. Kings, a drag king troupe from Iowa City.
Ottumwa: The second annual Ottumwa Pride celebration, starting at noon, includes a pet parade, music, vendors, drag, a movie and a speech by Hiawatha City Council Member Aime Wichtendahl, Iowa's first-ever openly transgender elected official, serving her second term in the seat. Wichtendahl is also One Iowa's Donna Red Wing Advocate of the Year award-winner for 2020.
Humboldt County: Notorious as one of the "Trumpiest" counties in Iowa, Humboldt County in northern Iowa holds its third annual Pride celebration Saturday. The day is all about dance, with a conga, limbo and country line-dancing. Any donations or raffle proceeds benefit the Diversity Club at Humboldt High School.
After two years of drag-driven Pride celebrations by the defunct Key City Pride, eastern Iowa's community of Dubuque keeps its original Pride tradition going with the return of the MFC Family Pride Picnic, starting at noon at the center on Central Avenue. The afternoon features music, games, booths and more and has been moved inside because of severe weather forecasts.
Fort Madison, in eastern Iowa, also held its first-ever Pride event Thursday evening.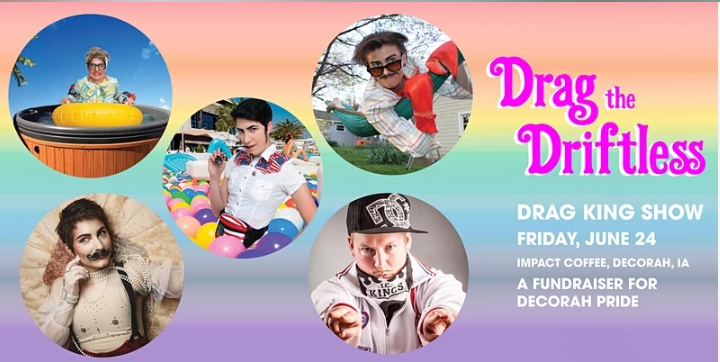 The events celebrating LGBTQ+ Pride in small-town Iowa are in addition to the larger Pride events in Iowa's few  metropolitan areas such as Des Moines, Cedar Rapids, Iowa City and the Quad Cities, where LGBTQ+ traditions have happened for years. Some of the small-town events help counter painful experiences that affected LGBTQ+ people in particular, like the protest threat in Burlington.
Burlington also endured strong community strife in 2016 when Kedarie Johnson, a gender-fluid teen of color, was brutally murdered and the community fought for it to be named a hate crime.
In Fairfield, often known for its LGBTQ+-friendliness,  Pride organizer Rogue Sypersma  said a strain of hostility can still be found even among some of the small city's LGBTQ+-friendly spots. Sypersma joined forces with about 10 other queer activists in town after all of them began to realize all were working on the same efforts separately for several months, they said. The core group includes Hannah Nichols, Cody Bauer, Brea Halen and Lore Oliver, said Rogue, who identifies as nonbinary and is a queer performer.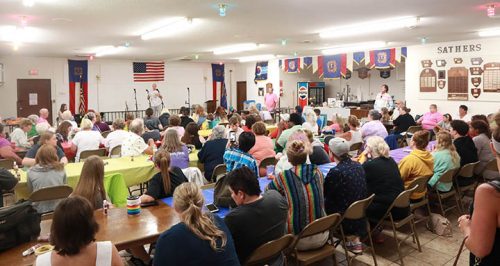 And while the city approved an ordinance declaring June Pride Months, it also rejected a request to fly a Pride flag at City Hall.
A Fairfield-based state legislator, Jeff Shipley, has openly attacked transgender people, and a city council member was called out by the ACLU for anti-gay comments, reported the Des Moines Register. Those discussions by public officials are just some of the reasons why the Queer Parliament became organized this year, Sypersma said. "When certain local politicians specifically attacked trans kids, I realized, 'oh my gosh, it's getting bad and I need to do something about it. I need to be active. I need to go to city counil meetings. ' "
Holding Pride events helps give residents a chance to better understand each other and be more open about the importance of welcoming everyone, they said.
Confusion and simply not knowing any transgender or LGBTQ+ people are often the reasons why friction develops in small towns over LGBTQ+-related topics, Flietner says. A drag performer for decades, and a spokesperson for an elderly care facility in town, Flietner says that confusion and lack of information leads to "misrepresentation."
Flietner said one tactic his group adopted with protesters, who showed up again in 2019, was to invite them into the park. "We encouraged them to come and talk with some of us. It didn't mean they had to agree with us. We always felt we didn't want to get in the direction they were going, so we went in the opposite direction."
"I have a lot of my friends, but also colleagues and community members, who have said, 'What's THIS mean and 'Ii don't quite understand THIS.,' " he said. I try to give them an explanation or an education on the why's."
You can find more information on these events and many other Pride events here. Go to the TRM Calendar for info on events in general,
(cover photo features, clockwise from top, Rogue Sypersma, Hannah Nichols and Cody Bauer of the Fairfield Queer Parliament; John Gause, founder of the Humboldt Pride event; Aime J. Wichtendahl, guest speaker at Ottumwa Pride Block Party; and Ashlee Timm, Cindy Bowen and Cody Flietner of Burlington Pride)