DAVENPORT: MCC holds Chili Cook-off tonight, Community Meal and Cookie Walk April 8
Food is the focus at MCC of the Quad Cities for at least three upcoming events. Tonight, it's the church's annual Chili Cook-off featuring an award for People's Choice, a judges' panel with prizes, cookies, and even a potato soup alternative. PLEASE NOTE: this 4:30 p.m. event takes place at the Center for Active Seniors, 1035 W. Kimberly Rd., Davenport.
Then on April 8, MCC of the Quad Cities holds a spring-themed cookie walk starting at 10 a.m.; email meshel_me81@hotmail.com or ms.moody2005@hotmail.com if you want to contribute your creations. That evening, starting at 5 p.m. MCC provides its monthly Community Meal, featuring homemade soups and bread this time. Learn more about MCC and all of its events and outreaches at the MCC of the Quad Cities Facebook page.
DAVENPORT: Varieties Nightclub reopening as Newman's in May
Varieties Nightclub, the former LGBTQ bar just down the street from the Mary's on 2nd LGBTQ bar in Davenport, will reopen under a new name in May, owner Keith Newman announced on the Varieties Facebook page this week. Newman's Nightclub & Lounge will offer dancing, arcade games and weekend shows, the post said.
Previously, Varieties had hinted for about a year that it might close. It "officially" closed last fall but stayed open through the holidays, and had been for sale. Newman did not return requests for comment but has said in Facebook postings that he planned to reopen the bar for at minimum this summer. The announcement that Watch Newman's Facebook page for more information.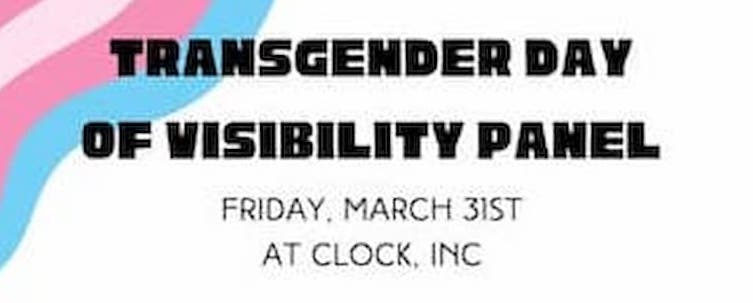 IOWA CITY, DAVENPORT: Trans Day of Visibility Events March 31
A huge event waits eastern Iowans in Iowa for the Trans Day of Visibility. More than seven organizations are joining together to host a gathering at the Pentacrest, a community meal at the Wesley Center, a bike ride, mobile book cart, story-time for kids, a raffle, a performance by The Quire of Eastern Iowa, and speeches by community leaders including V Fixmer-Oraiz, Iowa's first-ever openly transgender, queer and biracial person elected to county office. The gathering starts at 6 p.m.; businesses that want to be involved should email Mandi Remington at director@corridorcan.com. Learn more at the event Facebook page.
In the Quad Cities, hear elected officials talk about transgender issues at the Clock Inc. LGBTQ Community Center next Saturday. You can also enjoy an hour socializing with fellow community members. The gathering is 5 to 7 p.m. at Clock Inc., 4102 46th Ave., Rock Island. Learn more here. Also, earlier in the day, One Iowa hosts an online discussion about transgender issues; learn more about this noon hour event at the  Facebook page.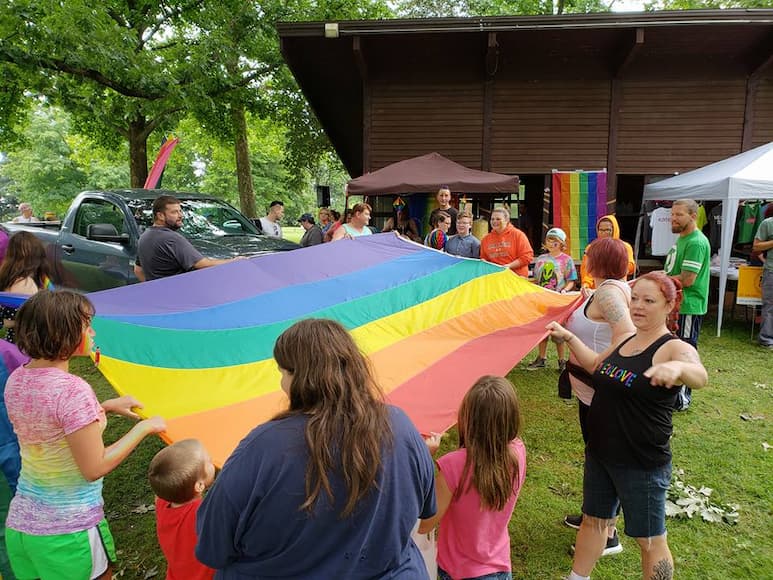 BURLINGTON: Pride event June 24, planning meeting March 29
Everyone who's interested being a vendor or a sponsor at this year's June 24 Pride in the Park is invited to a Burlington Pride planning meeting this coming Wednesday. Started in 2018, this event draws more than 1,000 to Crapo Park annually.  You can read a bit about it here in this article in The Real Mainstream about small-town LGBTQ+ Pride. Wednesday's gathering is at 6 p.m. at the LGBTQ+ bar OhZone, 852 Washington. To learn more about Burlington Pride, see the event Facebook page here.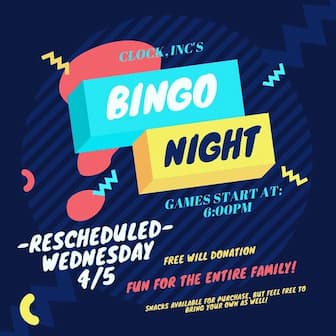 QUAD CITIES: Clock Inc. rolls out special events April 1, 5 and 29, plus more
First, it's the new Hollywood Queer Prom for teens April 1, presented by Clock Inc. in collaboration with four other Quad Cities groups. Then, adults and teens alike can enjoy Bingo Night April 5. Next up: The second rendition of Banned Books Storytime at RAYGUN in Davenport is happening April 29. And then, Name That Tune '80s and '90s Edition happens May 18.
It's a busy time of socializing, community service, and fundraising for this community center that serves all of the Quad Cities and is located in Rock Island. Check out the Clock Inc. website for information on all of Clock Inc.'s support groups, programs and more. For the prom, by the way, pre-registration is requested here.
IOWA CITY:  Trumpet Blossom holds special events April 1, 22, 25
Check out Miss Christine (in cover image) and friends for a Power Pop showcase. Head to Iowa City's only vegan cafe April 22, Earth Day, to celebrate to celebrate Trumpet Blossom's 11th anniversary. . And on April 24, turn out to hear the comedy, music and commentary of Neil Hamburger. Watch the Facebook page for Trumpet Blossom to see upcoming entertainment.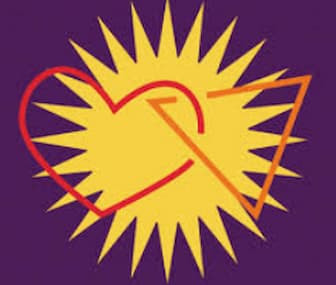 OSKALOOSA: PFLAG offers scholarships for high schoolers
If you're a student in Mahaska, Marion or Wapello counties who identifies as LGBTQ+, consider applying for PFLAG Oskaloosa's annual scholarship. To apply, you must already be accepted or enrolled in a vocational program, college or university — and also, PFLAG says, you don't have to be "out." Demonstrated community service is also a requirement. Find the application here, and apply by May 1. Learn more about PFLAG Oskaloosa at its website or Facebook page.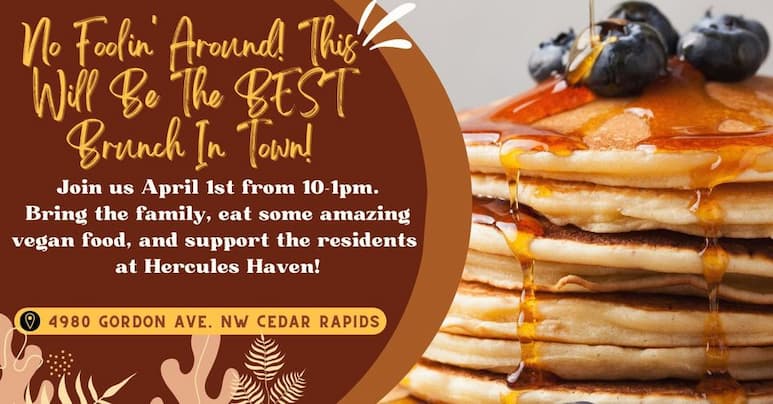 CEDAR RAPIDS, NORTH LIBERTY: Vegan homestyle meal April 22
Here are two chances to enjoy vegan food. First, head to People's Church Unitarian, 4980 Gordon Ave. N.W. in Cedar Rapids, on April 1 to enjoy a vegan breakfast including pancakes, tofu scramble, vegan sausage. Proceeds benefit  Hercules' Haven, a nonprofit that helps re-home farm animals.
Learn more here!
Then, for Earth Day April 22, you can head to the North Liberty Community Center at 5 p.m. for a full vegan meal by the Veggie Reaper caterer. Entrees in this buffet-style meal include Peppered Turky, Glazed Hahm, Chezy Potatoes, Brussels Sprouts with Facon, Uncle B's Salad, and an Oat Cream Pie for dessert.
Tickets here, by April 16!
.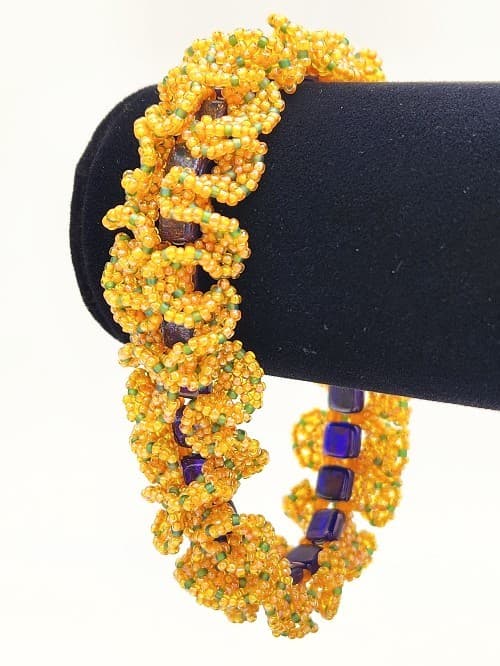 IOWA CITY:Beadology Iowa rolls out pearls, ruffles, more earrings in April
Along with a run of five classes where you can learn to make your own eye-catching earrings, Beadology Iowa also has four bracelet-making classes coming up in the next month. They include the item pictured above, that uses beads to make layers and layers of ruffles for a bracelet you could consider glamorous, or playful. Register here for this April 8 class taught by Beadology Iowa owner Karen Kubby. You can get a refresher here on the earring-making opportunities coming up at Beadology Iowa, featuring Kubby along with instructors Zanette Hoehle, Marilyn Moore and Cheryl Weatherford. To explore bracelet-making classes, read on:

DUBUQUE: Multicultural Family Center seeks executive director, teen program leaders
If you're devoted to diversity, inclusion and equity and have at least five years of experience working in a multicultural environment with supervisory responsibilities, you have until April 5 to apply for the executive director position at Dubuque's Multicultural Family Center. The MFC handles all kinds of diverse events and efforts in the Dubuque area including youth activities, support groups, events geared toward Dubuque's Black community, and LGBTQ events like the upcoming Pride Family Picnic. Find out how to apply for all of these positions here.
OTHER EVENTS COMING UP:
Today, March 25:
–#fREADom to Read, noon-3 p.m., Iowa City Public Library. Live music, crafts, book readings and more presented by the library and the Iowa City Office of Equity and Human Rights and the UNESCO City of Literature.
Quad Cities Rollers take on Madison, originally scheduled for 5 p.m. today, will be rescheduled.
Bawdy Bodies, 9 p.m., Studio 13, Iowa City. Featuring Wiley Guyote, Manhattan Burly, and more.
Sat., April 1: Old Capitol City Roller Derby's April Fool's Bout: 5 p.m., Iowa City.
Wed., April 5: Dine Out for Kids at Shakespeare's. All-day fundraiser for summer camp scholarships for kids.
Mon., April 17: Gender Pronouns and Why they're Important, 6:30 p.m., Hiawatha Public Library. Led by Dr. Susan Kaliszewski, of the University of Iowa Hospitals.
Thurs., April 20: Lunar Light Path gathering, 6:30 p.m., ReAlive. New spiritual discussion group.
Sat., April 22: Freshwater pearls showcase at Beadology Iowa, Iowa City.
Sat., April 29: Mister Iowa City and Iowa City Diva Pageant, 8 p.m., First Avenue. Pageant and fundraiser for Iowa City Pride.
Send information on news and events for TRM's Eastern Iowa Weekly Update to reachus@therealmainstream.com.