The best of ALL worlds is a subscription: you receive the monthly print edition of The Real Mainstream (in your mailbox before the 1st of each month) with exclusive, print-only content — plus our weekly e-blast (Tuesdays) to keep you on top of TRM without having to get stuck in Facebook.
Our print edition also includes games, and space reserved for your own reflective writings. It's like one-third journal, one-third news and fun, and one-third deep thoughts. Not to mention, it's a great way to support The Real Mainstream and the intersectional, LGBTQ affirming, compassionate principles it stands for. TRM Weekly is a brief peek at what's new that week, and what's coming up.
Take your choice below!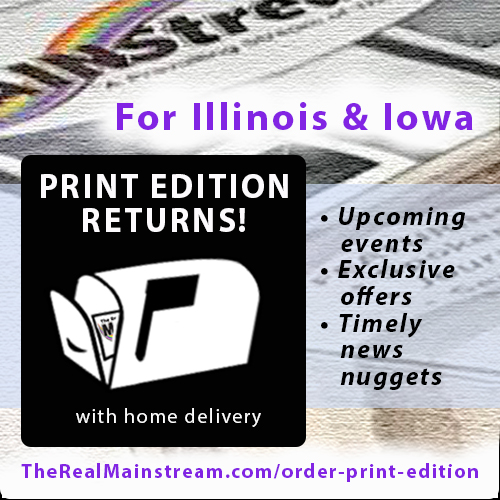 Print Edition & Delivery
Receive the monthly print edition by the 1st of every month for $38.40 annually (once a year). Your edition will arrive by the 1st of each month and feature print-only content, exclusive offers, upcoming events, and more. You'll also receive TRM Weekly by email. Auto-debited only once annually for a total of $38.40 (the equivalent of $3.20 per issue, our current cost of researching, creating, printing and delivering each edition).
Annual Home Delivery (includes exclusive content, exclusive offers, content round-up, and calendar look ahead)