IOWA — With communities like Monticello and Humboldt joining the Pride momentum, and events of all kinds proliferating to more than 70 now, Pride Month in Iowa continues to expand.
Big events coming up in the next three days include a Comedy Night and Scavenger Hunt by Capital City Pride in Des Moines; Pride at Bass Street Landing in the Quad Cities, with drag performances, live music and education workshops Friday and Saturday; and a burst of events in Sioux City. Go to the Pride in Iowa link to see all Iowa Pride Season events in a list that is constantly growing.
Here are more Iowa community briefs for the week that includes June 4:
GRINNELL — Dr. Kesho Scott, retired Grinnell College sociology professor, received an Honorary Degree from the liberal arts school in May and also delivered its commencement address. Scott is an anti-racism educator, originally from Detroit, who has also been honored by the Iowa State Legislature for her work in anti-racism. In addition, Scott led a series of George Floyd memorials throughout small-town Iowa in summer and fall 2020. Scott was also named a Woman of Influence by central Iowa's Business Record in 2020; was honored by the Iowa Legislature in 2019 for her anti-racist work; and was among the keynote speakers at the historic Women's March in Des Moines in January 2017. She is known for an "affirmative duty" form of anti-racism.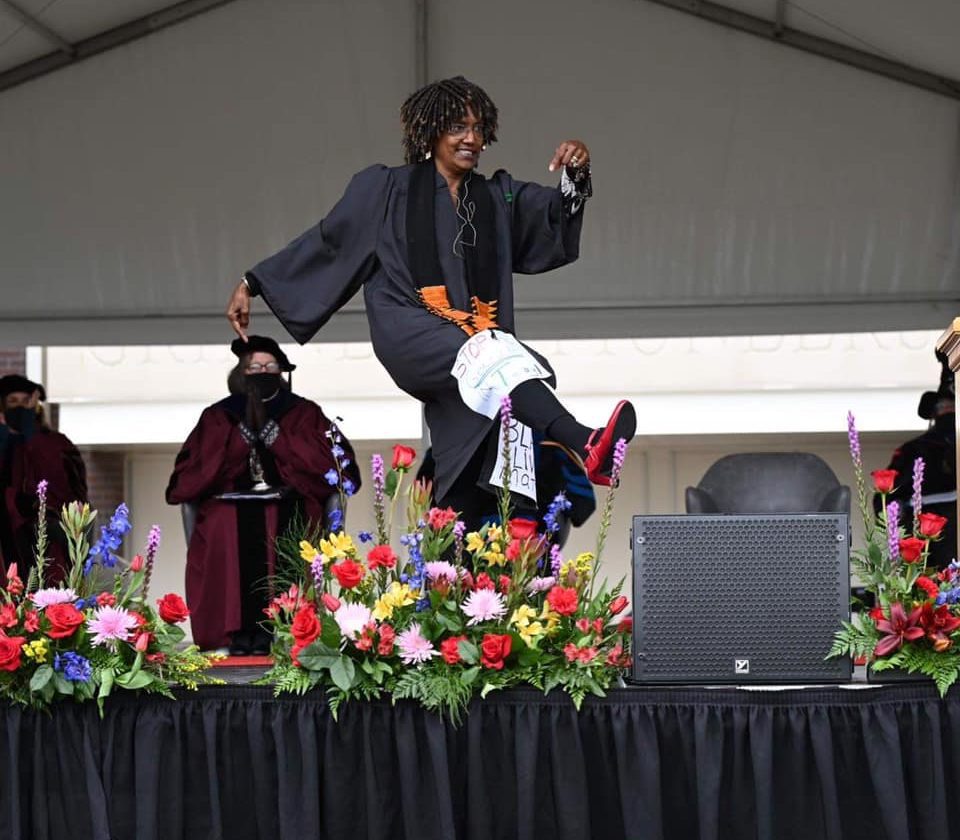 CEDAR RAPIDS — Head to Belle's Basix Friday evening to partake of two public health services: free HIV/AIDS testing, and the COVID vaccine. Swing by any time between 9 and 11 to partake.
CENTRAL IOWA — The Pride Sports League is seeking teams for its sand volleyball tournament June 13, as part of Capital City Pride's "30 Days of Pride." Team registration costs $20 and is open until June 8. To register your team, click here.
COUNCIL BLUFFS — Artist Cait Irwin, whose many works of public art include goldfinches in a Pottawattamie walking bridge as part of the trails system, has earned a new honor: artist-in-residence for the month of June at the Robert Henri Museum & Gallery in Cozad, Neb. Irwin, who specializes in large-scale art, is also an author and activist, leading southwest Iowans in stances on behalf of health care, Democrat politicians, and art as a tool to cope with and fight depression. You can learn more about Irwin in this profile of her here in The Real Mainstream from 2019, and in this showcase of her work in Readers Create. A reception in Irwin's honor will take place June 9, reports the Lexington Clipper-Herald.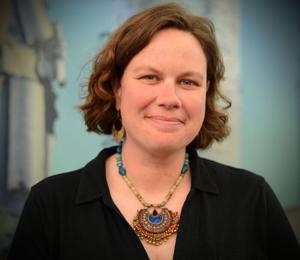 DES MOINES — Discount admission for Pride Day at Adventureland is now available. Click here to get your lower rate for 10 a.m. to 6 p.m. Mon., June 14. In addition, with both of its Pride Drag Brunches sold out this weekend, Capital City Pride has announced DSM Drag Show will offer at least 20 additional tickets for its June 27 Drag Show.
ELDON — A Coralville artist's 600-square foot mural is now posted in Eldon. Katlynne Hummell Underhill reinvented images from Grant Wood's "American Gothic" painting for the mural, which sits on the side wall of City Hall. The mural was inspired by Wood's trip through Eldon, where he spotted the old farmhouse that is now iconic as background to two dour-faced Iowa farmers. Read more about the project here.
IOWA CITY — After running out of its first-run AND second-run Pride signs within two days, the City of Iowa City will offer a third round of the Pride signs, sometime the week of June 7. Watch the city's Facebook page for the latest info! In addition, the city has stepped forward to provide Pride Month events on June 8, 14 and 28.
IOWA CITY — The Quire, eastern Iowa's LGBTQ-and-allies musical nonprofit, is seeking applications for artistic/choral director. The Quire is also seeking volunteers. Click here to apply for either.
MINDEN — Dr. Glenn Hurst, a Minden-based doctor who has also become a national commentator on rural health care, has released a new book titled "Where Your Hands Are: Memoir of an Indivisible." The book is about Hurst's experience as an early member of the political movement Indivisible, which focused on reaching deep into the most isolated and "red" parts of Iowa to find progressive voters. You can order your copy here. You can also read a profile of Hurst here in The Real MainStream's look at two "health care heroes."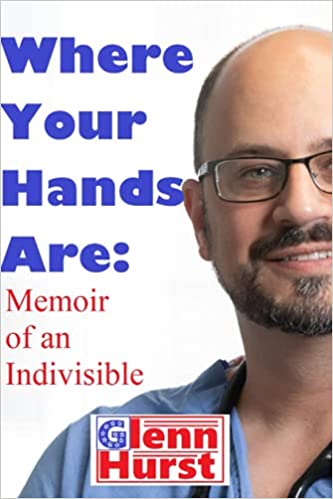 ORANGE CITY — Pride Orange City, western Iowa's pioneering LGBTQ Pride festival, has confirmed its annual dates: Oct. 15 and 16. Like many Pride events nationwide, Orange City's was cancelled last year because of COVID. it returns in October, along with a rescheduled Iowa City Pride and Chicago Pride in October. Learn more about this festival here.
QUAD CITIES — Join a special brunch benefit Sunday — or even just donate — to the Michelle Nixon Scholarship Fund, an event co-hosted by Quad Cities Pride Festivals. Nixon, who passed away earlier this year, was a member of Metropolitan Community Church of the Quad Cities, a volunteer with Quad Cities Pride Festivals, and recipient of the first-ever Queen of Hearts in 2020 for her dedication and service to the LGBTQ community. The brunch starts at 11 a.m. at Mary's on 2nd, 832 W. 2nd St., Davenport. Watch the bar's Facebook page for details on giving, joining the brunch and raffle either in person or from afar, and more.
To submit your news for Community Briefs in Iowa, click here.