COUNCIL BLUFFS — Southwest Iowa is home to three of Iowa's 10 most conservative cities, according to RoadSnacks, which ranked cities by Republican voter and funding support earlier this year.
This means that advocating for progressive or liberal policies requires different strategies than in southeast or central Iowa, long considered progressive bubbles.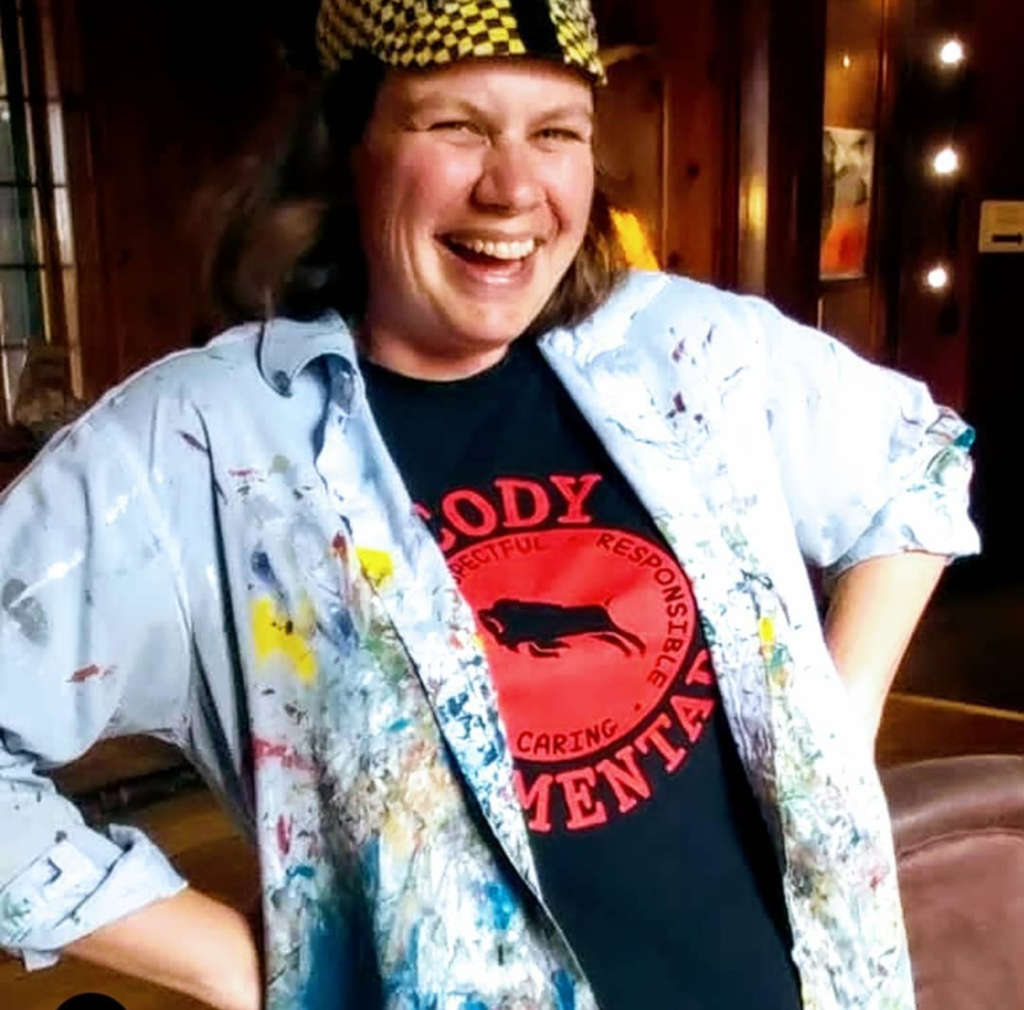 In Council Bluffs, that extra strategy is art. A duo of Democratic activists are using giant puppets, wall murals, carnival-style art, cartoons, and even book clubs to reach their neighbors and inspire fellow progressives.
Cait Irwin, a 10-year Council Bluffs resident and independent artist for six years, has led the artistic revolution with giant murals on the windows of Democratic presidential candidates. She also created an eight-foot wearable Statue of Liberty that appears at parades and protests.
She and Glenn Hurst, another Council Bluffs Democratic activist, designed the Statue of Liberty and have explored other arts projects as a way to reach a community that Irwin says has "gone on autopilot" blindly supporting conservative views without fully understanding how they affect people.
Describing Council Bluffs as "a giant blue dot in a sea of red," Irwin says she's found overwhelming support for the "liberty and justice" message of her artwork expressing opposition to President Trump, and to Republican policies in recent years.
"I expected more of the middle finger, more often than not, when I first started," she said. "But nine times out of 10 people have told me they do not support this president. They're angry. And that's from regular people walking up to me on the street."
Irwin first began turning to her art to "cope."
"I was doing the artwork to figure out or understand all of this personally, and it's one thing to do artwork that shows you're working through your own emotions or feelings about where we're headed as a country.
"But it was starting to make me angry and kind of bitter. So I decided to shift to more active and positive ways to use the artwork."
She offered her window mural services to all Democratic presidential candidates with offices in the area: Buttigieg, Delaney, Harris, Klobuchar, and Warren took her up on the offer. She also has created art to oppose former Congressman Dave Young, and to support his replacement, Democrat Cindy Axne.
Hurts says the artistic effort even extends to the Mueller Book Club, a monthly gathering that walked through the historic report from Robert Mueller as thought it was a piece of fine literature. The group studied and discussed the entire book, in segments, as a group.
"We're a group of people energizing the rest of the community by trying to bring an artistic piece to that," Hurst says. "We've all used props and arts in the process of trying to create visibility. The impact has been beyond expectations. People are able to engage together to say, 'We have a common value: liberty and justice.' "
Irwin and Hurst met through the work of Indivisible Iowa, whose focus on reaching deep into rural Iowa helped form similar bonds throughout the state in areas once considered hopelessly "red."
Uniting with Democratic Party leaders, labor leaders, and LGBTQ leaders, Irwin and Hurst are finding a more unified approach to politics and policies than in years past. Irwin says she is especially encouraged by the support, because she's witnessed a turn from progressive open-mindedness to extreme conservatism in her hometown since returning to Council Bluffs 10 years ago.
She credits the evolution to Tea Party efforts in the early 2010s, which she says helped pave the way for Trump's election and his espousal of bigoted views and attacks on people of color and other marginalized communities.
Republicans' mishandling of health care has now caused even tue conservative rural communities surrounding Council Bluffs to second-guess their support of Trump and Republican policies, Irwin says. 
"My whole thing is, if we can get people interested," she said. "There are so many of us progressives in southwest Iowa, all spread out. We feel a little disjointed. And sometimes, your first instinct is to run. I feel like we can't do that. This is like no other time."